Culinary Artist: An Interview with Jason Hammel
Featured image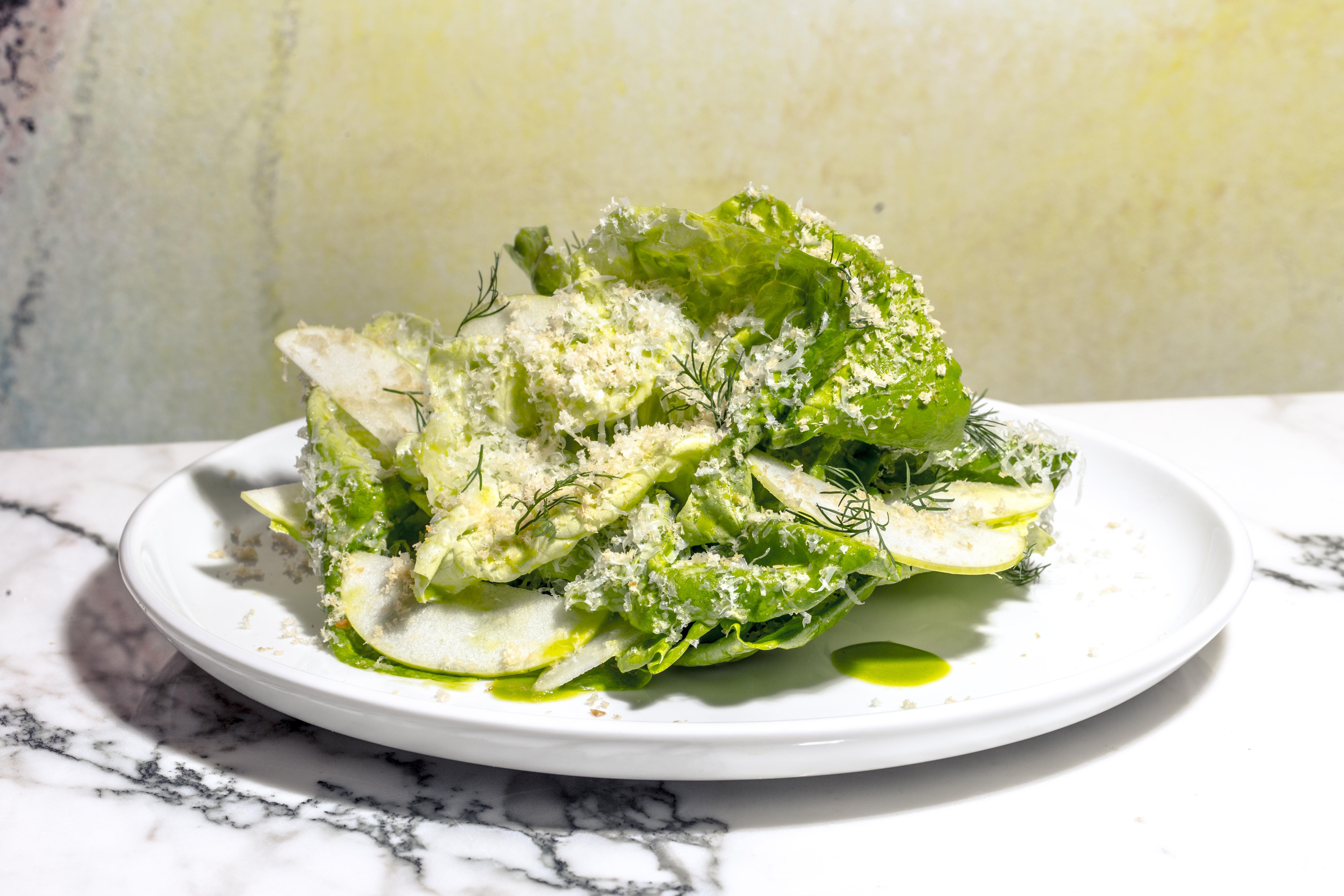 blog intro
Marisol Restaurant and Bar opened to great acclaim last week, with the press buzzing about the interior design, the drinks, and, of course, the food. Our social media manager Abraham Ritchie sat down with Marisol chef Jason Hammel to learn more about the process behind and inspiration for some of the new dishes.
On Dressing
Jason Hammel: Have you seen the MoMA cookbook?
Abraham Ritchie: Yeah, I did.
JH: Ok, so there's Marisol's natural food dressing in there, and it's got a real 1970s crunchy vibe to it. We got inspired by that for a vegan green goddess dressing. Green goddess is a herbaceous, Caesar-y dressing. We made a vegan version of it based on the flavor profiles that Marisol wrote about in that cookbook. Our house salad dressing at the restaurant is literally taken from the pages of that cookbook but modernized.
We also got inspired by its place in time. For example, Marisol uses soybean oil as the main oil in her salad dressing, but we don't really use soybean oil in our cooking at all. Soy oil is often frowned upon now.
AR: Why is it frowned on?
JH: There's so much GMO and poorly grown soybeans that, as a commodity product, it is not a good choice for healthful living. There can be good soy—absolutely, there are good soybeans grown in different places. Based on her use of soy oil, we used a local company called Phoenix that does tofu. We used a really soft tofu, pureed it, and created a neutral base for the salad dressing. The tofu creates this great creamy texture with the dressing that Marisol may not have intended, but her recipe inspired us to do this dressing.
Our vegan green goddess dressing has tofu, a lot of different types of herbs, and apple cider vinegar. Then the salad is lettuces from a farm in northern Michigan where they grow things in greenhouses even during the winter. There's also macadamia nut, peperino, and apple. It has a Caesar-y quality to it, but it's vegetarian, and it's a very different, creative take on the salad from the MoMA cookbook.
On Quail
JH: For the fried quail dish that we've been working on, the quail is from a ranch in Texas called Broken Arrow, which is one of our farm partners even though they're not located in the Midwest. They have this big, great ranch where they produce venison and quail; we fly it in, and it's super delicious. It's a crispy quail—it's a fried quail. We got inspired by some of the old-school casual techniques, like marinating the chicken in buttermilk. The quail is soaked in a buttermilk marinade, fried, then tossed in a cashew butter, and that's where it gets interesting.
The cashew butter consists of cashew milk made from the nuts themselves, some of our house-made butter, and a little bit of white miso. We create this funky, rich, but not too fatty coating for the fried quail, the same way that you might put a little piece of butter on fried chicken. It's much lighter but it has a really nutty, aromatic, and mysterious quality to it that's delicious.
We top that dish with smoked date honey that we make. We get local honey and smoked dates and then infuse the honey and the dates together. The dish is also topped with sumac. There are both some spice trade route flavors going on with the date and the sumac and also a richness that's from nuts instead of just from dairy. It's both a dish that has some traditional qualities because it's accessible and anybody who eats chicken would love this quail dish. But it's also creative and has unusual flavor combinations that people wouldn't expect to get.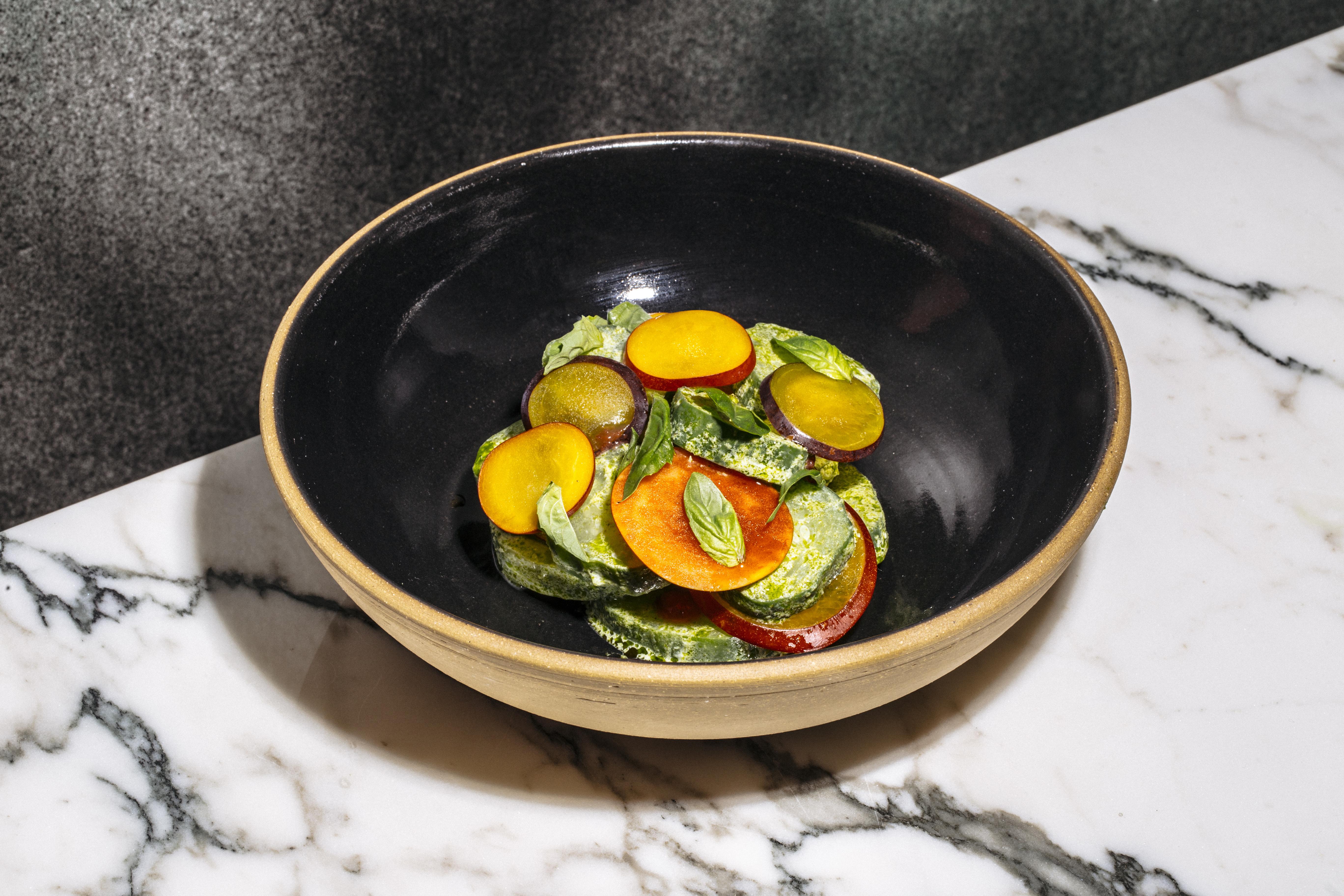 On beauty
AR: We've talked a little bit about infusions. Can you speak a little more about your interest in taking one flavor and blending it into another?
JH: We're always inspired by ingredients and flavors. And our cooking isn't just about serving the things plain on a plate—you can do that at home—so we like to think about ways to recast the ingredient, even if it's still in its original form. Taking leaves of Chinese broccoli and glazing them in a way that creates a lot of flavor but leaves the stem and leaves intact so it's fun to eat and allows you to still see the vegetable for what it is—it's not about being over-manipulative; we're just recasting the ingredient.
The cucumbers are another example. One of the things I really like with cucumbers are when we compress them with oil, they take on a bit of the basil flavor, and it takes on color. Then, when you add yogurt in the secondary process, during the herb and oil compression, you get this juxtaposition between the oil and the dairy, which has a really interesting look to it so that the green stains the white. I think that is a very beautiful thing to look at, and it tastes delicious.
AR: It's almost like you're approaching it like a palette.
JH: The flavor palette is similar to the color palette. We don't like to reinvent things. We're not trying to find the strangest thing, and we don't put an ingredient on a dish because it's weird. What we look for is how to take the established connections between things like honey, dates, and sumac, which have a regional connection, and transplant them into a new preparation that makes them surprising. For example, the Marisol salad is like a Caesar salad, but we're replacing certain ingredients with others and allowing that creativity to show something new.