Warhol's Portrait of Power
Our featured work this month, Vote McGovern (The McGovern Poster)(1972)—on view on the MCA's fourth-floor—has the vibrant unnatural coloring of Andy Warhol's images of famous people. Yet, this poster evokes none of the glamour Warhol typically ascribed to celebrity. Below, we've excerpted a detailed analysis of the work and an account of its creation from Jonathan Jones's "Portrait of the Week," The Guardian, February 9, 2001.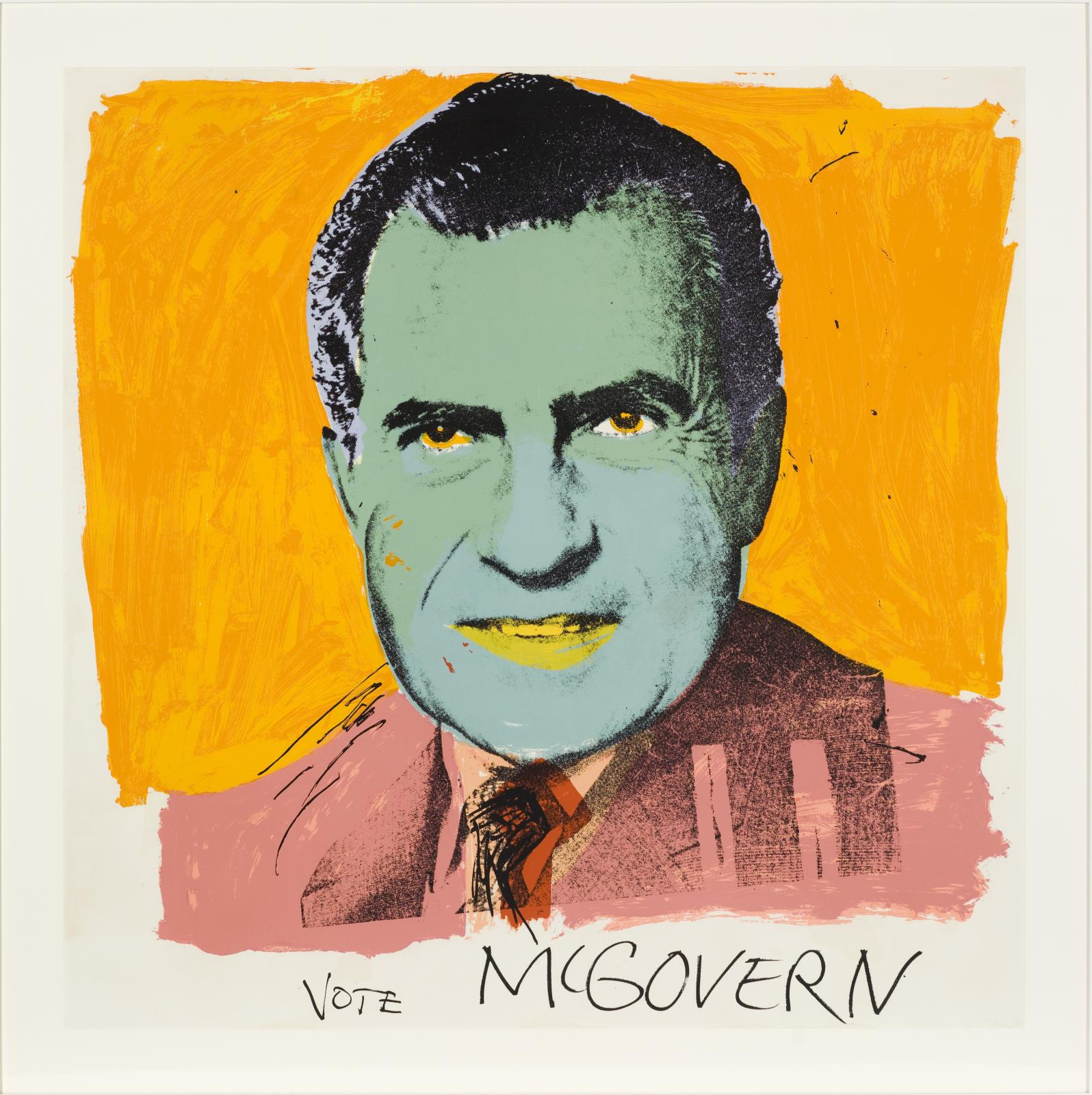 ---
As a relic of a moment in American history associated with chicanery and paranoia, this [work] is a bold assertion that truth lies on the surface. When Andy Warhol made a screen print to be sold in aid of the Democrats' presidential bid, he chose to do a portrait not of George McGovern but of his opponent. Warhol's poster image of Richard Nixon is not even a caricature; it is a portrait, derived from a photograph, not distorting Nixon's features except through color. Nixon's face is acidic green, colliding shockingly with an orange background, almost like classical Indian art in its chromatic intensity. It captures the way Nixon in the flesh looked like a cartoon, his head too big for his body. But that's all in the way of satire.
This is the opposite of the classic political cartoon in which the artist riffs on someone's features until they become ludicrous exaggerations. Warhol does not feel the need to distort his subject—he merely has to show him. This says: "The facts are looking you in the face. What more do you need? This is Nixon. Vote McGovern."
Given the secret undercurrent of American public life revealed in the Watergate tapes, Warhol's portrayal is uncanny. This image, which ought to be seen alongside Warhol's portraits of Jackie Kennedy as a Mater Dolorosa, reflects the diminution of American democracy after the murders of the Kennedys and Martin Luther King Jr. Warhol was a Catholic and this image is not political but religious. By making Nixon's face a lurid green, he implies the president is diabolic. Warhol wants to show us evil abroad in the land: Nixon is a devil.
Voters evidently failed to see what was before their eyes, even though Warhol's print added to the Democrats' campaign funds, reputedly by more than $40,000.