Frank O'Hara: In Poem, in Paint
Featured image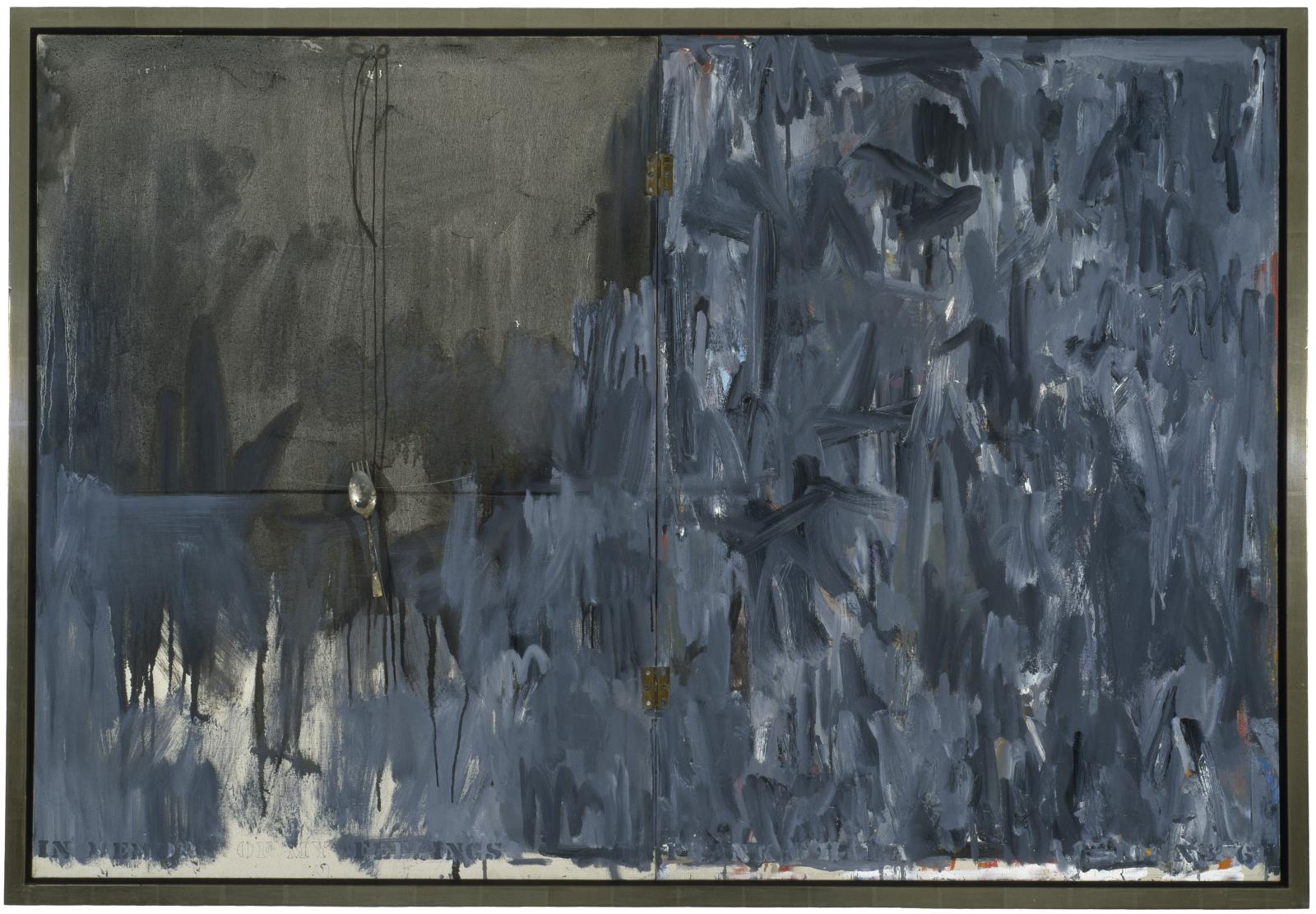 ---
In 1961, American artist Jasper Johns (b. 1930) paid homage to Frank O'Hara, known as "a poet among painters," in the work In Memory of My Feelings—Frank O'Hara. The moody abstract piece—named after O'Hara's five-part poem "In Memory of My Feelings" (1956)—is composed of loose brushstrokes and hung with an actual spoon and fork. On view now in I Am You, the first section of the MCA's 50th-anniversary exhibition We Are Here, the painting—like many works in the exhibition—captures the expressive quality of language through its forms, colors, and gestures.
Following the poet's tragic death in 1966, the Museum of Modern Art in New York commemorated O'Hara's life and passion for the arts in a decorated compilation of his work called In Memory of My Feelings: A Selection of Poems(1967). Below we feature part two of the celebrated poem and its accompanying illustration by Johns.
Poem
2
and the alive, ahunted.
      My father, my uncle,
my grand-uncle and the several aunts. My
grand-aunt dying for me, like a talisman, in the war,
before I had even gone to Borneo
her blood vessels rushed to the surface
and burst like rockets over the wrinkled
invasion of the Australians, her eyes aslant
like the invaded, but blue like mine.
An atmosphere of supreme lucidity,
the mere existence of emphasis,
                  a rusted barge
painted orange against the sea
full of Marines reciting the Arabian ideas
which are a proof in themselves of seasickness
which is a proof in itself of being hunted.
A hit? ergo swim.
my 9,         and the several years. My
12 years since they all died, philosophically speaking.
And now the coolness of a mind
like a shuttered suite in the Grand Hotel
where mail arrives for my incognito,
                  whose façade
has been slipping into the Grand Canal for centuries;
rockets splay over a sposalizio,
                  fleeing into night
from their Chinese memories, and it is a celebration,
the trying desperately to count them as they die.
But who will stay to be these numbers
when all the lights are dead?
Excerpted from In Memory of My Feelings: A Selection of Poems. Edited by Bill Berkson. Museum of Modern Art; New York, 1967.