Once Upon a Rainy Day: Designing a Cunningham Event
by Anna Kunz
Featured image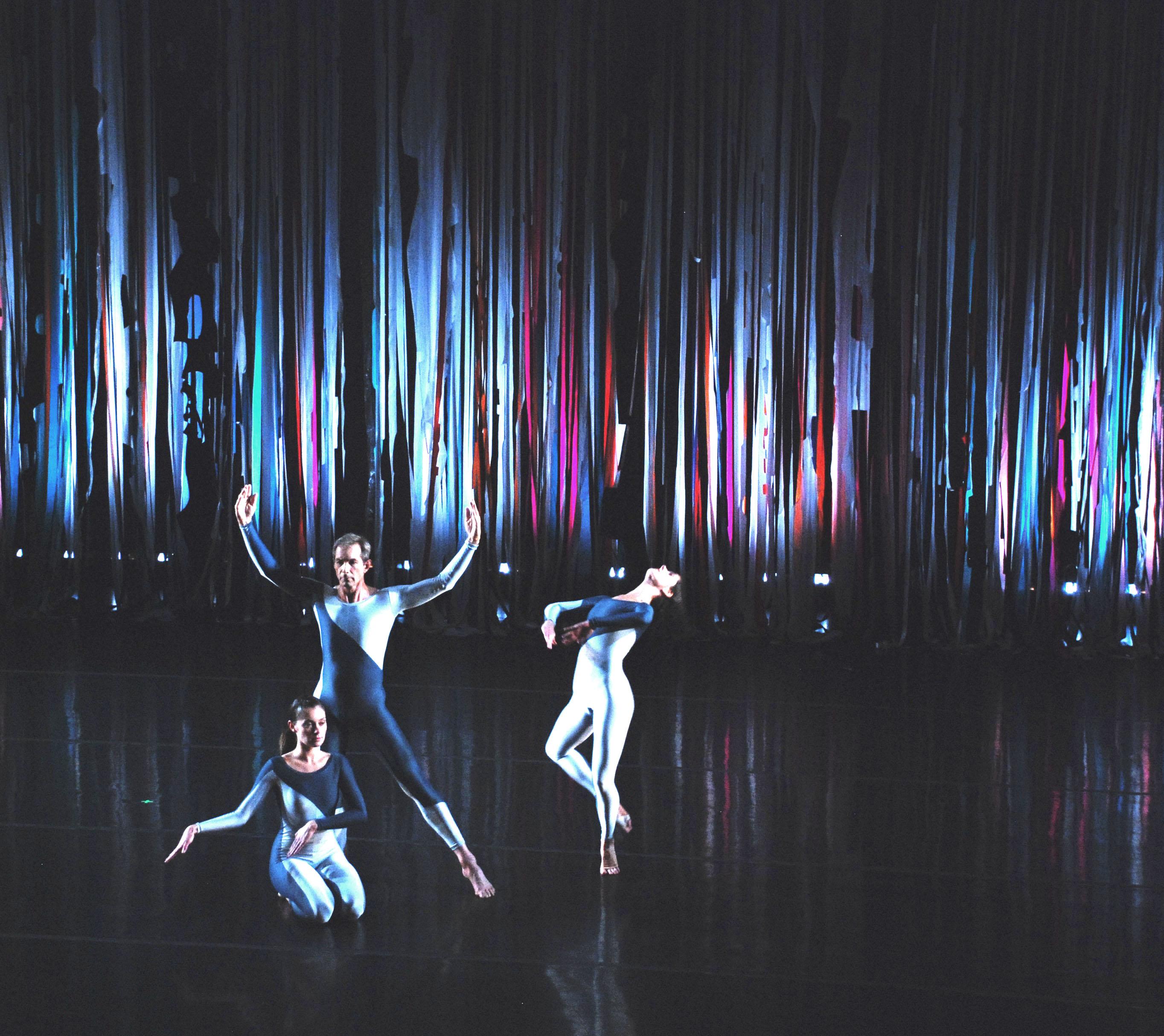 blog intro
Inspiration can come at any time—even on the rainiest of days. As our Merce Cunningham exhibition draws to a close, Chicago-based artist Anna Kunz reflects on her creative process when designing the backdrop for Cunningham's Event 1 & 2, performed at Columbia College Chicago in 2009.
---
While "dance first, think later" is attributed to Samuel Beckett, I heard that Merce Cunningham used that line, along with John Cage's "begin anywhere"—two phrases I have since applied to my own practice and teaching.
I was in Skowhegan, Maine, when I got a phone call from Davison Scandrett, director of production for Merce's studio, in summer 2009. The company was inviting me to create decor for an upcoming piece to be presented in my hometown, Chicago.
Moments before the phone buzzed, I had been watching people scurry around, caught in a swollen and sudden rain. Through the grey haze, I saw figures move in all directions to their studios, stretching their rain ponchos into strange shapes, and I thought to myself how they all looked like parts of a Merce Cunningham dance. To this day, I think about the strange timing of that call.
As a young artist, I had the subtlest life-changing experience in an exhibition of Merce Cunningham's work at the Guggenheim's SoHo branch. A video of a company practice session was placed in the museum's storefront window, inspiring me to enter. There I discovered the parallels between body (movement, rhythm, choreography) and color (in painting). I saw a way to take personal experiences and private subject matter, and present them in a more theatrical expression.
Years later, I visited the Cunningham Dance Company's studio on Bethune to do research for a piece I was making for Paige Calderella—a friend and former Merce Cunningham dancer. As David Vaughn, the company's archivist, led me to my research station, I was treated to the sight of aisles upon aisles of film reels, VHS tapes, books, and notebooks, all stacked precariously and, in some places, monumentally—an encapsulating representation of the work of so many artists dedicated to one unique vision, Merce's "common time." This sight was humbling to say the least. Reaching our destination, Vaughn showed me a film that he selected for our conversation: Cunningham and Rauschenberg collaborating in raw, free thinking.
Begin anywhere.
I was reflecting on that experience, and the sad news of Merce's death, during the summer of 2009 when I had the idea to form the Chicago piece by selecting color from the decor of several past Events, and to use loose materials that could move with the dancers on the stage. The work consisted of thousands of yards of hand-painted paper strips, ribbon, fabric, scrim, and reflective Mylar. Viewers familiar with the decor of past works could potentially spot some familiar color and material presence. At times, I thought of it as being like liquid. I understood that Merce considered movement a continuum, like water, ever changing. I layered my collage three times so it became dense and physical as it cascaded down from the back of the stage. The light and air currents changed the composition throughout the dance. Anna Finke's costumes were geometric compositions of grey and white, which sharpened the dancers' bodies. Richard Woodbury and Takehisa Kosugi provided music that channeled metallic sounds and those from the natural world.
A day or two later, I was sitting at Intelligentsia café, annoyed at the person who I was waiting for, who is late. . . . But I took a seat at the window. It was raining outside. Again, many movements. Collectively, the people outside were crossing the street, finding shelter under deep door jams, leaping over puddles, looking down, laughing. It was a dance. It all can be.