Featured images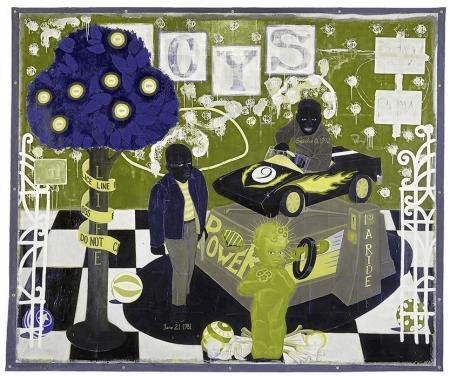 We've never seen teal or light pink before!! So cool! It's usually just white!

—MCA Visitor Comment Book (11 year old and 14 year old borrowed Valspar glasses)
on EnChroma
I have found that people tend to have an obsession with firsts: first word, first kiss, first car. The novelty of experiencing something for the first time resonates deep within all of us, so when Valspar approached us to be part of their #ColorForAll campaign, I knew we had to be a part of this first. They donated two pairs of EnChroma glasses, allowing our colorblind patrons to see certain colors for the first time.
Sharing my favorite works of art and making an idea or an object accessible to another person is one of the reasons I love working in visitor services. But what if you can't see all of the colors present in the piece I just recommended? What if the artist's intention is obscured because of your genes? But what if we could provide a pair of glasses that gives you the opportunity to see broader spectrum of color? With the EnChroma glasses, we can offer our colorblind visitors a museum experience they may never forget.
Image comparison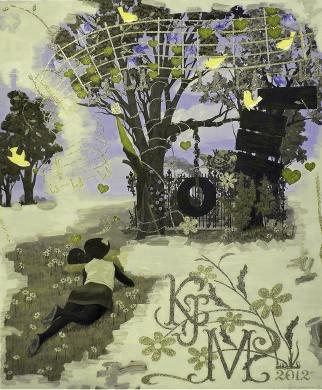 on KJM's color
Our current exhibition Kerry James Marshall: Mastry features works that use color to convey big ideas. Marshall's signature figures, painted an intense black, stand out against assorted backdrops of everyday life: a vibrant beauty salon with green walls and pink floor, a lovers' tryst surrounded by pink flowers and red hearts, a picnic on a red-checkered blanket, a sunset over the ocean. But what if, when you're standing in front of these paintings, the figures are shown against a world of browns? Can you still leave the exhibition with a complete understanding of what the artist is trying to achieve? Marshall's use of color is vital to his work, and, with the help of this new technology, we are now able to bring his work to life for patrons who otherwise wouldn't have access to his color palette.
Since receiving the EnChroma glasses, we've learned that they need to be used in a well-lit area and that the art on view needs to be colorful. They don't work for everyone, but I've had several people bring them back up to admissions wearing expressions of awe, because they just saw a color they never knew they'd be able to see. I've seen a grown man wipe tears from his eyes after viewing a piece of art and thank us over and over for the opportunity.
My coworker Kristen Kaniewski has always stressed that our role in VS is to make patrons comfortable with the unknown. We are there to help eliminate the practical distractions (where the bathrooms are, how to navigate the building, if a work is on view) so people can focus on the art. And seeing visitors—from the giddy children quoted above to the sentimental gentleman who saw pink for the very first time—connect with the art because of these glasses? To me it's obvious that this technology is the best tool for helping colorblind patrons move comfortably outside their comfort zones.
Image comparison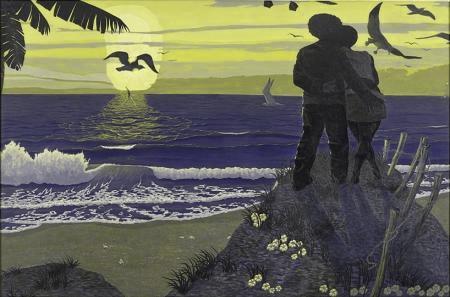 Image comparison