My ________ Book: Visit 2
blog intro
Because we have so many good entries from our MVP students, we thought we'd share a few more selections (with transcriptions) from them.
Reflection letter images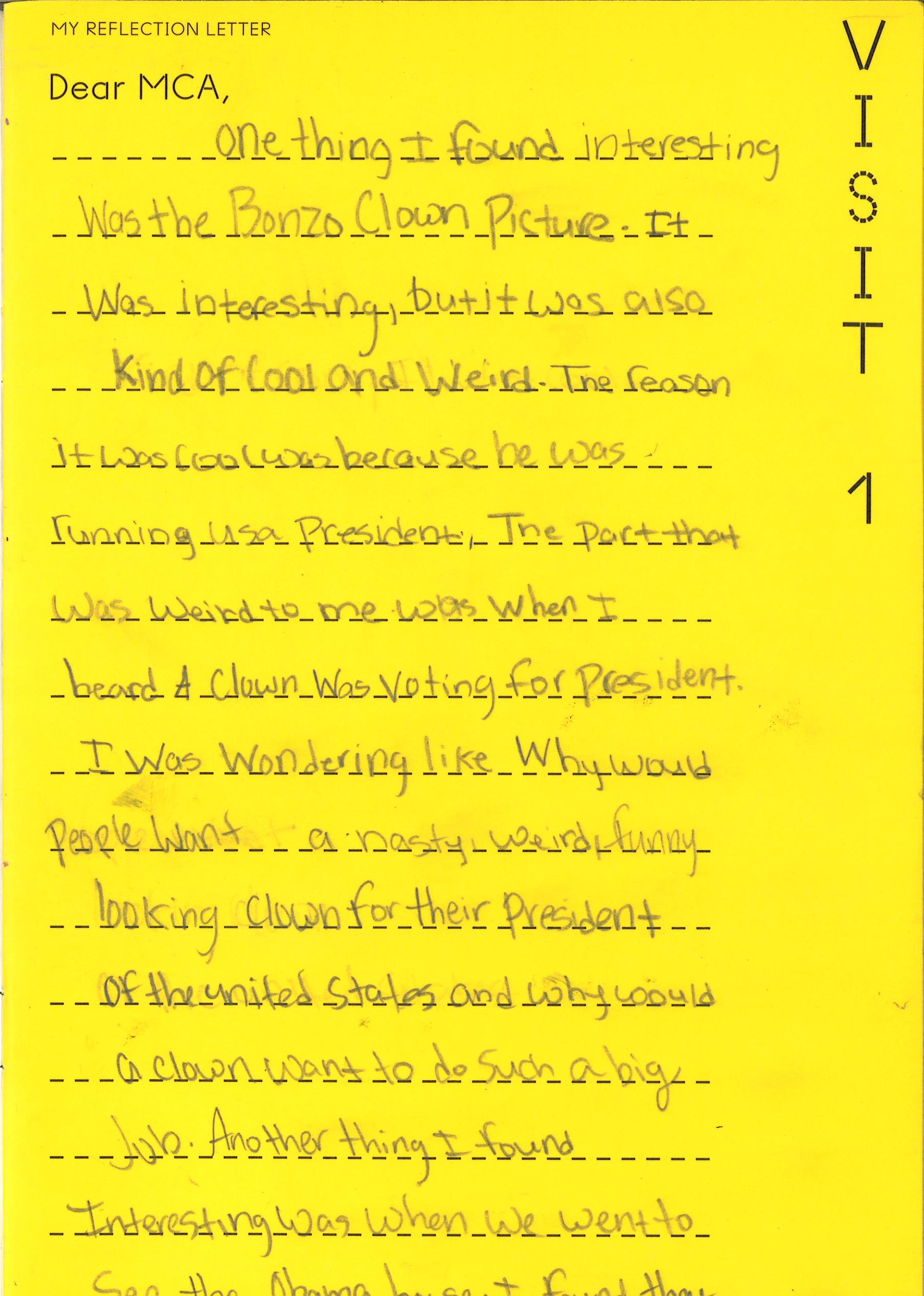 My Reflection Letter
One thing I found interesting was the Bonzo Clown Picture. I was interesting, but it was also kind of cool and weird. The reason it was cool was because he was running usa president. The part that was weird to me was when I heard a clown was voting for President. I was wondering like why would people want a nasty, weird, funny looking clown for their president of the united states and why would a clown want to do such a big job. Another thing I found interesting was when we went to see the Obama house . . . because it looked very real and it looked like we was actually living in the white house. I also found it disturbing.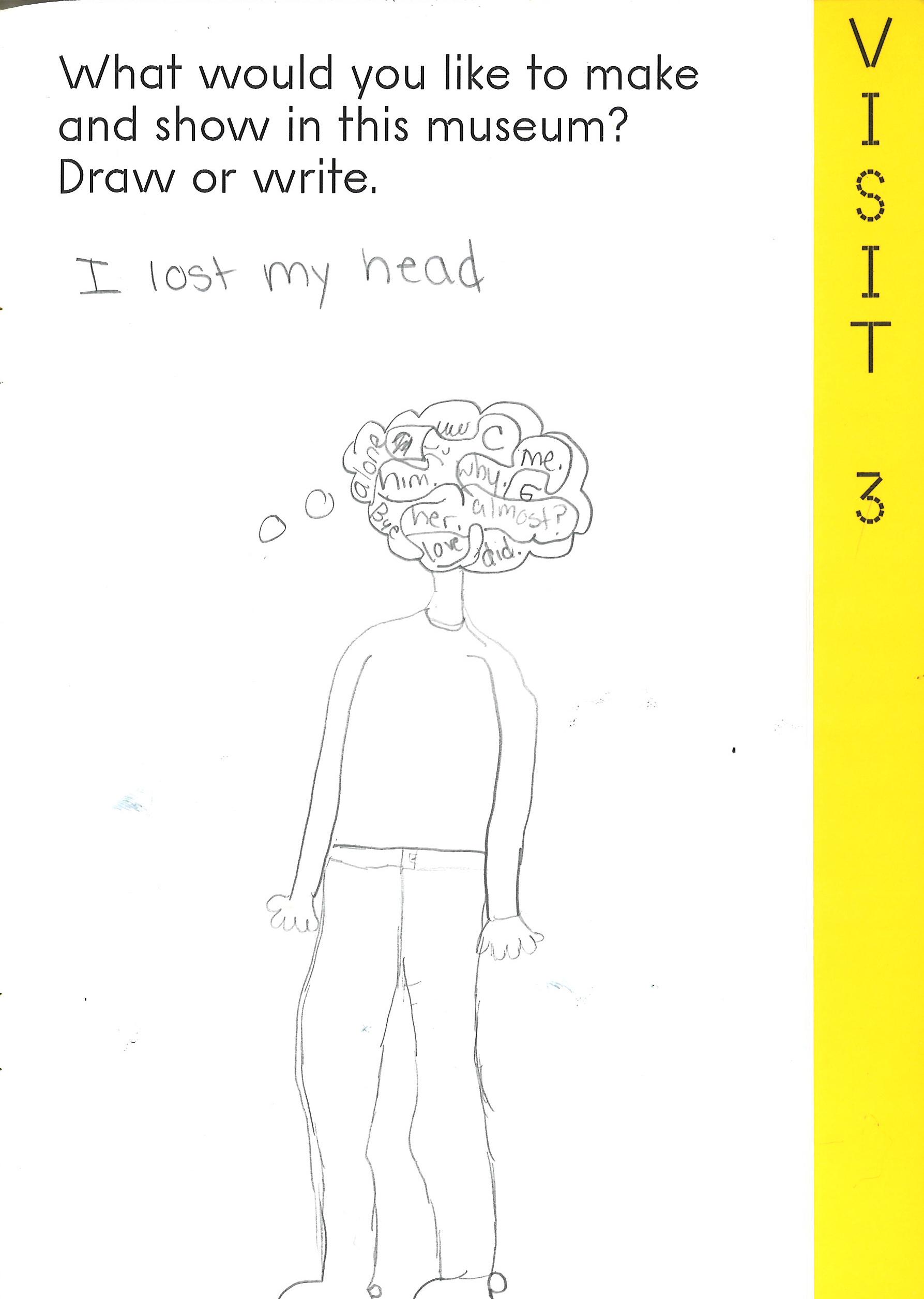 What would you like to make and show in this museum?
I lost my head
Reflection letter images visit 1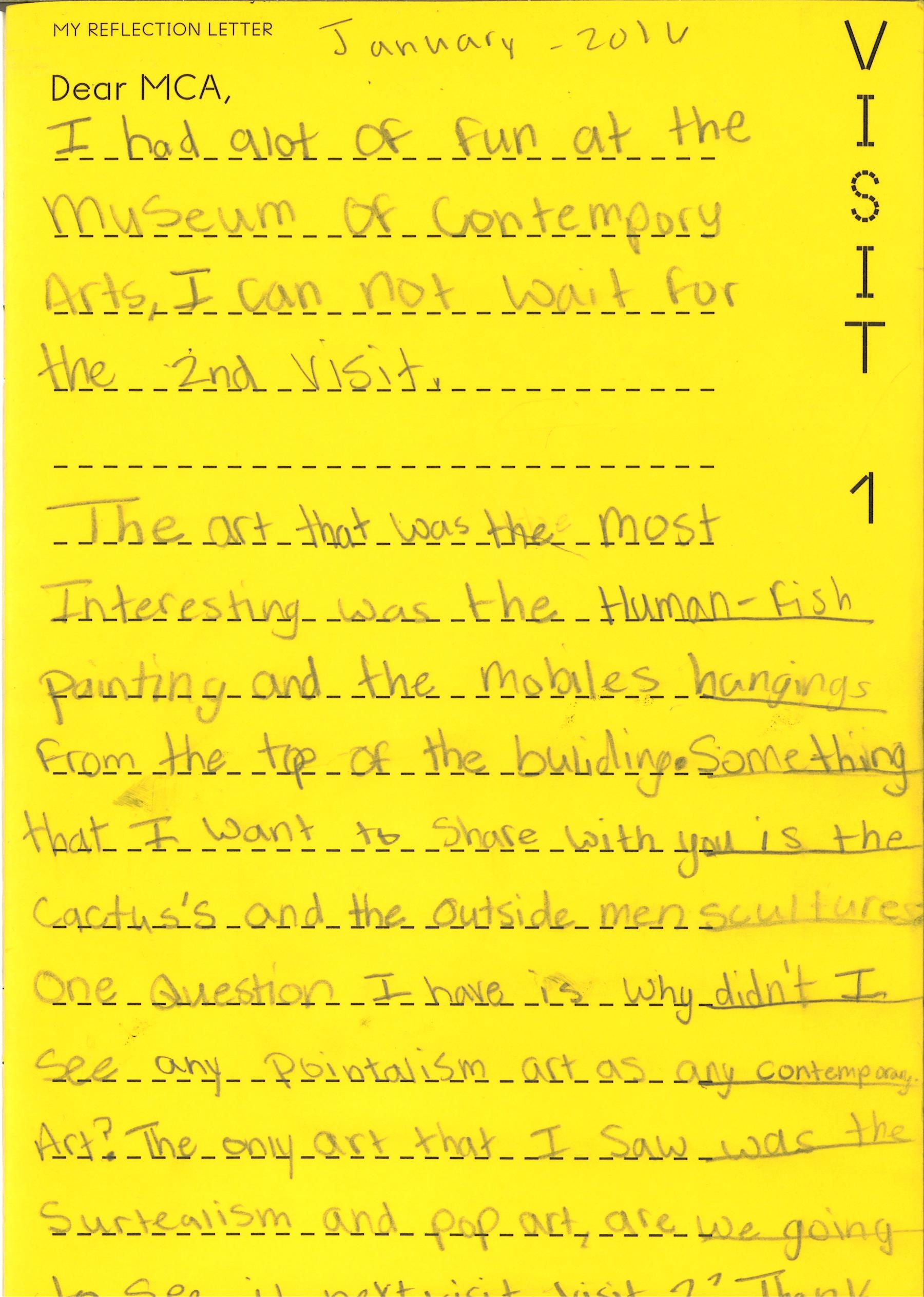 Reflection letter images visit 2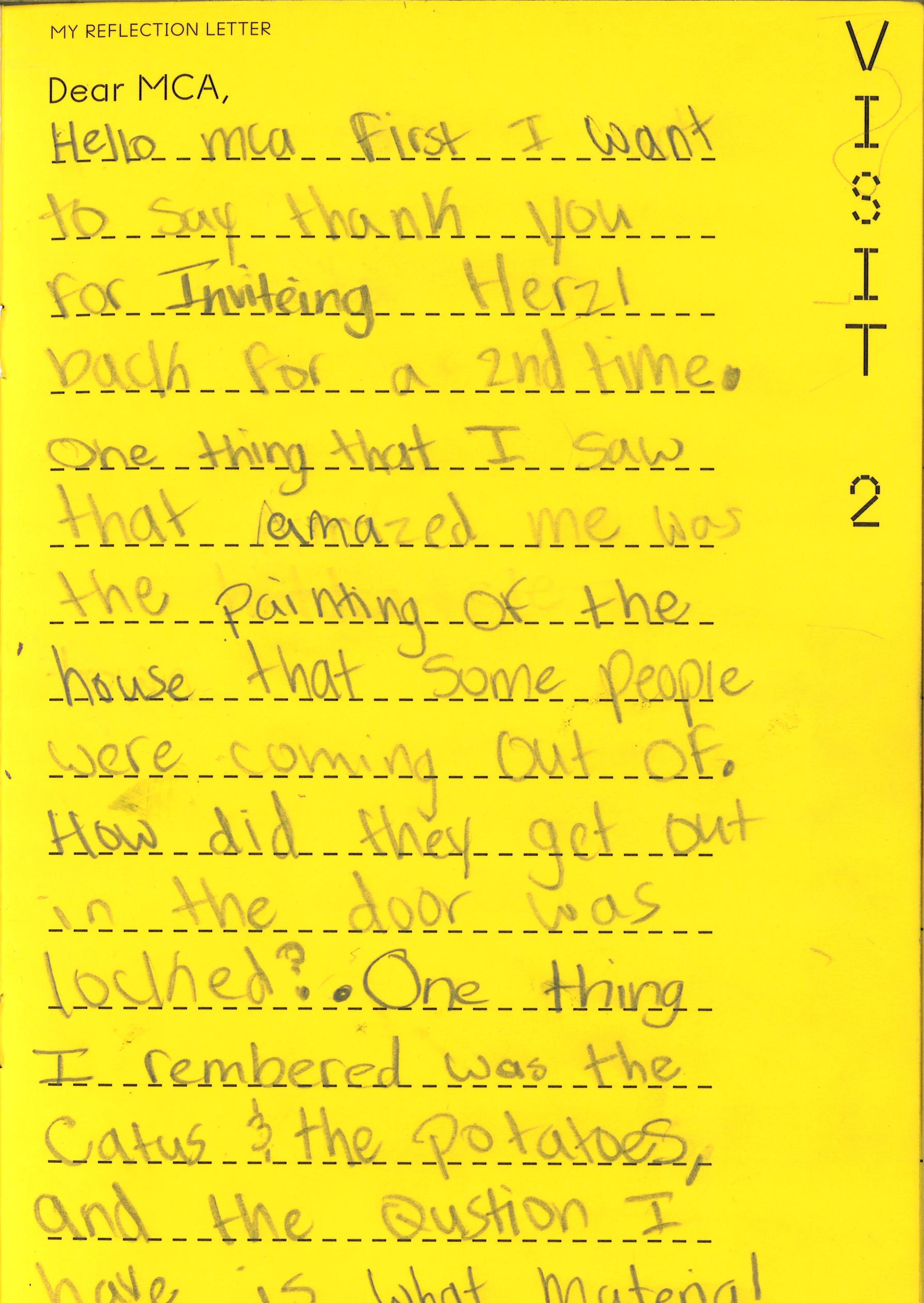 My Reflection Letter
VISIT 1
January 2016
Dear MCA,
I had [alot] of fun at the Museum of Contemporary Arts, I [can not] wait for the 2nd visit. The art that was the most interesting was the human-fish painting and the mobiles hangings from the top of the building. Something that I want to share with you is the cactus's and the outside men sculptures. One question I have is why didn't I see any [pointalism] art as any contemporary art? The only art that I saw was the surrealism and pop art, are we going to see it next visit 2? Thank you I'm so excited to come again (visit 2)!
Love always,

Briana Sullivan
Hello [mca] first I want to say thank you for inviting Herzl back for a 2nd time. One thing that I saw that amazed me was the painting of the house that some people were coming out of. How did they get out in the door was locked? One thing I [rembered] was the [catus] and the [potatoes], and the [question] I have is what material . . . that music room? I can hardly wait to visit 3! Thank you all for [haveing] us at the Museum of Contemporary Art
Love truly,

Briana Sullivan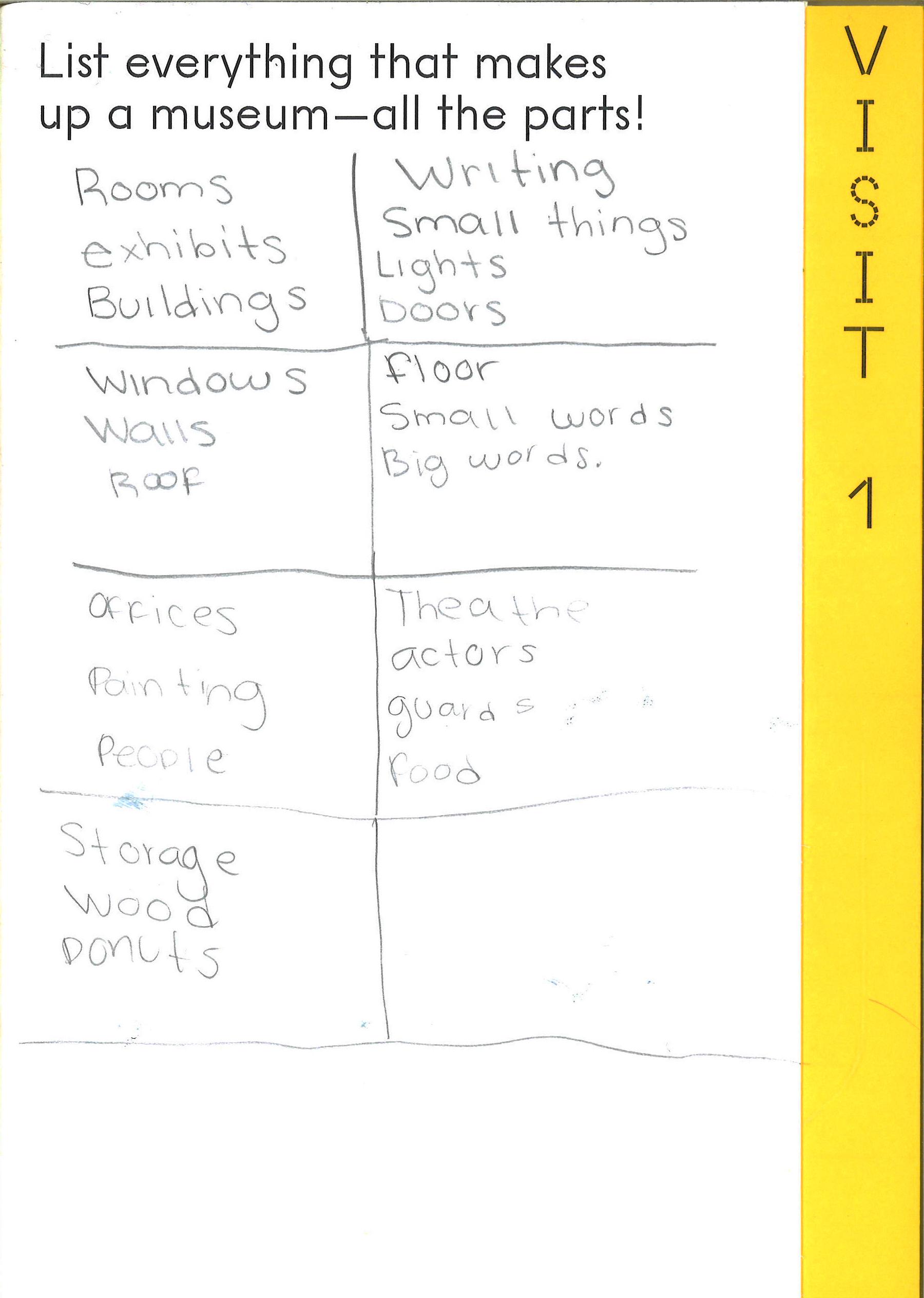 List everything that makes up a museum
* Rooms
* exhibits
* Buildings
* Windows
* Walls
* Roof
* Offices
* Painting
* People
* Storage
* Wood
Donuts
* Writing
* Small things
* Lights
* Doors
* floor
* Small words
* Big words.
* Theatre
* actors
* guards
food
My Reflection Letter
I found that the [portrat] named Casey was [interesting]. Casey felt like it spoke to me. It had so much culture. To me it had so many [differrent] characteristics. It gave me hope and showed that its ok to be me. Somethings I remember the Campbells sou cans, the black here room, Casey and the Kiss Couch. The Kiss couch showed color. The black room was [melon caly]. The soup cans made me hungry.
Yes this time I got to see the Smiths Karaoke and the musical room. I remember how we said that the poster room looked like a domino's pizza box and how the black room looked [diferrent]. What pictures are in the Kerry James Marshall [exibit].
I will remember the [kareoke] room. I remember it because it was very funny and [exicting]. I would tell them that the museum shows great culture and integrity. I would say that the Kerry James Marshall's work has so much African American Culture and it shows a great amount of African American culture.