Twelve Extremely Awesome Songs that TCB Will Definitely NOT Play at the MCA: A Christicle
by Seth Vanek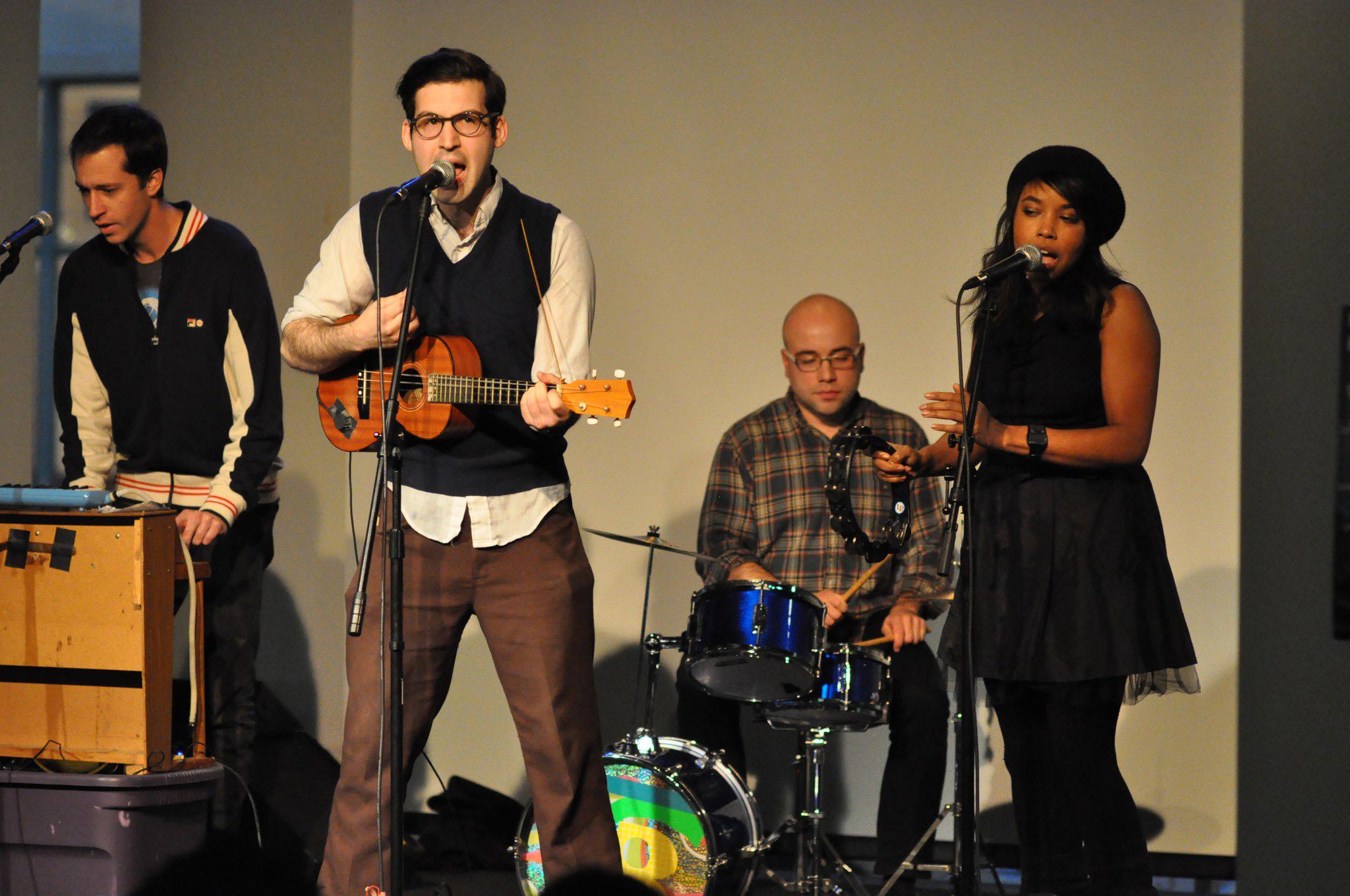 ---
Holiday music has a special way of intruding into our lives in ways other music doesn't; so it is understandable that many have developed a distaste for the category. My approach to surviving the season has been to counter-balance the omnipresent shopping mall soundtrack by seeking out off-kilter and soulful remedies. So that we might all be fully prepared to engage in the quirkier end of the holiday music spectrum, I've made a festive annotated list (what I'm calling a "christicle") of 12 of my favorite songs that use the season as their reason (and, I'm willing to bet you, haven't been abused with over and over every winter since childhood).
If you would like to see how my questionable and eclectic tastes manifest when I'm asked to play holiday music with my friends using only small instruments, then join me and the Tiny Cover Band tonight in the MCA Café. (Bonus points if you wear something nice and festive.)
Happy seasonal celebrations to all!
♥ Seth
---
12\. "Merry Christmas, Everybody" — Daniel Johnston
No one plays piano quite like Daniel Johnston. The vigor continues even after the notes stop. A perfect metaphor for how we should keep the magic of the season in our hearts for as long after December 25 as we can.
11\. "Reindeer Ride" — Roger Lavern and the Microns
The energy of the cascading piano and near-frantic sleigh bells on this Joe Meek–produced track picks up right where Daniel left off. Apparently, the twangy surf-guitar feel comes courtesy of some of the same session musicians that played on Meek's greatest hit, the Tornadoes' "Telstar."
10\. "It's Christmastime" — The Qualities
When the great afrofuturist and interstellar musical visionary Sun Ra was starting out in Chicago, he wrote songs for the doo-wop group The Qualities, including this charming arrangement. Interested parties would do well to check out New Jersey indie rockers and longtime Sun Ra devotees Yo La Tengo's sweet cover.
9\. "I Like Christmas" — Bruce Haack
This one gets an honorable mention for sheer weirdness. Synth and drum machine genius Bruce Haack displays his prodigious skill so effortlessly in this track, it should make Paul McCartney regret each one of the 45 minutes it took him to write and record that miserable, synthy dreck we keep having to hear each year.
8\. "¿Mamacita, Donde Esta Santa Claus?" — Toni Stante
12-year-old Augie Rios had an extremely cute novelty hit with this song in 1959. I prefer the more energetic drumming and background singing on this Toni Stante version. Better for parties where you might want to inspire that special person to boogie their way under the mistletoe.
7\. "Mr. Santa Claus" — Nathaniel Mayer
This barn burner by Detroit's Nathaniel Mayer features vocal pleading so soulfully desperate that you might not be blamed for thinking the singer actually believes Santa can fix broken relationships. Actually, can he? Asking for a friend.
6\. "Stone Soul Christmas" — Binky Griptite
A few Christmases ago, I learned an important lesson from the Tiny Cover Band's keyboardist, Justin Petertil, when he showed me how any well-written song can become a successful holiday song if you just replace one of the words in the chorus with "Christmas." In Justin's example, it was the Ozzy-inspired "Christmas Train," (which you can hear him sing tonight). In the case of Binky Griptite, it's Laura Nyro's "Stoned Soul Picnic," which was made famous by the Fifth Dimension, Roy Ayers, Swing Out Sister, and others. These Daptone artists go so far as to write new verses, too, but they've always been overachievers.
5\. "Santa's Got a Bag of Soul" — The Soul Saints Orchestra
Let's keep the party cooking, shall we? For the very young, much of the lead-up to Christmas is fixated on what is contained within Santa's mysterious bag. In this imagining, the answer is one of the hottest opening drum breaks a song can have. That is, until this next entry . . . .
4\. "Soulful Christmas" — James Brown
It wouldn't be right to try and have a "Soulful Christmas" without the Godfather himself. For my money, this one's more funky and danceable than the more canonical and slightly message-y "Santa Claus Go Straight to the Ghetto." Spirit guides Gilles Peterson and DJ Verb will know what I mean when I say, "All I Want for Christmas is 1/25th of the pocket of Clyde Stubblefield."
3\. "Close Your Mouth (It's Christmas)" — The Free Design
The Free Design remain one of the most charming anomalies in pop music—a swinging, folky, co-ed vocal group that straddles the line between camp and late 1960s earnestness. They get extra groovy on this song, which is chock-full of advice on how to let go of mindless consumerism and truly embody the spirit of the season, including: "Get to know the people in your house (you might like them)," followed by the sonic equivalent of a winking emoticon ; )
2\. "Peace at Last" — Rotary Connection
To return to Santa Speculation for a moment, I've always loved this song's theory about what drives The Jolly One's slightly paranoid yet cash-flush workflow. I'm not endorsing anything here, but I do agree that everyone should have peace at least once a year, whatever that means to you.
1\. "You Better be Good, World" — Shirley Ellis
It's hard to believe that the same singer that taught us "The Name Game" would also give us this beautiful and confounding seasonal treasure; at once a foreboding threat and a heartfelt message of peace. I raise my egg nog to the A+ Internet Hero who uploaded this VERY hard to find track and had the additional genius to match it with the goofiest televised dancing that 1986 could offer.
Need these songs at your next holiday party? The full playlist is available on the MCA's YouTube channel.