The Visual Vocabulary of Kathryn Andrews
by Erin Thomas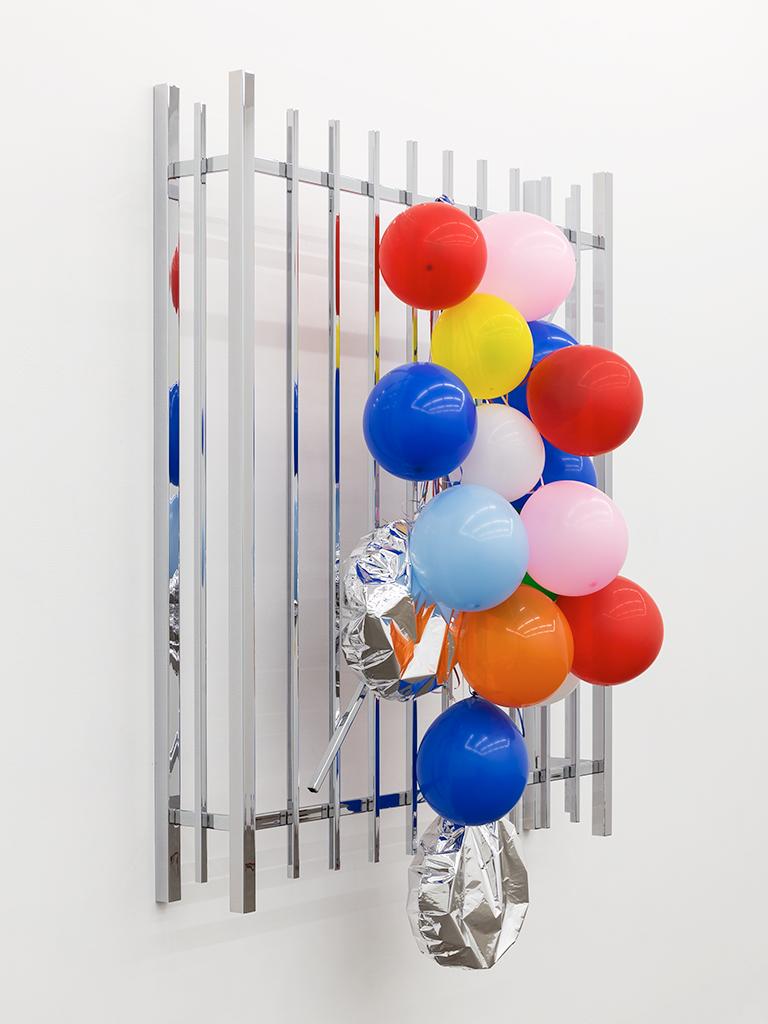 About
During my time as the MCA's editorial intern, I've had the opportunity to research and write about MCA exhibitions from 1967 to the present day. For me, the upcoming exhibition Kathryn Andrews: Run for President, which opens November 21, relates to artists and movements that the MCA has continually presented and revisited, from pop art to minimalism and conceptualism.
In her work, Kathryn Andrews appropriates the visual vocabulary of these movements to explore ideas of authorship, artistic control, audience participation, and desire in multiple contexts, from politics to the contemporary art market. Looking at her sculptures and installations in the context of her many 20th-century art historical references sheds light on her conceptual framework.
One such work, October 16 (one in a series of four similar works), was created by affixing helium-filled balloons to a wall-mounted gate of chrome-plated steel. Contemporary artists who incorporate balloons into their work inevitably provoke comparisons to the trademark balloon sculptures of superstar artist Jeff Koons, and Andrews is no exception.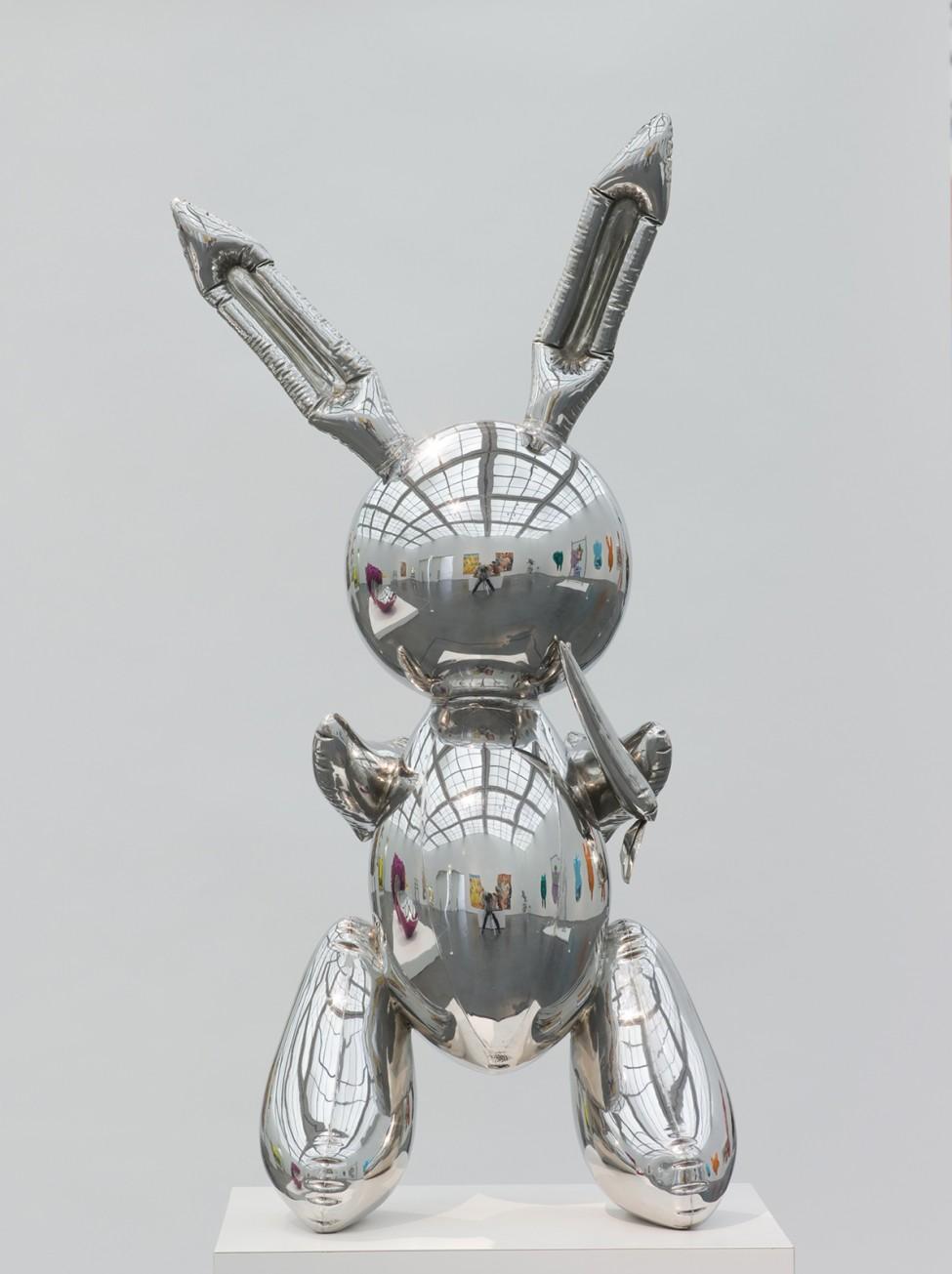 About
Yet while Koons's monumental steel creations only mimic balloons, Andrews embraces their ephemerality—allowing hers to droop from the gate as they deflate—to complicate the works' authorship. Each year on a work's "birthday" (the date in its title), its owner must decide if and how to alter the work according to Andrews's open-ended instructions:
ON THIS DATE THE OWNER MAY LEAVE THE WORK AS IS THE OWNER MAY ADD NEW BALLOONS THE OWNER MAY REPLACE THE ORIGINAL BALLOONS NEW BALLOONS MAY OR MAY NOT RESEMBLE THE ORIGINALS THE OWNER MAY ACKNOWLEDGE THE WORK DIFFERENTLY IN DIFFERENT YEARS
The decay and potential restoration of Andrews's pieces greatly contrast with Koons's permanently flawless balloon sculptures, which remove the possibility of human interaction save for a glimpse of a viewer's reflection on their gleaming surfaces.
The metal bars of Andrews's balloon sculptures, however, allow her to similarly capitalize on the human tendency to gravitate toward shiny objects. This focus on surface and finish also links her work to art movements during the 1960s and 1970s like Finish Fetish and Light and Space, which are specific to Los Angeles (Andrews's home for the past 15 years). The aesthetics of Southern California—cars, surfboards, industrial materials, and the ocean—inspired artists, including Peter Alexander, Larry Bell, and De Wain Valentine, to take surface as subject, using highly reflective finishes to alter viewers' experience of light.
---
About
Yet Andrews frequently moves beyond pure visuality, exploiting the appeal of the reflected image to surprise her viewers and subvert their expectations.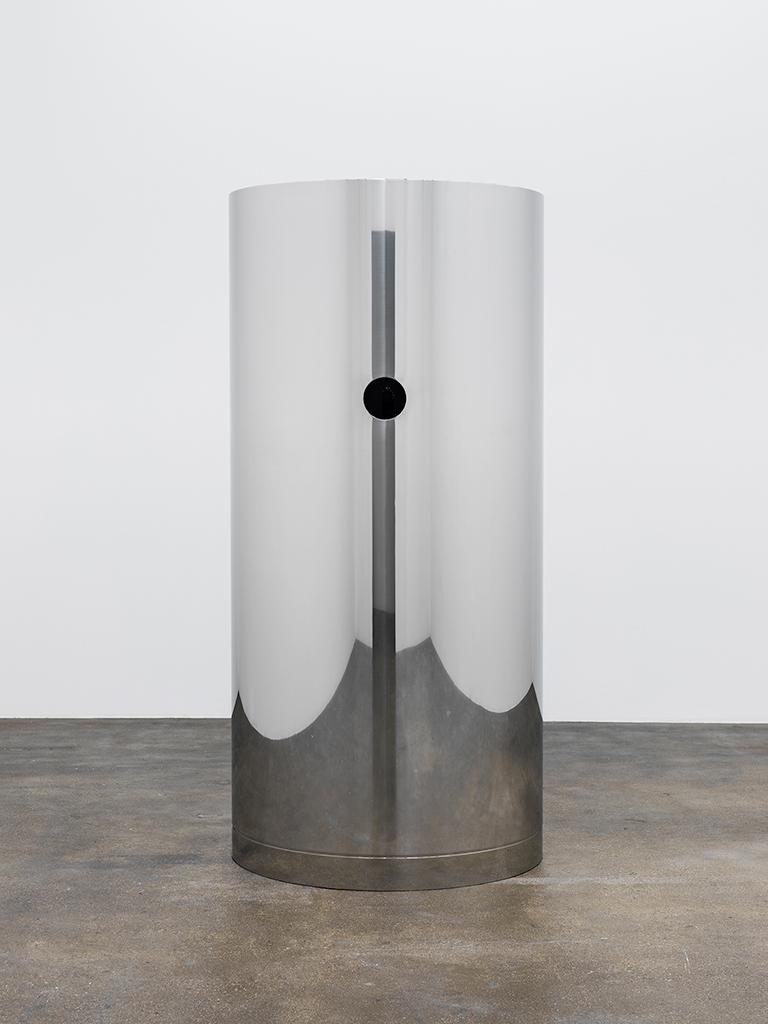 About
Lethal Weapon(2012) contains an unnerving surprise behind its chrome-plated surface: a close look into a small hole cut out of the cylinder reveals the barrel of a gun—a prop from the 1987 film Lethal Weapon—pointing at the viewer. Andrews frequently employs rented film props as subject matter in her work, including Jack Nicholson's Joker costume, a shirt worn by Brad Pitt in Mr. and Mrs. Smith, and Ashton Kutcher's ring from The Killers.
Upon realizing the prior use of these objects, the viewer's mind conjures the celebrity's image. The societal deification of celebrity and the constant dissemination of stars' images via mass media make props that bear a celebrity's touch—and are thereby imbued with the aura of their charisma—seem all the more precious.
Andrews referred to Duchamp when she described these props as "truer" readymades, claiming, "The inclusion of readymades have become so standard in artistic practice that the question of whether or not the artist made the object is of little consequence." Labeling these objects "certified film props" denotes their individual histories and implies "an imminent return to their regular type of use, one that's not art-related . . . they can briefly have something to do with 'Kathryn Andrews,' but then they are what they are." As artists have generally used commonplace objects to create readymades, Andrews's inclusion of props prompts new questions of value: what determines the value of a retired film prop, and how does the artist's hand—and brand—affect that value?
Though Andrews draws on the aesthetics of pop and minimalist movements, which typically denied traces of the artist's hand in favor of emphasizing mechanical processes, she updates and transforms these practices by integrating a human aspect. She fosters conceptual and physical exchanges between viewers, herself, and often a third party—from anonymous performers to celebrities and cultural icons. The result is a subtle yet complex sociocultural analysis that resides within flashy and fascinating works of art.