Freedom Principle Site Visit: Child City
About
One blustery winter day, the kind Chicago is known for, the MCA curatorial team for The Freedom Principle: Experiments in Art and Music, 1965 to Now traveled throughout Chicagoland to different sites that played a major role in the development of the AACM and experimental jazz in Chicago. One such site was 8701 South Bennett Avenue. Now home to the Mayfair Academy of Fine Arts, the location was once the site of Child City. Below Grace Deveney, a member of The Freedom Principle curatorial team, reflects on its importance within the history of the AACM.
Images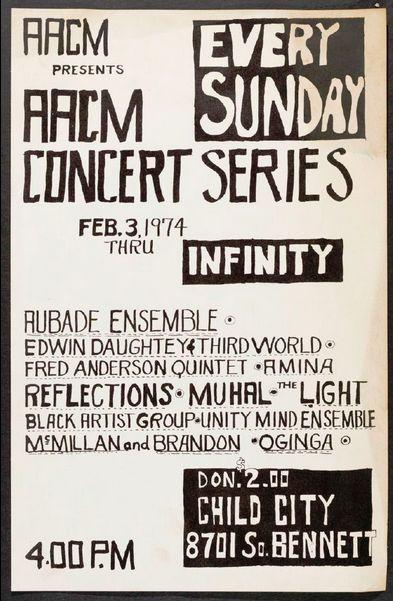 About
As these posters suggest, Child City, a daycare center run by AACM guitarist Pete Cosey's mother, was at the heart of much AACM activity. Housed in the AACM's headquarters for a time, Child City has been described as a place filled with family, friends, and incredible experimental teaching and music making. In the 1970s, the AACM used the space for meetings, classes, and concerts—including regular Sunday performances by the Muhal Richard Abrams Sextet. Visitors from far and wide came to Child City, and a 1973 description of a concert by French jazz critic Philippe Carle, was the first to be published in Europe. Of the concert, he wrote: "Before playing, the musicians, backs turned to the audience, remain motionless for a few minutes. Then they turn to approach their instruments: all wearing rubber masks worthy of a horror film . . . Little by little, via small percussion, whistles, and toy instruments, the space becomes a kind of immense birdcage."
Source: George E. Lewis, A Power Stronger than Itself: The AACM and American Experimental Music, University of Chicago Press, 2008.