Jazz Movement Study: Opening Day, Part 1
by Chad Kouri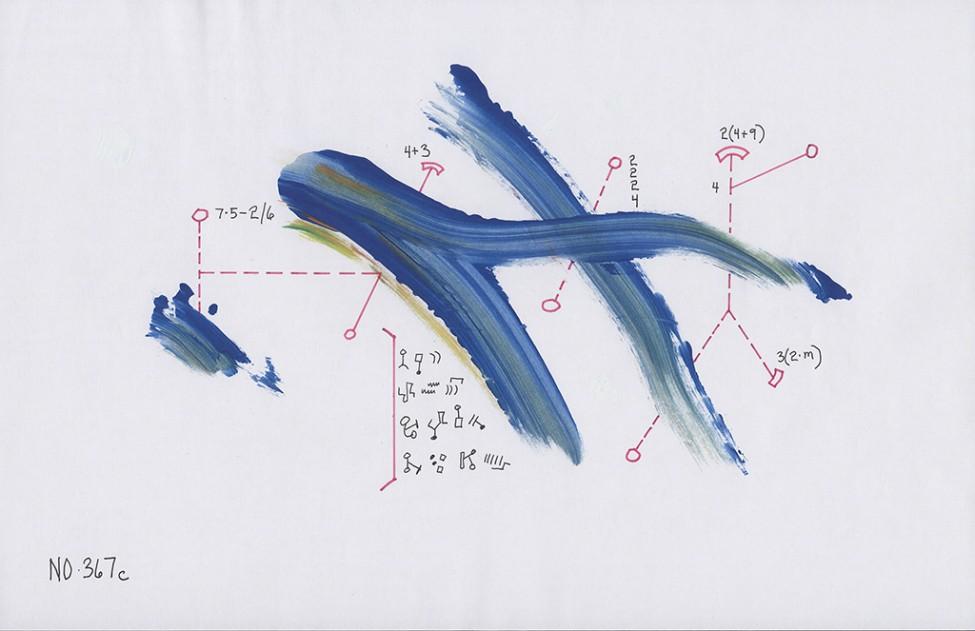 blog intro
Artist Chad Kouri continued his Jazz Movement Studies at the MCA during The Freedom Principle opening day. To kick off the exhibition, the museum was free to Illinois residents, open late, and hosted a variety of talks and performances all day. As part of the opening day activities, we invited visitors to join Kouri in a workshop based on his Jazz Movement Studies. Now, several days after the opening day, Kouri shares his thoughts and art from that day.
About
I started my Freedom Principle opening day workshop with some very layered, pattern-based drawings during the Natural Information Society set, which was a great way to kick everything off. Meditative drones paired with rhythmic momentum filled the room, creating the perfect atmosphere for myself and the workshop participants to "warm up" by drawing what we heard. These ended up being some of my favorite jazz movement studies to date. But let's save them for another day. What I want to share with you today is more on the cyclical nature of music and art—a subject at the heart of The Freedom Principle. During the opening, cellist and composer Tomeka Reid and double bassist Silvia Bolognesi performed as the Reid Duo. Rather than translate their performance on to paper, I explored a new medium: the MCA's windows.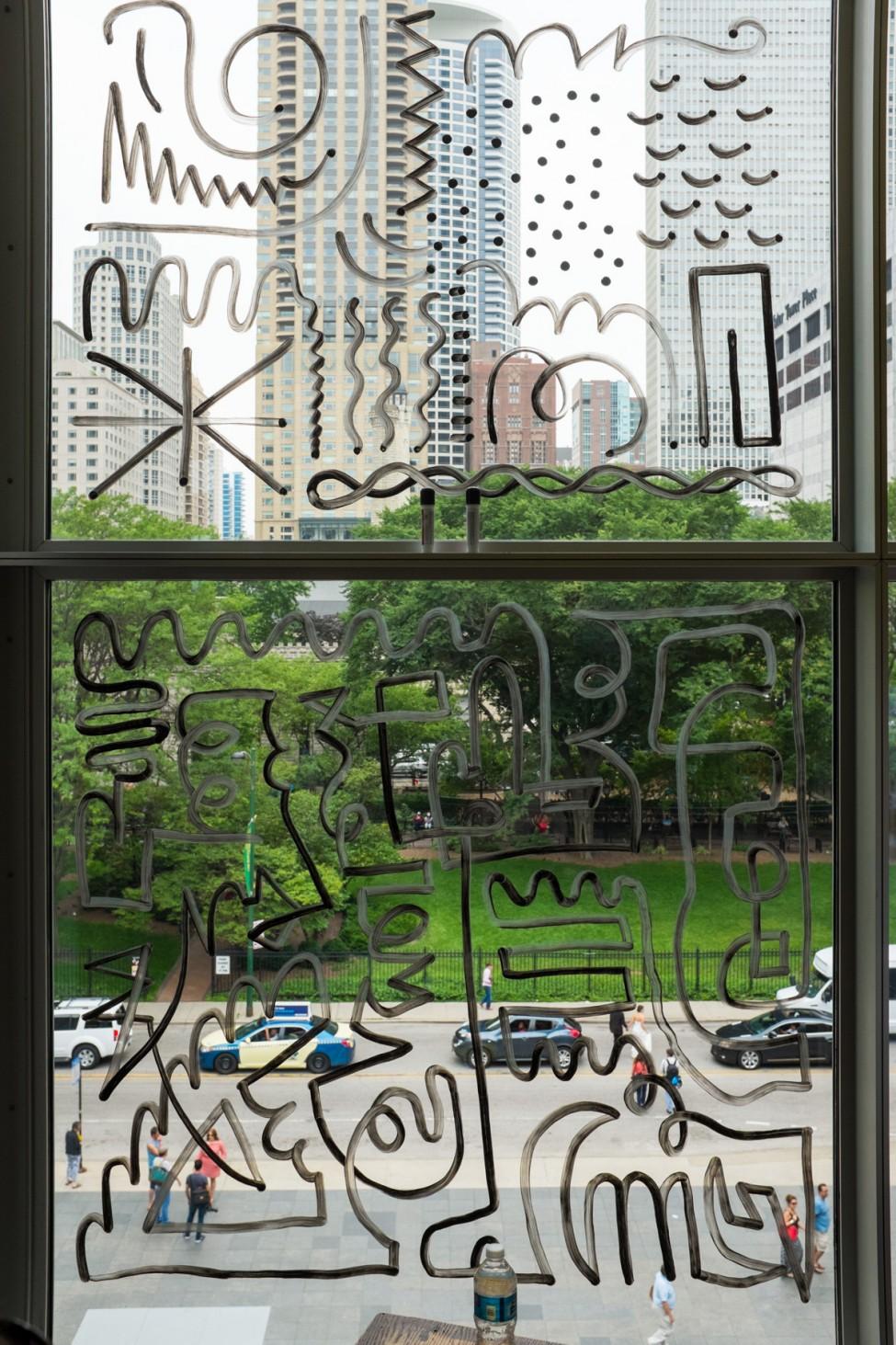 About
What resulted was a beautiful experiment. A select few Anthony Braxton graphic notations were interpreted by the musicians, which were then translated back into graphic form in real time on the large bay of windows in the fourth-floor lobby of the MCA. As the performance evolved, I made the last-minute decision to finish each window pane drawing in the same place I started, again responding to the cyclical nature of our simultaneous performances.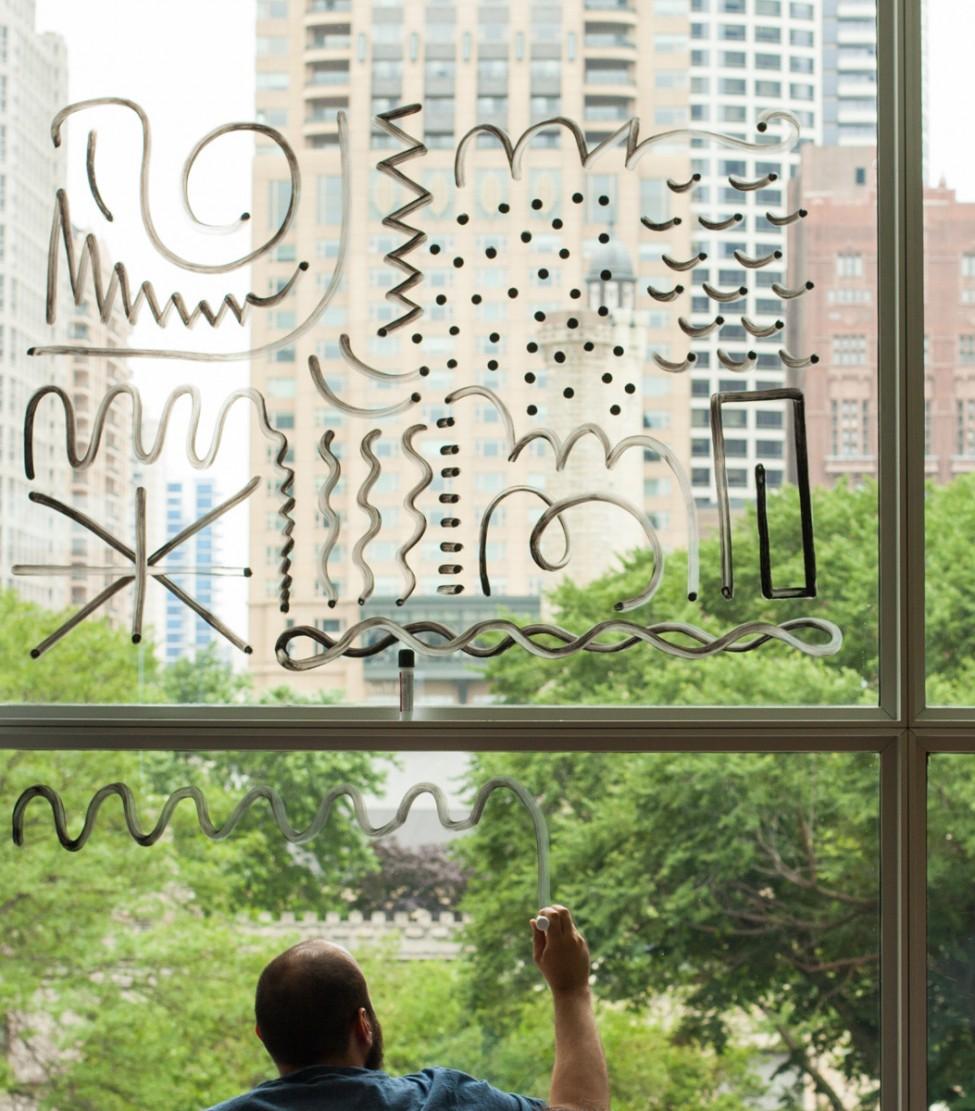 About
Two of the drawings followed the musicians' interpretation step by step, manifesting as one long path twisting, turning, curling up, and diving back down just to end in the same place they started. The other panels collected specific moments of the performance as individual gestures; the sharp staccato points of a hand plucked string, or the soothing vibrations of a bowed tone or cord. The final moments of the performance ended in what sounded like an incomplete progression, which was simultaneously matched by my halt, leaving the last few square inches of window space untouched.