Visual Jazz: Chad Kouri's Freedom Principle Series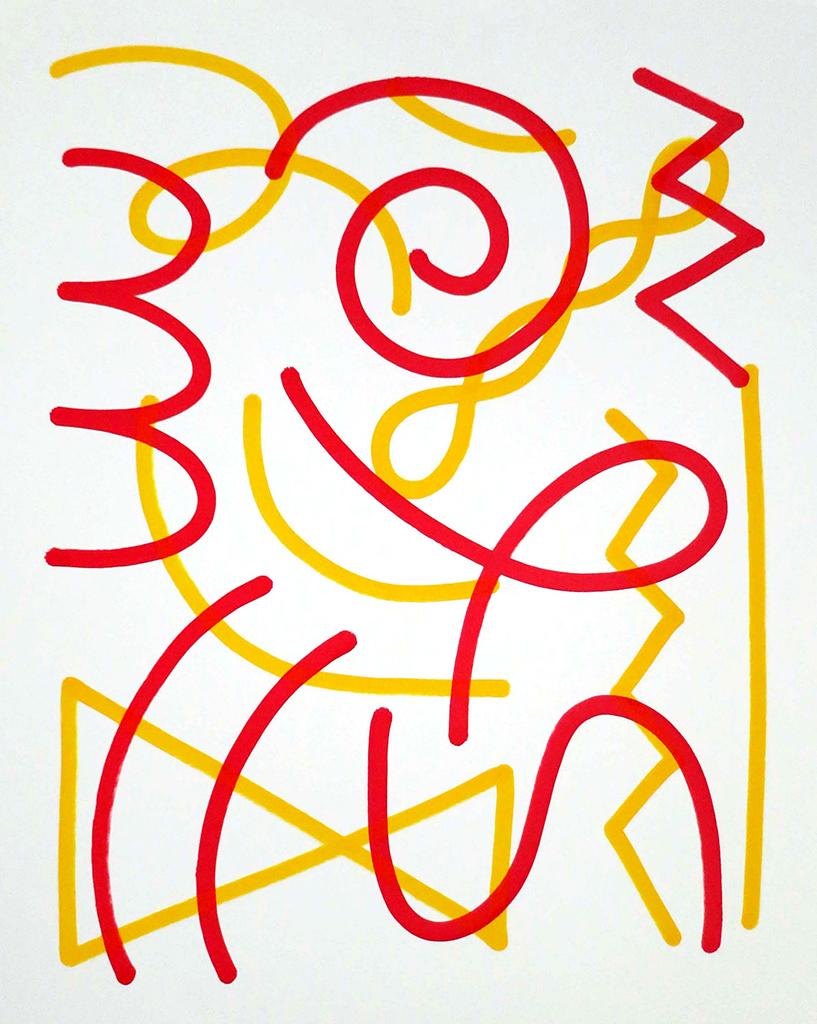 About
Saxophone or graphic design?
That was a question artist Chad Kouri had to ask himself when deciding what type of career to pursue. Although, in the end, he chose art and design, music—and jazz in particular—has continued to be a very important aspect in his life. It's something that informs his work and process as a working artist, which Kouri often describes as improvisational or intuitive, with a lot of trial and error; a lot of experimentation that may or may not work.
But jazz doesn't just provide Kouri a method of working, it's also inspiration for his series of works titled Jazz Movement Studies. This body of work began when Kouri first began exploring Chicago's expansive community of lively free jazz, whose members can be seen at Tuesdays on the Terrace or in performances for The Freedom Principle. Coming from a more traditional jazz training, Kouri has explained "this sub-genre confused me to say the least. In order to become more comfortable and intimate with these live performances, I started creating small intuitive and gestural drawings during a set, reacting to the physical movement of the performers as well as the sounds, riffs, pops, scratches, and anything else that came out of their instruments (or lack thereof)."
In his drawings you can see swirls and asterisks, zig-zags and figure-eights; marks that create a kind of vocabulary, often repeating within a piece or appearing in multiple works. It's up to the viewer to assign meaning to these marks, decipher them, or simply enjoy a visual concert unfold. These marks usually become the only record of an experience that is likely unrecorded and improvised; an attempt to capture a fleeting experience—a challenge that Kouri enjoys rising to. There is, of course, artistic precedence for translating music, and especially jazz, into artwork. Kouri cites the bright colors, hard geometry, and abstraction of Stuart Davis (whose work you can see at the Art Institute of Chicago) as an influence on him artistically, and gravitated to it even before knowing there was a musical connection within the art. Josef Albers's graphic, black-and-white album covers are another favorite of Kouri's that combine music and visual art.
As an artist, Kouri strives to make his practice accessible to a public and hopes that his drawings will perhaps make free jazz music a little more accessible to everyone. As Kouri hopes for the viewer, "I'd like to think that people who wouldn't be that excited about jazz music, [maybe what] I do could be an entry point into it."
Catch Chad Kouri drawing at a Tuesdays on the Terrace or an MCA Stage performance over the course of The Freedom Principle, as he undertakes a special set of drawings for his Jazz Movement Studies related to the exhibition. And check out MCA DNA as we will be publishing his artwork on this blog regularly throughout the run of The Freedom Principle.