Inspired by the Archive: The Happenings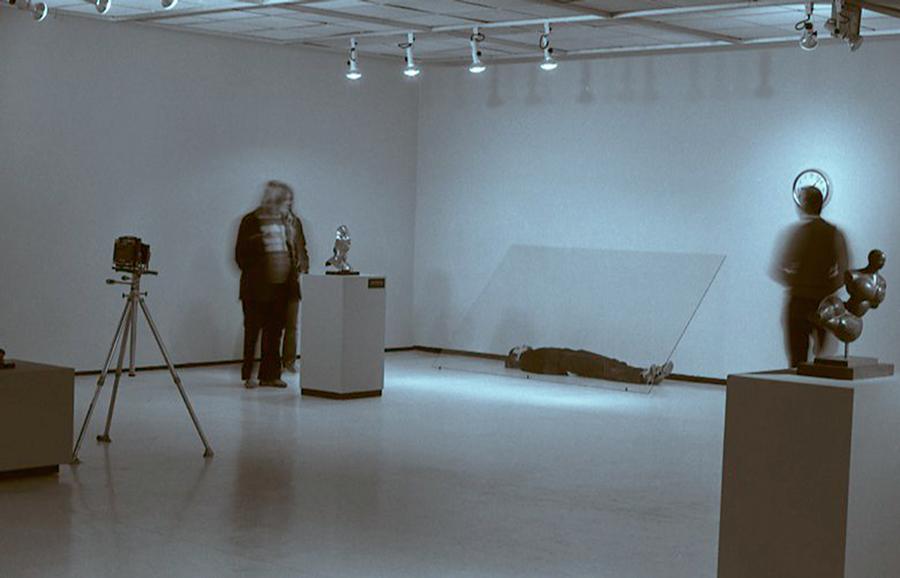 ---
We asked Chicago artist Samantha Hill to reflect on her series of happenings occurring on three Tuesday evenings this winter/spring, the first of which begins tonight at 6 pm. Because she depends on the kindness of strangers for installation source materials (stories, photographs, group dancing at landmark locations), Samantha often uses the letter format as an artistic tool, allowing her to talk directly to her audience.
About
Dear Friend,
I hope this letter finds you well. I have exciting news to share about my latest project called The Happenings: a series of events inspired by the MCA Archive. For this series, I developed three performance events that bring art history alive through interactive music, dance, and play. I would love for you to join in on the fun!
You're probably wondering . . . What is your inspiration for this performance series?
I found my muse for this project in an introduction statement from the MCA Chicago on our Fortieth Anniversary catalogue:
"No discussion of the past and future of the Museum of Contemporary Art can begin without the art. Loud or quiet, bold or subtle, it plays varied roles within our galleries: the innovator, the empiricist, the explorer, the storyteller, the soothsayer, the provocateur. Contemporary art is alive, enthralling, and at play.
Yet we have stood fast in our role as a guardian of cultural wealth. We have withstood booms and bursts in the art world and beyond, periods in which contemporary art has been celebrated or reviled. Through it all, we are committed to introducing new audiences to the art of our time, maintaining a broad and diverse marketplace of ideas, and cultivating future generations of art lovers. At the same time, we celebrate and encourage artistic pioneering and risk-taking. Since we first opened our doors in 1967, we have presented and helped immortalize living artists, bringing their forward thinking work into the hollowed halls of art history. We mine the terrain and dig for the innovative and substantive, pulling new gems to the surface."
After I read this statement, my first thought was AWESOME! I felt completely inspired to develop interactive performances influenced by the MCA's history but with a contemporary twist!
For me, play is the catalysis for the imagination, social bonding, and expression. I enjoy creating opportunities for social and playful experimentation in my performances. It would be amazing if you could join me in 'rewriting history' by participating in this series of performances:
10 Body Performances (a tribute to the 1975 Bodyworks exhibition by connecting public performance to photography)
Uma Celebração da Cultura (a tribute to the history of the MCA's music and dance performances though Samba music and social dancing)
Art & Soul Redux (a tribute to the history of MCA community engagement on Chicago's Westside in 1969 through experimental music-making)
In the first "happening," 10 Body Performances, you can create your own performance art in the galleries. I am leading MCA visitors in a series of workshop exercises to assist them with the creation of personal body performances.
I know live performance may not be your cup of tea (even though I think you'd be great at it!), so you can also join in by photographing the workshop performances using your smartphone. Tag #MCAStudio to your photos on Instagram or your tweets, and your images will be projected throughout the gallery during the program. So, whether you are an exhibitionist or a voyeur there is an opportunity to participate in the fun!
10 Body Performances takes place tonight from 6 to 7 pm, starting in the MCA Atrium. I hope to see you there!
Your friend in art,
Samantha Hill