Fragments of a Lost Object: Meditations on the Photographs of Anne Collier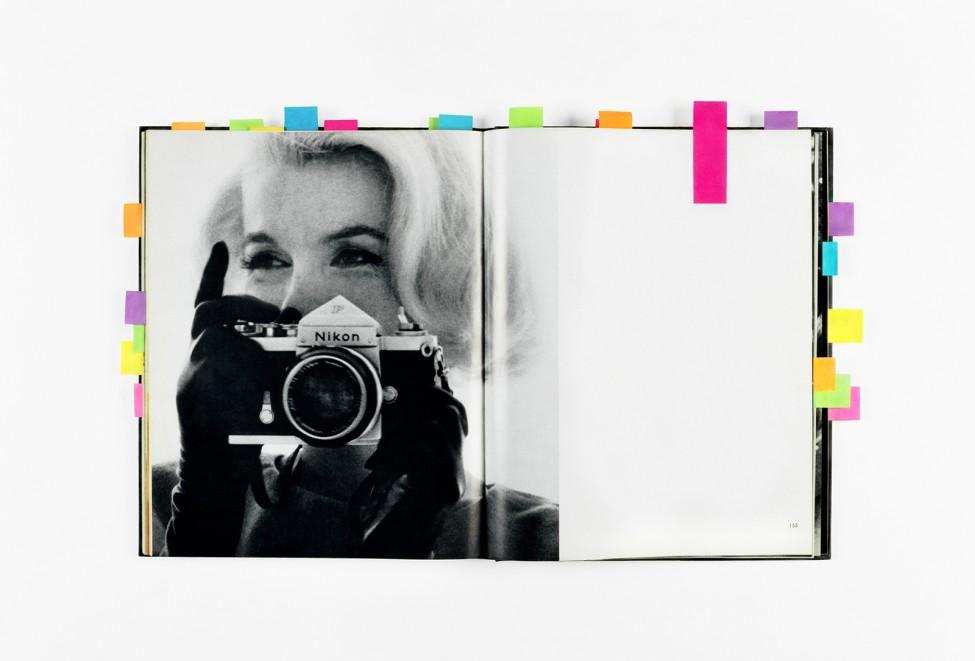 About
The following text is excerpted from the beginning of Kate Zambreno's essay in the exhibition catalogue Anne Collier, part of the MCA Monograph series, which accompanies the first major solo US exhibition of Collier's work at the MCA, Nov 22, 2014–Mar 8, 2015.
About
I am wondering what it means to collect.
I meditate upon the tender memento mori of the photographer Anne Collier, who photographs her collections of books of photography, self-help tapes, and other lost and melancholic objects.
*
"To collect photographs is to collect the world," Susan Sontag writes in her essay "On Photography." A photograph in a book too, she notes, is an object to be collected.
Can you collect, I wonder, people too?
Anne Collier's image of Marilyn Monroe from Bert Stern's The Last Sitting, from her Woman With A Camera series (the name teasing in its anonymity). Marilyn, in a moment of playfulness, poses wearing black evening gloves and holding a Nikon camera suspended over her mouth. Looking away, her eyes crinkle in a smile. The camera obscures but does not mask what we are really looking at—the mythic face. What the camera performs here is a form of peekaboo, like the fan dance with the striped diaphanous scarf in those other Stern images, a clichéd and expected pose from a specific time period, as the title, gently wry, suggests. The camera isn't active, posed like it's actually looking back, taking pictures back at the photographer capturing her. As if to show the joke—she is the beautiful image here, this is not her point of view.
So who is the Woman with a Camera? The Woman with a Camera is Anne Collier. Her gaze is obsessive, sad, sensitive, droll. She's not just looking, she's looking at how others have looked (men, fellow photographers, all of us)—an affectionate and ironic distance, yet also with the intimacy of a collector, perhaps even a fan.
To look at this image of Marilyn Monroe is to mentally page through the rest of the book, with its somewhat morbid name—the fragility and pathos of those images—and then to linger on the biography, on Marilyn's deep unhappiness and struggle, which she would ultimately not survive. How this photo shoot, commissioned by Vogue in 1962, was part of a major publicity effort after she was fired from 20th Century Fox, a year after being institutionalized at the Payne Whitney Psychiatric Clinic. Six weeks after she posed for these photographs, taken during three boozy days in the Hotel Bel-Air, she would be dead of an overdose of barbiturates. The heaviness of all of this, the tragedy behind closed doors, seeps into these photographs, giving them the weight of a historical memory. Memento mori, from the Latin for: "remember you will die."
And yet she performed such vitality. "You're beautiful!" Bert Stern remembers saying to Marilyn upon first meeting her. "What a nice thing to say," she replied, always rehearsed for the public. Upon seeing only accessories laid out on the bed, she quickly grasped his idea for the shoot, a series of nudes (not very high-concept). She was worried, initially, about revealing a surgical scar on her stomach, but after consulting with her companion/hairdresser, she went for it. Champagne. Flirting. She became Marilyn (a movement she could do, how she could disappear into a crowd, or be a lonely woman on a bridge, how aware she was of performing the persona). She transformed—for the camera—into the sex symbol. "Not bad for thirty-six," she said, or something to this effect, as she emerged from the bathroom in one of the sheer scarves.
There is no real intimacy to the nude, yet Bert Stern captured something in these photographs, something, perhaps <em>nakedem, unable to be replicated. He tried to replicate them, exactly, a few years ago, with tabloid star Lindsay Lohan, and although she possessed the tortured life, she noticeably lacked Marilyn's talent for vulnerability, her expressive and haunting face. Performances cannot be repeated—not exactly.
The red Xs of the contact sheets that Bert Stern published in the book, where Marilyn crossed out the images she disliked (are these ones showing this wounded vulnerability, where the mask drops or is askew, where she reveals such loneliness and longing?) The red X. The gesture that performs her disappearance, that looks like a cross, her cross. The cover of The Last Sitting is exactly this—Marilyn crossed out, Marilyn already a ghost, Marilyn with her mouth open as if trying to say something.
Sontag: "Photographs state the innocence, the vulnerability of lives heading towards their own destruction, and this link between photograph and death haunts all photographs of people."
The camera is objective. And yet one desires to be inside, to enter a subjectivity hinted at in fragments. What does it mean to imagine another's life, the impossibility of accessing their perspective? What does it mean to never escape one's image or mythic status, while still struggling with personhood?
For Sontag, a photograph was also a fragment. This essay composed of fragments. And by that, I mean photographs.
Fragment: Marilyn reading James Joyce's Ulysses outdoors wearing a striped bathing suit. She often insisted on being photographed with a book (a desire to direct her publicity, perhaps, away from the image of the dumb blonde). This reminds me of the press photo of a young Louise Brooks on set, shiny in black and white, reading Kierkegaard.
Some English professor once called a method of skipping around while reading Ulysses "The Marilyn Monroe method," as she had confessed to not finishing it, and mostly enjoying Molly Bloom's monologue. The Marilyn Monroe method: I employ it too. I skip around. I flip. I drift.