Movement and Music in Rosas danst Rosas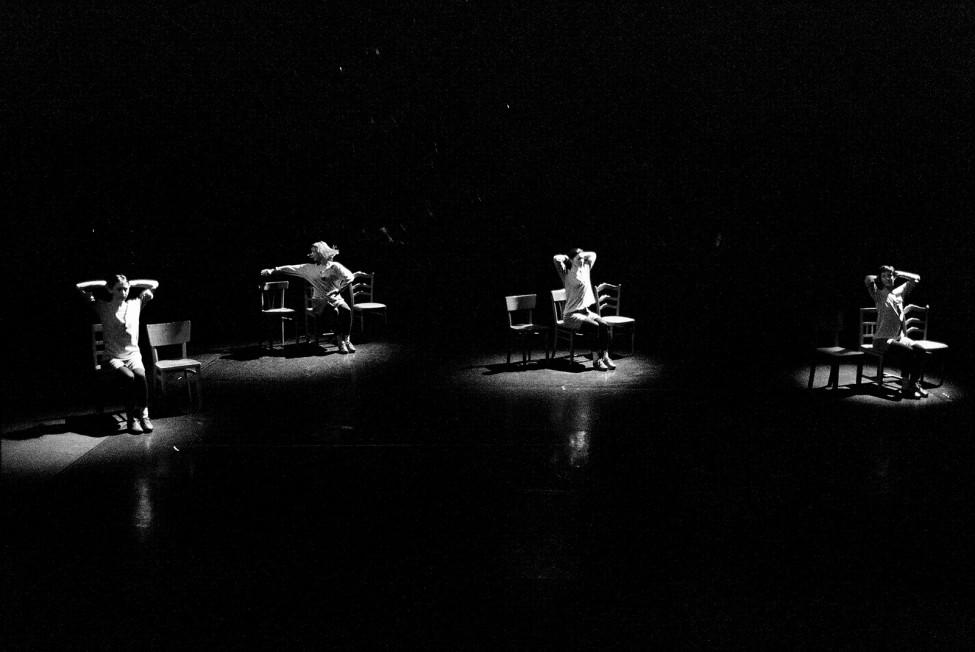 About
The influential Rosas company begins a four-day engagement on MCA Stage tonight. To celebrate Rosas return to MCA Stage after 15 years, Editor Michael Kramer and Associate Director of Performance Programs Yolanda Cesta Cursach consider the musical score that accompanies, and in many ways drives, the iconic Rosas danst Rosas work.
on Rosas danst Rosas
"I wanted to watch the music," Anne Teresa De Keersmaeker once remarked about her choreographic relationship to sound in a piece she created.
De Keersmaeker's company, Rosas, has often created austere works whose appearance of minimalist simplicity masks a more intricate engagement with the subtleties of musical composition. As Rosyln Sulcas wrote in the New York Times, "Ms. De Keersmaeker has always been intensely focused on the musical components of her pieces, often using a score's structure as a tool for choreography."
Rosas danst Rosas contains a particularly deep sense of musical awareness, since it emerged from an extensive collaboration with fellow Belgian composer and filmmaker Thierry De Mey.
De Mey's score is repetitive, full of bell-like and metallic tones that resemble the work of Steve Reich, another composer whose music De Keersmaeker has used. But it is full of melody as well. As the critic Cathérine Raes has written: "De Mey and De Keersmaeker create a tension between a cold, predetermined form and the physique of the (female) dancers who constantly repeat a number of figures."
About
In Rosas danst Rosas, in Raes's words:
The ensemble . . . in geometrically repeating patterns. In the foreground, a soloist repeats De Keersmaeker's minimal dance, which is based on the actions of straightening out a t-shirt, making fists or running hands quickly through the hair. These gestures from everyday life determine the rhythm and the choreography.
De Mey's composition, according to Raes, accentuates the tensions between casual and often sexualized female expression and a more rigorous, machine-like formalism:
These movements are complemented by De Mey's musical language, which is based on a simple, repeated rhythm of crotchets in unison, in which the original melodic shape of four pitches is used in different combinations and shifts within the bar. This basic process is in turn varied a number of times by changing the pitches.
Rosas does not merely move to the music in Rosas danst Rosas. (For that, see Beyoncé's rip-off in the music video for her song "Countdown," an appropriation that De Keersmaeker protested.)
About
Instead, music and movement align around De Keersmaeker's and De Mey's interest in what she calls "scoring" a dance and he thinks of as incorporating movement and visual awareness into his musical compositions.
Their collaboration on bringing dance and music together in Rosas danst Rosas took on a whole interplay when, in 1997, he filmed a performance of the piece in the empty RITO School in Leuven, Belgium. Now dance, music, and architecture converged to create a sensibility at once stripped down to bare essences and loaded with references to social conventions and assumptions. As Raes explains:
De Mey filmed Rosas danst Rosas in the empty RITO School in Leuven. This architectural monument with its austere geometric forms, built in 1936 by Henry van de Velde, was perfectly suited as a décor for the work. Architecture, dance and film are thus woven together into a sort of Gesamtkunstwerk.