How to Hang a Fiat on a Wall
Joseph Lim, the summer digital media intern at the MCA, wondered how one might hang a 1974 Fiat onto the museum wall. He took his questions to Christopher Hightower, the museum's Assistant Registrar for Exhibitions.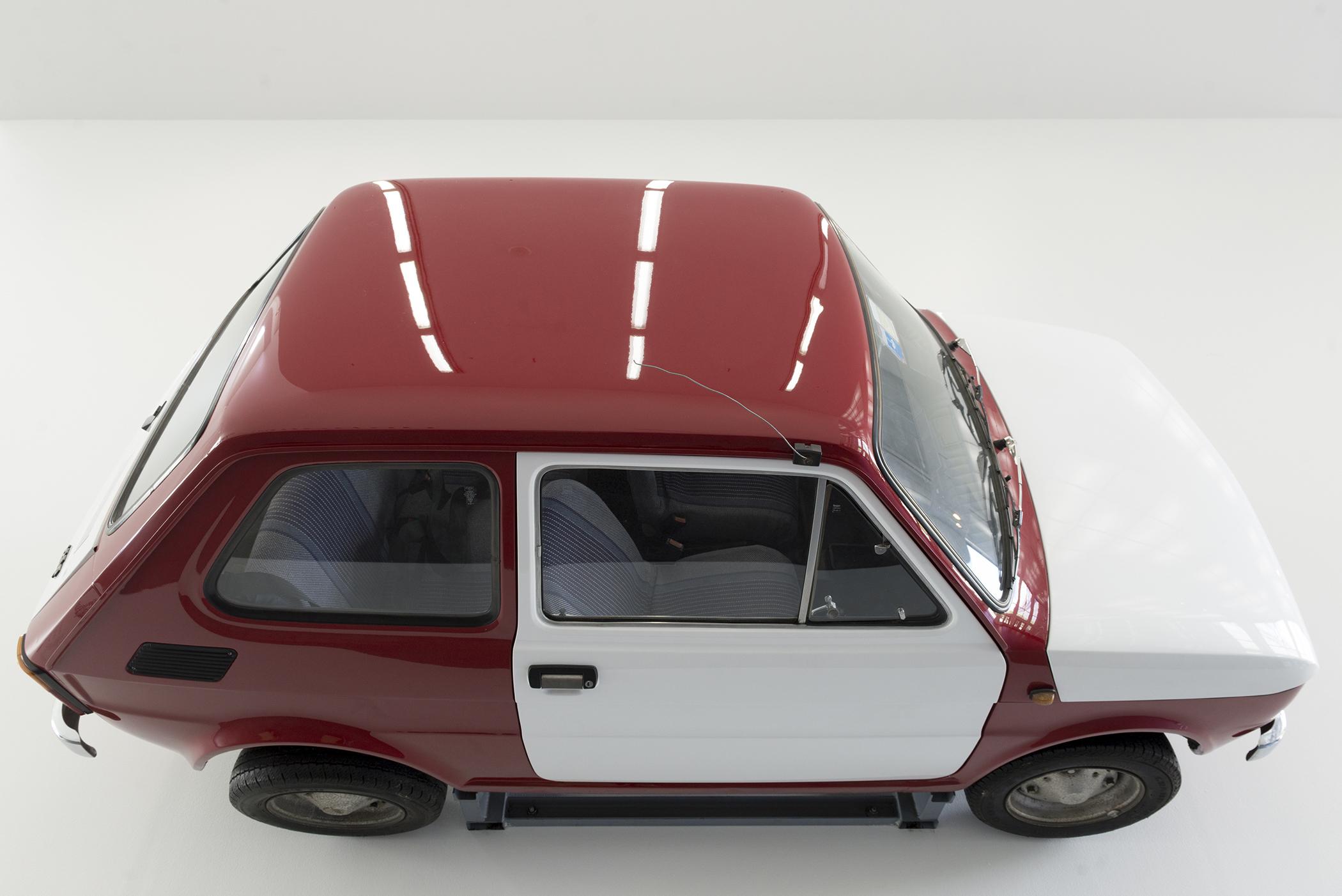 Interview
Joe Lim: What is Flaga?
Chris Hightower: Flaga is a Fiat 126 produced in Turin, Italy, in 1974, and customized using parts manufactured and fitted in Poland, following a journey of 1290 km from Turin to Cieszyn.
JL: What's the role you played in the Flaga installation?
CH: I was responsible for shipping the Flaga from Italy to the MCA. I also oversaw the installation of the work in the MCA atrium and condition-checked the work.
JL: What part of the installation took up the most time?
CH: I began working with the lender and our agent on the logistics of shipping this work in early February 2014. Due to its weight of roughly 1,000 pounds and large size, the work was shipped slightly different than other loans. It had to be loaded onto a special flatbed truck in Italy, placed in a large shipping container, and freighted to the MCA via an ocean liner.
JL: How does one mount a Fiat nine feet high on a gallery wall? What kind of planning whet into this?
What were the biggest challenges that you and your team faced?
CH: My colleague, G. R. Smith, the preparator on the exhibition, and I worked together very closely to determine weight and size of the work so he could talk with structural engineers and different rigging companies to determine the best and safest way to install the work. A steel plate had to be installed in the wall to help structurally support the piece during its installation. Placing Flaga in the atrium required collaboration with multiple departments. Choosing to install on a weekday while the museum was open, we were very conscious of the safety of our visitors during the installation.