Back to School Reading List: Curatorial Fellow Michelle Puetz's Reserve Shelf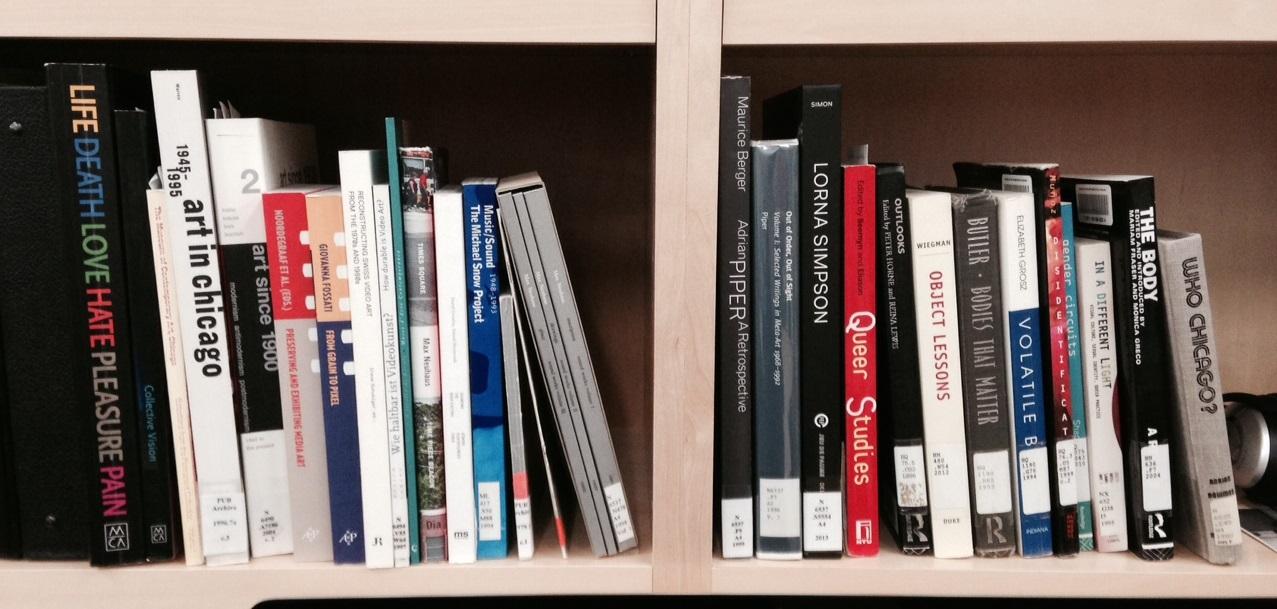 blog intro
When curators are researching a future exhibition, they often ask the library staff to put some books on reserve. The books a curator puts on reserve may provide some insights about her approach to an exhibition or enhance our understanding of the exhibition.
Today, we checked out Michelle Puetz's reserve shelf.
on a curator's reserve shelf
Michelle Puetz is the Andrew W. Mellon Postdoctoral Curatorial Fellow at the MCA. She recently curated the BMO Harris Bank Chicago Works: Lilli Carré exhibition, which featured all new animations, drawings, and ceramic sculptures by the artist. Michelle has been working on various preservation, acquisition, and long-term storage projects related to the museum's collection of time-based media art, and has been researching sound artist Max Neuhaus's site specific audio installation in the stairwell of the MCA's former Ontario Street building. She is currently organizing an exhibition titled Body Doubles, which draws on works from the MCA Collection, so a lot of her research involves old MCA publications. Body Doubles looks at how artists explore identity, gender, and doubling in contemporary art and will focus on artists who depict the human body as a site for transformation.
Pictured from left to right:
Life, Death, Love, Hate, Pleasure, Pain: selected works from the Museum of Contemporary Art, Chicago, collection, by Elizabeth A.T. Smith, et al.

(2002)

Collective Vision: Creating a Contemporary Art Museum, by Museum of Contemporary Art, Chicago

(1996)

Selections from the Permanent Collection, by Museum of Contemporary Art, Chicago

(1984)

Art in Chicago, 1945–1995, by Lynne Warren, et al.

(1996)

Art Since 1900: 1945 to the Present, Vol. 2, by Hal Foster, Rosalind Kraus, et al.

(2011)

Preserving and Exhibiting Media Art: Challenges and Perspectives, by Julia Noordegraaf, et al.

(2013)

From Grain to Pixel: The Archival Life of Film in Transition, by Giovanna Fossati

(2010)

Reconstructing Swiss Video Art from 1970s & 1980s, by Irene Schubiger, et al.

(2010)

Max Neuhaus- La Collezione, by Castello di Rivoli

(1997)

Max Neuhaus: Times Square, Time Piece Beacon, by Max Neuhaus, et al.

(2009)

Sounding the Body Electric: Experiments in Art and Music in Eastern Europe 1957-1984, by David Crowley, et al.

(2012)

Music/Sound, 1948-1993: The Performed and Recorded Music/Sound of Michael Snow, Solo and with Various Ensembles, His Sound-films and Sound Installation: Improvisation/Composition from 1948 to 1993, by Michael Snow

(1994)

The Record as Artwork: From Futurism to Conceptual Art, by Germano Celant

(1977)

Max Neuhaus: Sound Works, by Max Neuhaus

(1994)

Adrian Piper: A Retrospective, by Adrian Piper, et al.

(1999)

Out of Order, Out of Sight, by Adrian Piper

(1996)

Lorna Simpson: works on paper, by Lorna Simpson, et al.

(2013)

Outlooks: Lesbian and Gay Sexualities and Visual Cultures), by Peter Horne and Reina Lewis

(1996)

Object Lessons, by Robyn Wiegman

(2012)

Bodies that Matter: On the Discursive Limits of Sex, by Judith Butler

(1993)

Volatile Bodies: Toward a Corporeal Feminism, by Elizabeth Grosz

(1994)

Disidentifications: Queers of Color and the Performance of Politics, by José Esteban Munoz

(1999)

Gender Circuits: Nodies and Identities in a Technological Age, by Eve Shapiro

(2010)

In a Different Light: Visual Culture, Sexual Identity, Queer Practice, by Nayland Blake, et al.

(1995)

The Body: A Reader, by Mairam Fraser and Monica Greco

(2005)

Who Chicago?: An Exhibition of Contemporary Imagists, by Dennis Adrian, et al.

(1980)