On Choirs: Be Loud, Be Bold
by Jesse Malmed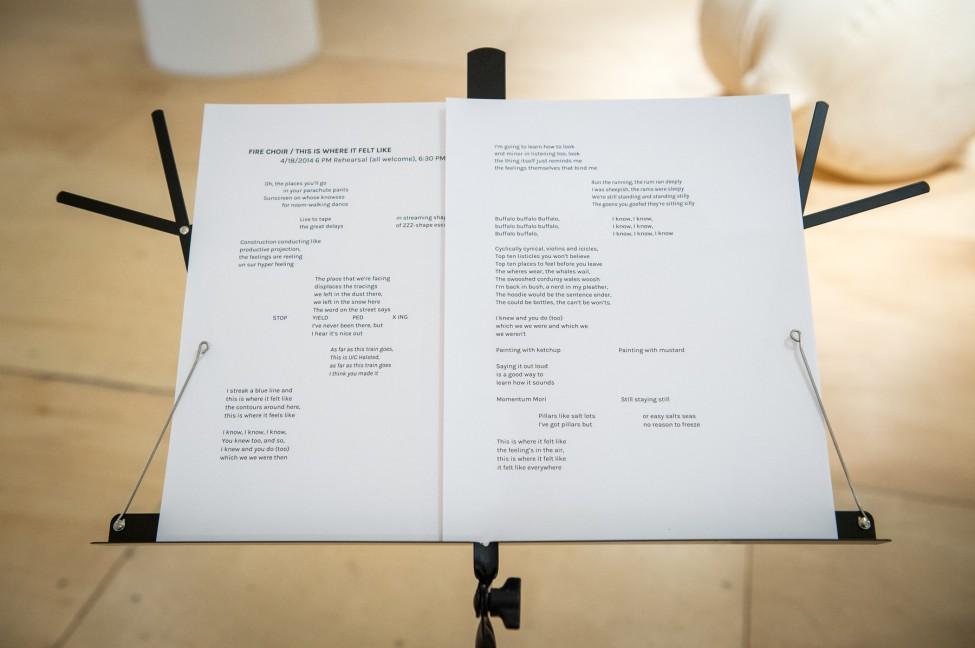 ---
The Mies Choir is the latest in a series of ad hoc choirs I've facilitated/instigated/conducted in the last year. These groups—assembled in galleries, in the woods, in the city—foreground the notion of practice and the ephemerality of performance and temporary ensembles. Whatever experience each member has is the experience that's necessary. We arrange, give melody, and rehearse for 30 minutes. Once the song has been performed in its final form, we disband. The whole experience takes less time than an episode of Behind the Music.
Part of what has kept the form resonant and engaging to me is each choir's unpredictability. Though I may have certain ideas about certain phrases, it's the will of the creative and spontaneous group and our rapid, recursive practice of the phrases that gives them their melodies and attitudes. Traffic callers, Nico, hymns, dueling auctioneers, and backpack hip-hop have all found temporary homes in these ensembles. In the most recent choir, one verse felt like it should be performed by Bob Dylan and almost immediately everyone started doing their best Dylan impression: it worked beautifully.
The first choir came about during my time at ACRE last summer. The number of participants at ACRE willing to do almost anything was exciting and over the course of a half hour or so, we came together and combined a text that I'd written and a text that I've been using in various forms for a while ("Please call Stella . . . " from the GMU Speech Accent Archive). The latter is a sort of phonemic pangram used to catalog and compare English language accents throughout the world and is what found its way into Do Voices.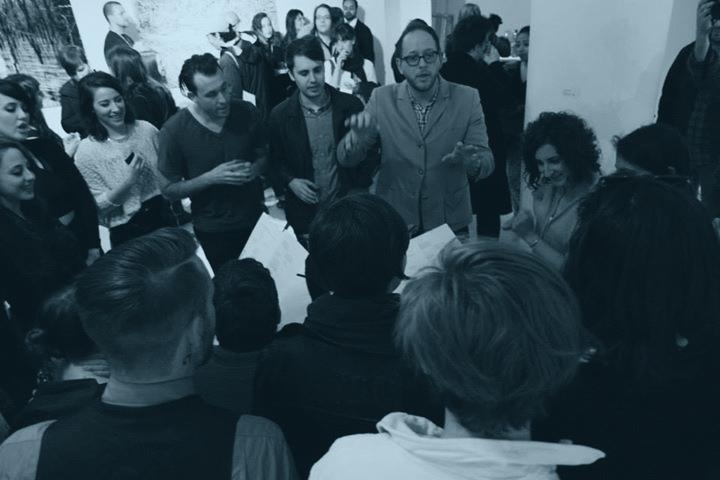 ---
When performed, the piece Do Voices uses two choirs. The first is an off-screen choir, which I conduct from the theater (with my shadow as double). The second is a secret choir whose constituents change for each performance. They stand from their seats and perform a rewritten karaoke version of We Are the World shaped around accents and the relationship between speech and place. The singers are encouraged to be loud, to be bold, to channel pure ego, accent, and affect—much like its star-studded older cousin. This delivery gives each performance a unique personality and character.
Since that first choir, I've performed two different ACRE Choirs and a few variations on the Do Voices Choir. On Saturday, May 26th, I'm ecstatic to be inaugurating the Mies Choir at the MCA's Word Weekend. All are welcome to participate. Meet us by the music stands at 3:30 pm in the fourth-floor lobby.