Gallery

---
About the Exhibition
The global pandemic has forced us to put intense scrutiny on the things we touch, the spaces we inhabit, and the people we come into contact with. The connections that make up our daily lives have become less familiar. In response, our curators have selected artworks from the MCA Collection that explore how we connect. The resulting exhibition reflects on the connections we share with others and the world around us, as well as the bond we feel most acutely in solitude—with ourselves.
Just Connect brings together artworks from artists across generations, nationalities, and media that respond to the idea of connection. Just Connect reminds us of what we have in common now, all that we had in common when we were separated, and the humanity we will continue to share as we rebuild our lives after a global crisis.
This exhibition is organized by Michael Darling, James W. Alsdorf Chief Curator; Harry C. H. Choi, Marjorie Susman Curatorial Fellow; and Line Ajan, Barjeel Global Fellow and the Visual Arts department. It is presented in the Bergman Family Gallery on the second floor.
Featured Artists
Nicolas Africano,

(American, b. 1948)

Kai Althoff,

(German, b. 1966)

Margot Bergman,

(American, b. 1934)

Ellen Berkenblit,

(American, b. 1958)

Roger Brown,

(American, 1941–1997)

Miriam Cahn,

(Swiss, b. 1949)

William Copley,

(American, 1919–1996)

Jonathas de Andrade,

(Brazilian, b. 1982)

Jason Dodge,

(American, b. 1969)

Rafael Ferrer,

(American, b. Puerto Rico, 1933)

Eric Fischl,

(American, b. 1948)

Julia Fish,

(American, b. 1950)

General Idea,

(Canadian conceptual artists, active 1968-1994)

Isa Genzken,

(German, b. 1948)

Andreas Gursky,

(German, b. 1955)

Philip Hanson,

(American, b. 1943)

Paul Heyer,

(American, b. 1982)

Jenny Holzer,

(American, b. 1950)

Sanya Kantarovsky,

(Russian, b. 1982)

Gabriel Kuri,

(Mexican, b. 1970)

Glenn Ligon,

(American, b. 1960)

Sharon Lockhart,

(American, b. 1964)

Calvin Marcus,

(American, b. 1988)

Kerry James Marshall,

(American, b. 1955)

Malcolm Morley,

(British, 1931–2018)

Ree Morton,

(American, 1936-1977)

Emeka Ogboh,

(Nigerian, b. 1977)

B. Ingrid Olson,

(American, b. 1987)

Tony Oursler,

(American, b. 1957)

Eddie Peake,

(British, b. 1981)

Tania Pérez Córdova,

(Mexican, b. 1979)

Hugh Scott-Douglas,

(British, b. 1988)

George Segal,

(American, 1924–2000)

Hollis Sigler,

(American, 1948–2001)

Michael E. Smith,

(American, b. 1977)

Wolfgang Tillmans,

(German, b. 1968)

Wesley Willis,

(American, 1963–2003)

Francesca Woodman,

(American, 1958–1981)

Akram Zaatari,

(Lebanese, b. 1966)
Installation Images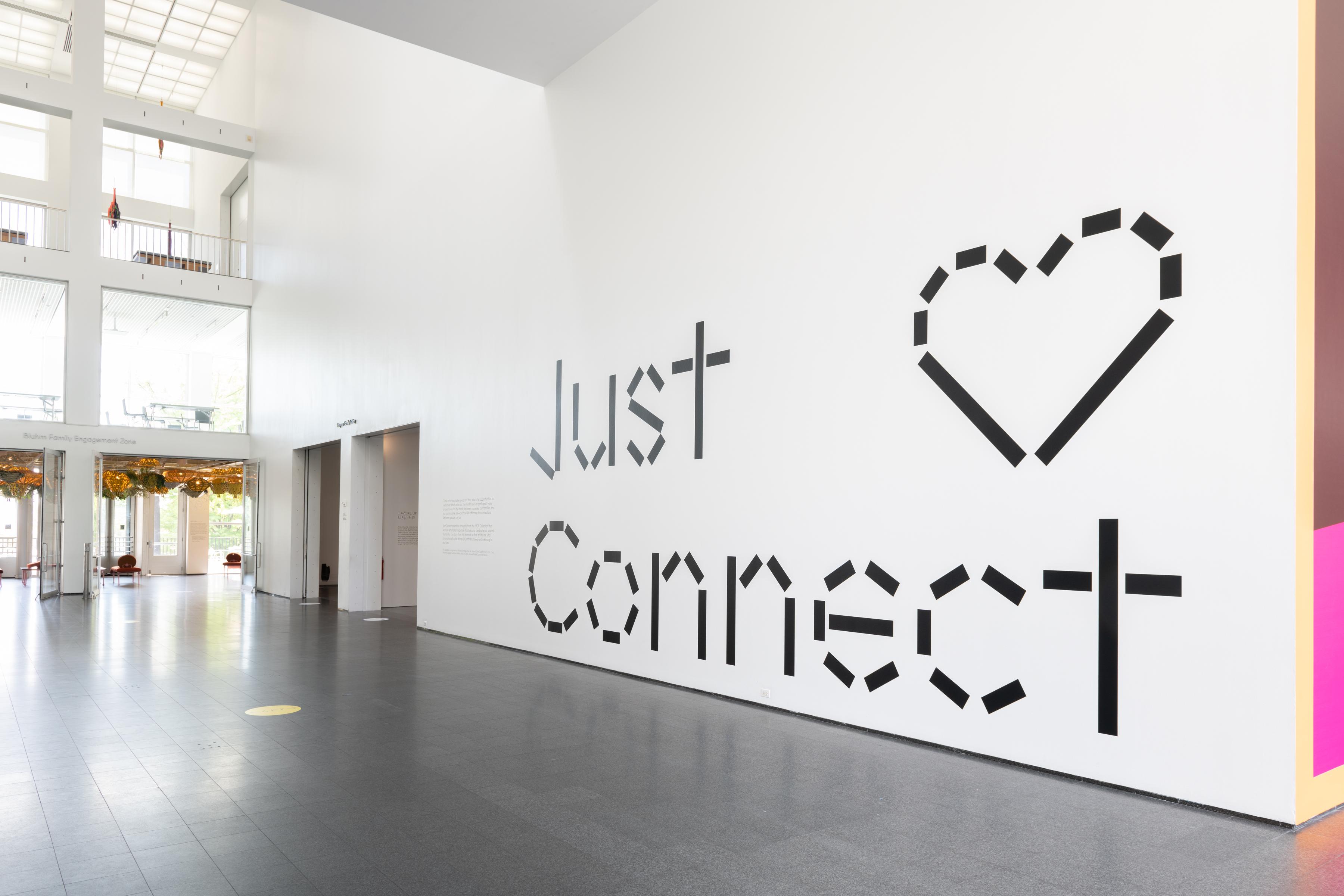 Funding
Lead support is provided by the Harris Family Foundation in memory of Bette and Neison Harris: Caryn and King Harris, Katherine Harris, Toni and Ron Paul, Pam Szokol, Linda and Bill Friend, and Stephanie and John Harris; Zell Family Foundation; Julie and Larry Bernstein; and Cari and Michael Sacks; the Mellon Foundation, and the Terra Foundation for American Art.

Just Connect Hotline
How did the art make you feel? What did it remind you of?
Yeah, there was an artwork in Just Connect, when you go into the final gallery, that you really can't miss ... it's those two people that are sleeping on a bed, and I thought that the artwork was really impactful. One, because of how it was displayed in the center of the room, but it reminded me a lot of that famous, I guess, image of those lovers in Pompeii who were fossilized together when the volcano exploded. And I think that just—that image and the artwork connected to it are just so sad and poignant and I think that a lot of people could relate to the fact that that, like, embrace and that love is something that can endure over millennia.
---
The Tania Pérez Córdova piece that's in Just Connect always makes me smile because it is just an earring, but on this like, gold bar. And it drives people crazy because it's just an earring, so it looks like, but the other half of the piece is the other earring that is out in the world somewhere. Which is a really cool idea that, you know, someone is, you know, currently wearing this earring out on a bus, getting their groceries, whatever, and that there's one in there in a museum, in a gallery, but that maybe someday they'll both be together again.
---
The Tania Pérez Córdova piece—I'm looking at it now, and it's the one in the corner with the earring and the shiny brass frame, and the absence of the person wearing the earring is just, it's so present. And the earring is so sparkly, and the brass is so shiny, and it takes up huge amount of space in the corner, even though it actually physically only takes up a little space—and I really like that.
The Dan Ryan Expressway, 51st Street
I'm calling about the Wesley Willis drawing called "Dan Ryan Expressway." It really stuck with me, because it had this sense of momentum and, kind of, unstoppable growth. All of these cars and trucks are hurdling into the future—the lines are really geometric and strong. It looks like there are people on their way to the airport, or from the airport, into the city. It made me think about actually riding my bike downtown during the pandemic, when there were almost no cars on the road, and you could ride right down the middle of the street without any issue. It was incredibly eerie but beautiful experience. To me this drawing feels like somebody imagining the future and seeing something that looks almost normal. There's traffic, and there are trains, and you see the city, and everyone's busy going to and from work, and their homes. And that feels very foreign somehow right now. When I think about the future now, I see something very different, and I don't know exactly what that looks like and what our cities or our streets will look like into the future. But I hope there are more bikes involved.
The New House
---
I like the painting of the woman who was standing in her kitchen. I think she was on the telephone, but maybe she was just watching television. She was naked, and it looked like she had just gone to the grocery store. And that painting reminds me of what it feels like to live alone during the pandemic. How it is very freeing, but at the same time, also very sad . . . It was my favorite painting.
Maja and Elodie
---
I like the picture of the older person and the younger person playing a game—or doing some kind of activity—on the wooden floor. It looks like they were in an empty room, or maybe they had just moved in. I liked it because it was so still, and it was such a quiet moment that was captured . . . they feel sort of lonely, but together at the same time.
The Cock (Kiss)
---
I'm thinking about the photograph of the two people kissing, and they— it's so close up. And so gross and sweaty. And like normally I'd be looking at that and thinking about how personal that is and how, like, almost TMI that is to be that close to two other people kissing. But since we're in a pandemic, I'm thinking about how it's dangerous and, like, risky. And I don't know when the world will be in a situation where you can even be that close to two people making out that much in public, you know, who knows we'll see that again.