Jos de Gruyter and Harald Thys
Images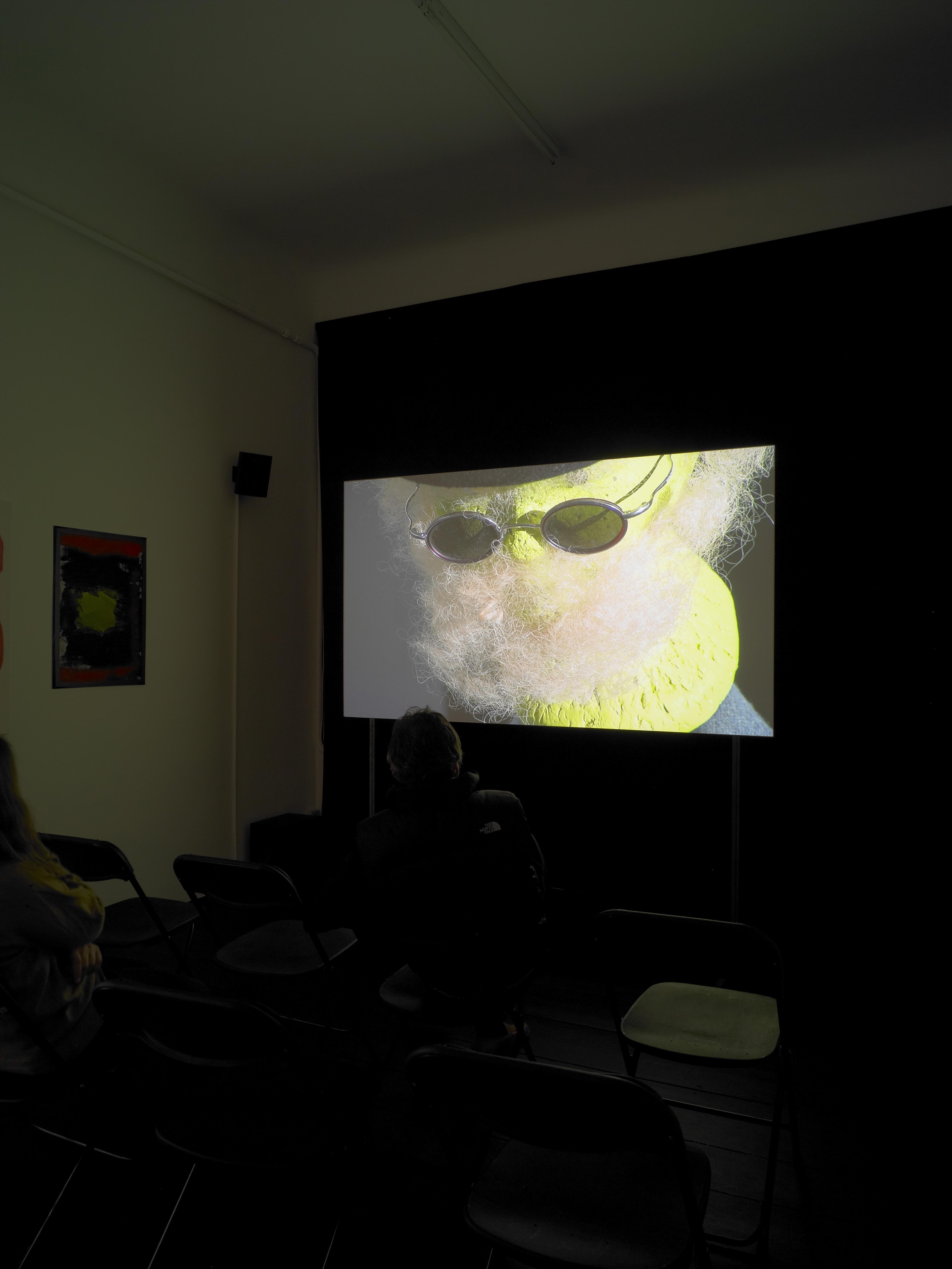 About
Brussels-based, Belgian artists Jos de Gruyter and Harald Thys have been working collaboratively since the late 1980s. Although their primary medium is video, their practice has expanded in recent years to include sculpture, photography, drawing, and even painting. In fact, painting, as the traditional incarnation of the idea of art, lies at the center of their largest installation to date, Im Reich der Sonnenfinsternis (In the empire of the solar eclipse, 2010–11), the sole work on view in this installment of the MCA Screen series. Throughout their body of work, however, narration remains the central, structuring principle. Language and communication—and just as often their absence—occupy a pivotal place in their practice.
Im Reich der Sonnenfinsternis, the first major work by this duo to have been acquired by an American institution, is an installation comprising 200-plus paintings ascribed to a painter named Johannes, the fictional protagonist of the 25-minute video Das Loch (The hole), which is equally part of the work. The paintings, made by Gruyter and Thys in the course of a couple of weeks in 2011, are provocatively, jarringly ugly, a sensibility echoed in the aesthetic of Das Loch: lead actors made out of polystyrene in haggard outfits (naturally, the artist wears a beret), the halting monotone of a computer voice, gloomy gray surroundings, a dismal assembly of throwaway props. The film is made up of a series of still shots slowly creeping by, accompanied, in part, by what appear to be random musings on the latest technological gadgets. Im Reich der Sonnenfinsternis makes for uneasy viewing, and that malaise can only partly be put to rest by reducing the work to a reflection on the erosion of the mythology of artisthood. If Gruyter and Thys's work strikes us as alienating, it is precisely because the truth of alienation they are hinting at is the human condition's hardest kernel.
The inclusion of this work in the MCA Screen series emphasizes its affinity with the significant surrealist undercurrent in the MCA collection, evident in the museum's holdings of work by original masters such as René Magritte as well as more contemporary representatives such as Kai Althoff, Tony Oursler, and Cindy Sherman. Indeed, if there is anything prototypically "Belgian" about Gruyter and Thys's oeuvre at all, it is their debt to a sinister subgenre of surrealism that is most often identified with Magritte and proto-surrealists such as James Ensor and Félicien Rops—a tradition that is marked by a deep-seated feel for the morbid and the macabre, and a sardonic sense of humor.
This exhibition is organized by Dieter Roelstraete, former Manilow Senior Curator, and Curatorial Assistant Karsten Lund.
The exhibition is presented in the Turner Gallery Lynn and Allen Turner, Jennifer Turner Gordon and M. Scott Gordon, Christopher M. R. Turner and Melanie Liss on the museum's fourth floor.
Installation Images