Theaster Gates: 13th Ballad
Featured images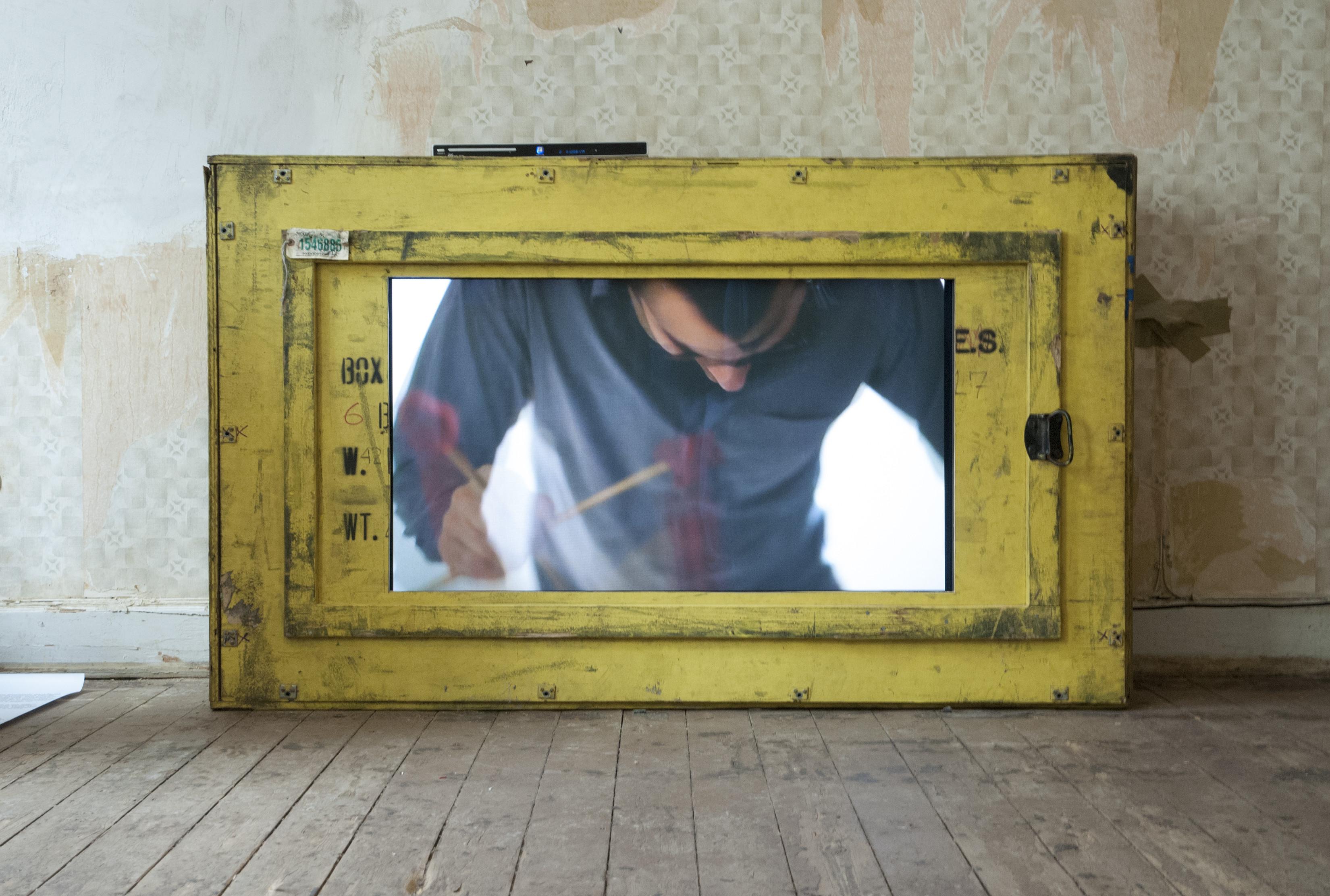 About
13th Ballad, an installation by Chicago-based artist Theaster Gates, is an extension of the artist's 12 Ballads for Huguenot House, which was coproduced by the MCA and exhibited at Documenta 13, the 2012 iteration of the international art exhibition that takes place every five years in Kassel, Germany.
Gates, whose practice includes performance, installation, and urban interventions, created 12 Ballads for Huguenot House as part of his ongoing efforts to rejuvenate—both socially and architecturally—his South Chicago neighborhood, a campaign that began in 2006 when he refurbished an abandoned building on South Dorchester Avenue as his studio and home. This effort was later expanded to include abandoned houses nearby, which the artist and a team of local laborers also renovated, reinventing them as alternative cultural spaces while also repurposing their materials to make both functional and purely aesthetic objects. For 12 Ballads, much of the raw building material from the house at 6901 S. Dorchester Ave. was transported to Germany and used in the partial restoration of the dilapidated historic building in Kassel called the Huguenot House—where the carpenters and students who were involved in this effort lived as part of the project—symbolically mending one neglected cultural history with another. Ultimately, 12 Ballads resulted in a poetic exchange of material and music. Before the sister house in Chicago was carefully disassembled, Gates and his collaborators from the musical ensemble Black Monks of Mississippi—an improvisational group that combines black spiritual music with the blues and Eastern chanting traditions—recorded a series of 12 songs and performances in the South Side home, which was later screened in Kassel and accompanied there by another set of live performances by the Monks.
For 13th Ballad, Gates creates a new large-scale installation in the MCA's Marjorie Blum Kovler Atrium that comprises art objects and materials from the Huguenot House, as well as a set of repurposed pews from the University of Chicago's Bond Chapel. The pews, having been removed recently in order to offer Muslim students a place to pray, are a symbolic gesture of religious tolerance. Gates thought broadly about spaces of worship while researching the religious persecution of the Huguenots, members of the Protestant Reformed Church of France, who were forced to flee discrimination by the Catholic Church and relocate in Protestant nations such as Prussia (modern-day Germany) between the 16th and 18th centuries. The installation features a monumental sculpture that showcases the everyday objects left behind by the artists and workers in the Huguenot House. This anchoring work, in combination with the carved wooden pews, creates an ecclesiastical ambiance within the museum, alluding to how art museums, not unlike churches, are sites of pilgrimage and contemplation. Providing context for the project, the MCA Screen presentation in the Turner Family Gallery on the fourth floor reprises key aspects of 12 Ballads, including video footage from Kassel and the original Dorchester project as well as functional objects Gates and his team created for Documenta.
This exhibition is coorganized by Michael Darling, James W. Alsdorf Chief Curator, and Kristin Korolowicz, Marjorie Susman Curatorial Fellow.
The MCA Screen presentation in the Turner Family Gallery closes September 29, 2013.
Over the course of the summer, a series of three collaborative performances titled The Accumulative Affects of Migration 1–3 activate the atrium installation and build on the artist's restoration of the historic Huguenot House. Whereas the majority of the performances that took place in Kassel as part of 12 Ballads focused on soul and gospel music, The Accumulative Affects of Migration 1–3 explores connections between the migration narratives of the Huguenots and black Americans through an experimental patchwork of classical opera and Delta blues. For this component of 13th Ballad, the artist has worked closely with University of Chicago's Germanic studies scholar David Levin and musician and composer Michael Drayton to create a new body of music based on Giacomo Meyerbeer's opera Les Huguenots and blues compositions by Muddy Waters. An interdisciplinary group—including Yaw Agyeman, Khari Lemuel, Tomeka Reid, Joshua Abrams, Mikel Avery, Orron Kenyetta, and Kiara Lanier—performs the score, translating and improvising both lyrical content and formal components to musically unite these two seemingly disparate social histories.
Installation Images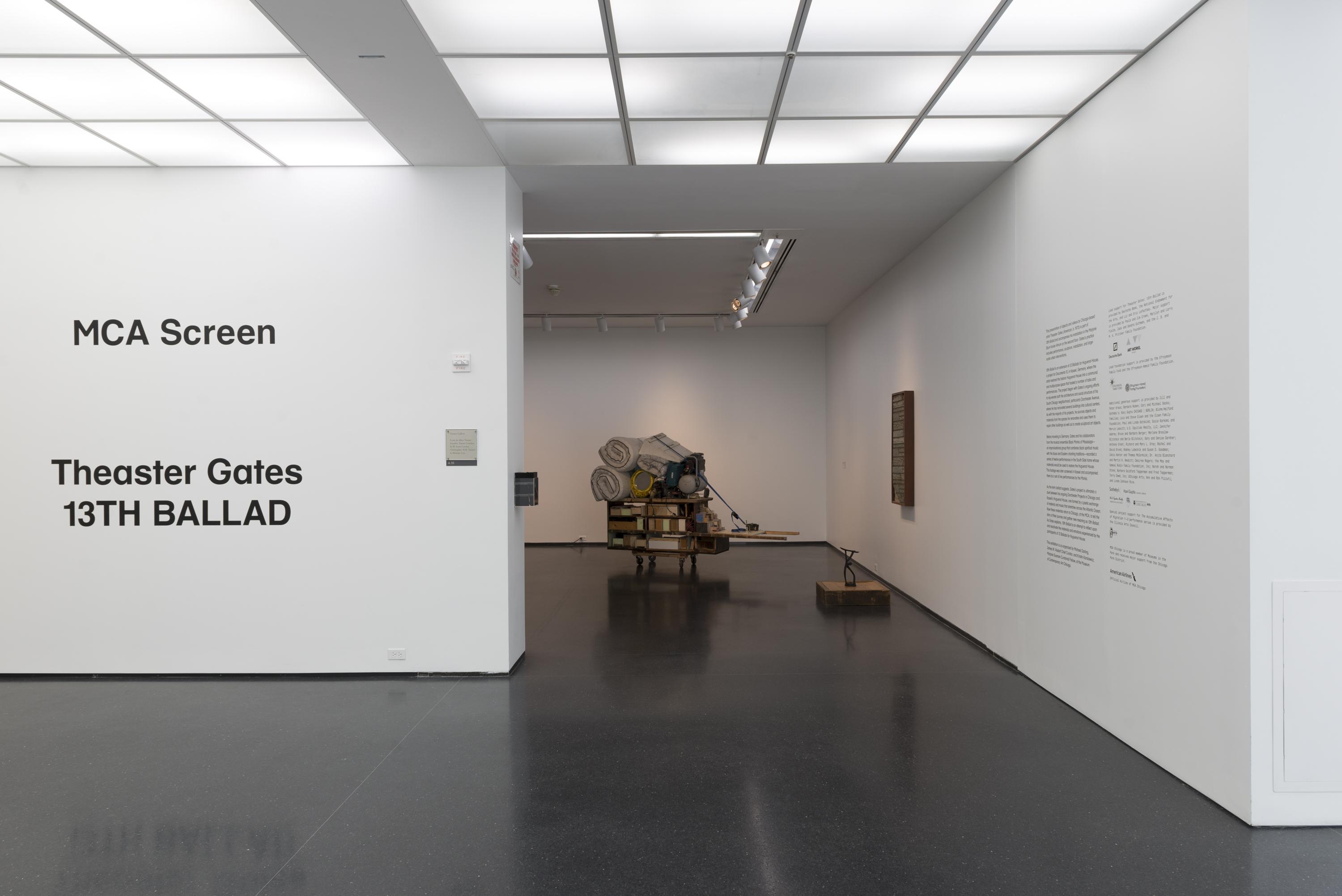 Funding
Lead support for Theaster Gates: 13th Ballad is provided by Deutsche Bank, National Endowment for the Arts, and Liz and Eric Lefkofsky. Major support is provided by Paula and Jim Crown, Marilyn and Larry Fields, Jack and Sandra Guthman, and the J. B. and M. K. Pritzker Family Foundation.
Lead foundation support is provided by the Efroymson Family Fund and the Efroymson-Hamid Family Foundation.
Additional generous support is provided by Jill and Peter Kraus; Barbara Ruben; Cari and Michael Sacks; Sotheby's; Kavi Gupta CHICAGO I BERLIN; Bluhm/Helfand Families; Lois and Steve Eisen and the Eisen Family Foundation; Paul and Linda Gotskind; Susie Karkomi and Marvin Leavitt; U.S. Equities Realty, LLC; Jennifer Aubrey; Bruce and Barbara Berger; Marlene Breslow-Blitstein and Berle Blitstein; Gary and Denise Gardner; Anthony Grant; Richard and Mary L. Gray; Rachel and David Grund; Rodney Lubeznik and Susan D. Goodman; Janis Kanter and Thomas McCormick; Dr. Anita Blanchard and Martin H. Nesbitt; Desiree Rogers; the May and Samuel Rudin Family Foundation, Inc; Norah and Norman Stone; Barbara Goldfarb Tepperman and Fred Tepperman; Terry Dowd, Inc; UChicago Arts; Ann and Ron Pizzuti; Linda Johnson Rice; and Dr. Paul Marks.
MCA Chicago is a proud member of Museums in the Park and receives major support from the Chicago Park District.
Official Airline of the Museum of Contemporary Art Chicago