Universal Experience: Art, Life, and the Tourist's Eye
Images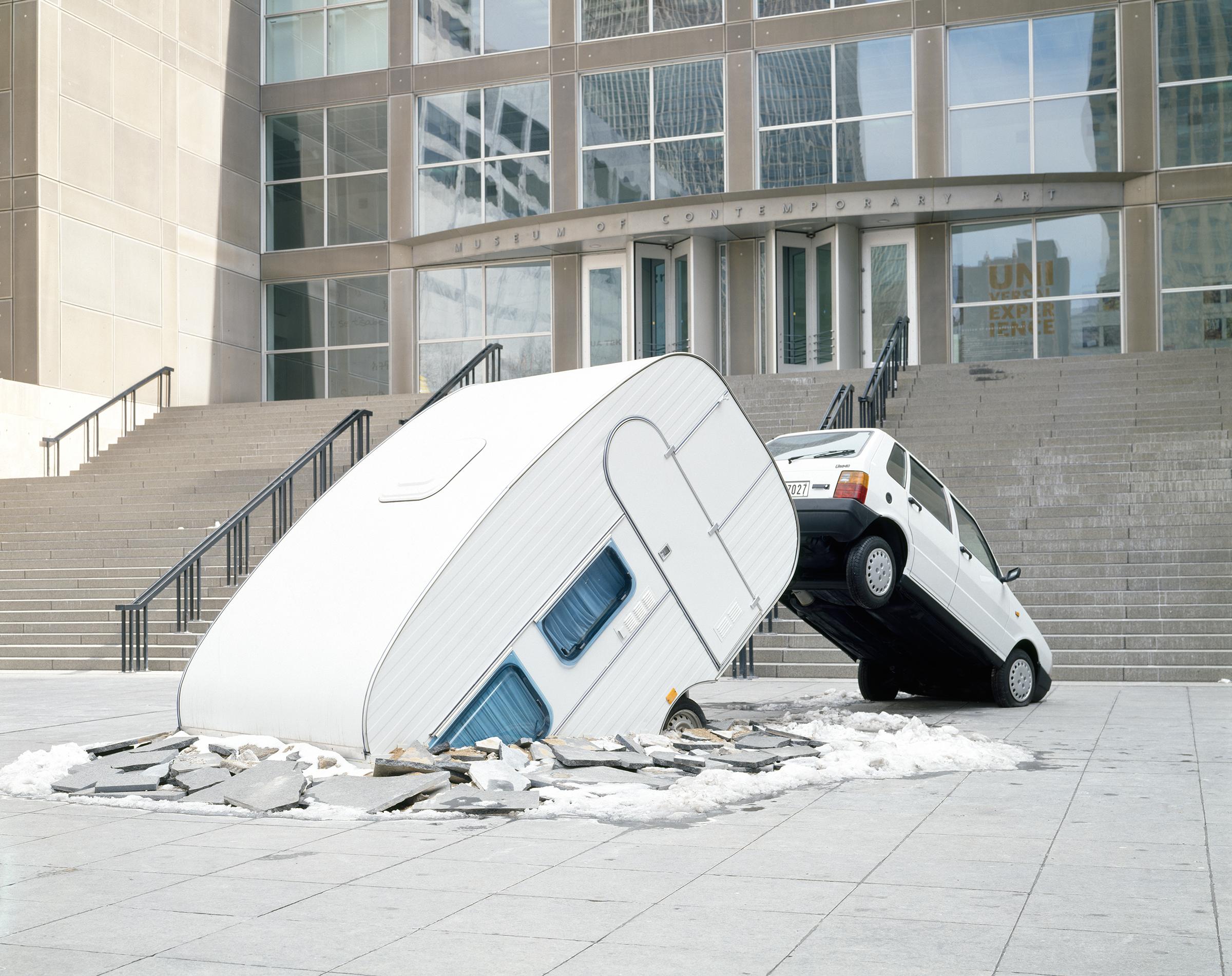 About
Occupying the entire MCA building as well as its outdoor spaces, the works in the exhibition Universal Experience: Art, Life, and the Tourist's Eye—ranging from large-scale installations and sculptures to more intimate photographs and videos—focus on the phenomenon of international visual artists whose work responds to their experience of traveling and living within various cultures. Addressing issues related to tourism that include spectacle, architecture, authenticity, history, souvenirs, and anthropology, Universal Experience features work by more than 70 artists including Vito Acconci, Doug Aitken, Darren Almond, Matthew Buckingham, Chris Burden, Maurizio Cattelan, Abraham Cruzvillegas, Peter Fischli and David Weiss, Katharina Fritsch, Thomas Hirschhorn, Ilya and Emilia Kabakov, Jeff Koons, Mathias Muller, Gabriel Orozco, Martin Parr, Andrea Robbins and Max Becher, Thomas Schutte, Simon Starling, Thomas Struth, Rirkrit Tiravanija, Kyoichi Tsuzuki, Piotr Uklanski, and Andy Warhol.
The exhibition is accompanied by a catalogue that includes an anthology of critical texts, color reproductions, and writings about the artworks. Universal Experience is curated by Manilow Senior Curator Francesco Bonami with Assistant Curator Julie Rodrigues Widholm. The catalogue is edited by Tricia Van Eck, Curatorial Coordinator and Curator of Artists' Books.
Funding
Major support for the exhibition Universal Experience: Art, Life, and the Tourist's Eye is provided by the Harris Family Foundation in honor of Bette and Neison Harris. Major support is also provided by Muriel Kallis Newman, and Donna and Howard Stone. Major corporate support provided by Bank One, a JPMorgan Chase company. Additional support provided by Anne and Kenneth Griffin; Nancy and Sanfred Koltun; Helen Zell; Ruth P. Horwich; the Kovler Family Foundation; Hortense Singer, Meta S. and Ronald Berger Family Foundation in memory of our beloved Ronald by Meta Berger, Jan and Robin, Louis and Robin and J. R. and Michael, and Jonathan and Rebecca and Jessica and Sydney; Nancy Lauter McDougal and Alfred McDougal; the Pritzker Traubert Family Foundation; Sara Albrecht; Marilyn and Larry Fields; Wolfgang Puck Catering; Dick Lenon; Jackie and Ed Rabin; C. Bradford Smith and Donald L. Davis; Lindy Bergman; Paul and Dedrea Gray; and Jane and Gary Wilner. Air transportation is provided by American Airlines, the official airline of the Museum of Contemporary Art. Hotel accommodations provided by the Millennium Knickerbocker Hotel, a part of Millennium Hotels and Resorts. The Chicago Park District generously supports MCA programs.