Valerie Hegarty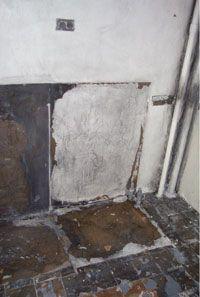 About
Valerie Hegarty applies layers of paper and paint to walls and floors, then tears back the paper. The exposed strata seem to be a record of time and labor, suggesting an architectural history. Her installations are often unsettling, eliciting feelings of nostalgia and displacement. At the MCA, Hegarty partially transforms the gallery into a decrepit bathroom.
Hegarty holds a BA in Studio Art from Middlebury College, Vermont; a BFA in Illustration from the Academy of Art College, San Francisco; and an MFA from the School of the Art Institute of Chicago.
Funding
Sponsored by
Additional support for Valerie Hegarty is provided by Tim and Suzette Flood.