Images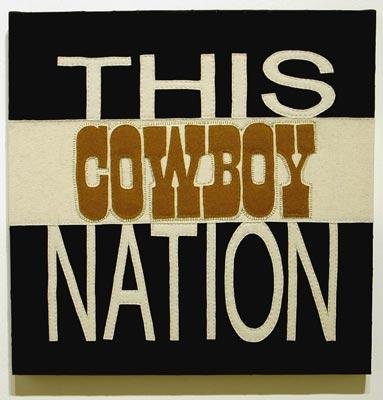 About
Best known for her hand-sewn, text-based pieces constructed from a variety of materials such as wool, leather, fabric, and neoprene, Diana Guerrero-Maciá wryly interrogates our colloquial use of language. By manipulating text from second-hand album covers, local street signage, newspaper headlines, and poetry, she examines how the recontextualization and formal re-presentation of words can drastically shift their meaning. In effect, she investigates how the act of reading is an interpretation of visual language.
For her 12 x 12 project, My First Painting, Twenty-One Years Later, Guerrero-Maciá expands on her activity of remaking readymade objects into large-scale, hand-sewn paintings and designed objects by turning the critical lens of this activity onto herself and her own creative process. To this end, she will remake the first painting she was assigned to produce in her 10th-grade art class. A poster-size tempera painting advertising a fictitious circus with an oddly smiling clown, Guerrero-Maciá's early image prefigures her more recent work in its graphic quality, quirky innocence, dislocated reality, and inclusion of text. This project also underscores an ongoing concern of Guerrero-Maciá's artistic practice—its relationship to the activity of painting. The original painting will be exhibited alongside its new manifestation.
Guerrero-Maciá received her Master of Fine Arts degree in 1992 from Cranbrook Academy of Art and is Assistant Professor and Director, First Year Program, at the School of the Art Institute of Chicago. She is represented by Bodybuilder & Sportsman Gallery, Chicago.
This exhibition is curated by Associate Curator Staci Boris.
Funding
Sponsored by