Talk: Sanctuary In Chicago and Centro Sin Fronteras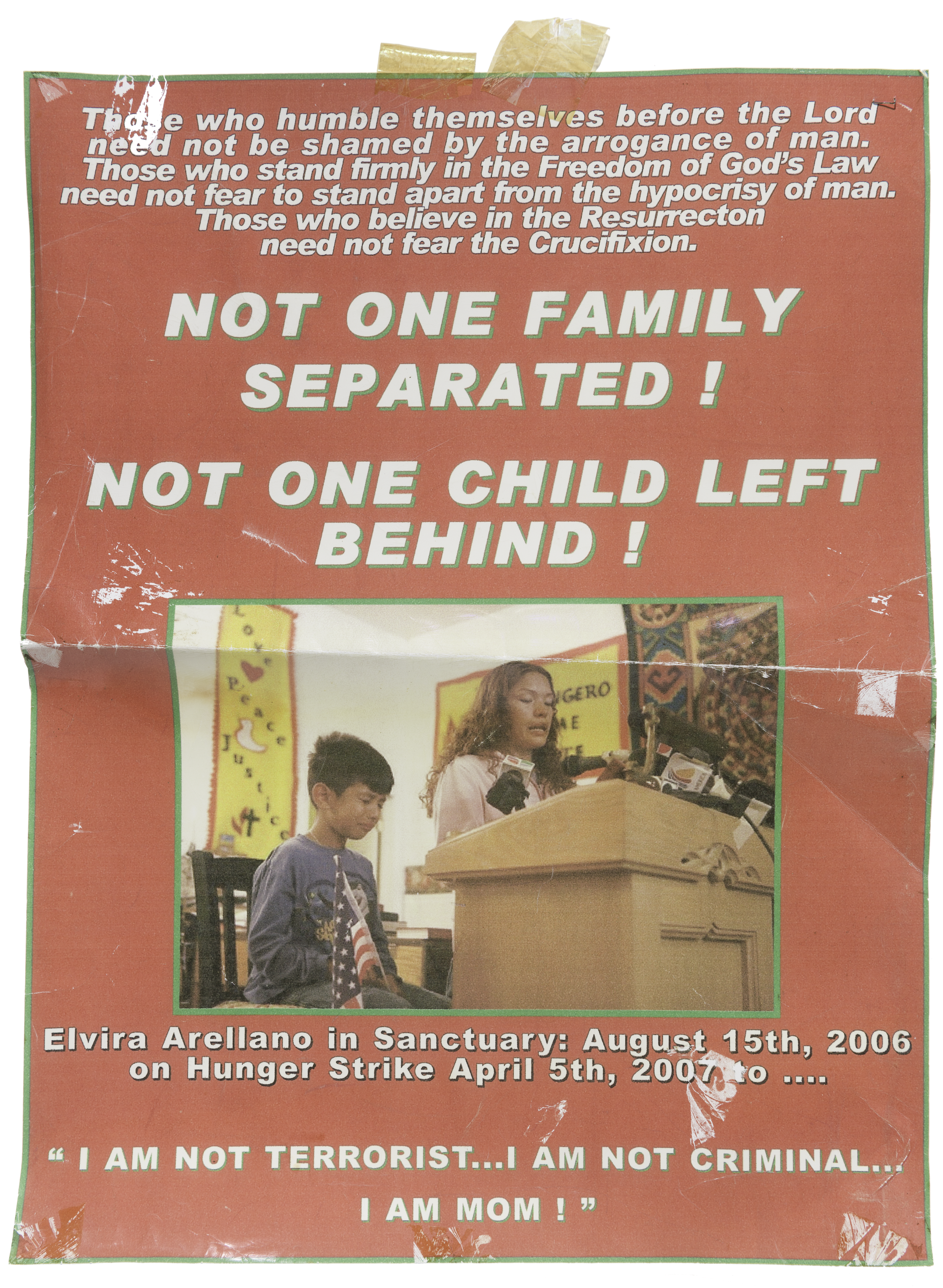 About the event
In tandem with the exhibition Andrea Bowers, the MCA presents Talk: Sanctuary in Chicago and Centro Sin Fronteras.
Established in 1986, Centro Sin Fronteras is a Chicago-based grassroots activist organization that champions the rights of workers and laborers. Led by Pastor Emma Lozano, the organization works with community members to bring attention to workers' rights.
Within the Bowers exhibition, Centro Sin Fronteras is presenting objects selected from their archive and a history of their work. Along with activist Elvira Arellano, their community organizing work was the focus of Bowers's film "Sanctuary."
For this discussion, Arellano and Lozano join Borderless magazine co-founder Michelle Kanaar and Chicago-based artist Jonathan Michael Castillo for a discussion around sanctuary in Chicago, the organization's legacy, and their ongoing activism.
This talk is presented online in English with Spanish translation.
About the speakers
Emma Lozano is a community grassroots activist and pastor at United Lincoln Methodist Church in Pilsen, Chicago. In 1987 she founded the grassroots organization Centro Sin Fronteras for undocumented families, first addressing the overcrowding of a local elementary school. The organization has since worked to address issues of bilingual education, lead poisoning, housing, police brutality, library services, youth employment, and gentrification. Centro has also addressed U.S. policies in Central America and supported social justice movements in Mexico. Along with Reverend Walter Coleman, they are visionaries of the new sanctuary movement.
Jonathan Michael Castillo is a visual artist, photographer and educator based in Chicago. He is the 2019-2021 recipient of the Diane Dammeyer Fellowship in Photographic Arts and Social Issues. Jonathan was included in the 2021 Hyde Park Art Center's Ground Floor Biennial in Chicago and was a finalist for the WMA Commission in Hong Kong. His work has been featured with The New Yorker, Wired, CBS: Los Angeles, and Brazil's G1 Globo. He has appeared on the radio to discuss his photography on the BBC's "World Update" and local Los Angeles public radio programs KPCC and KCRW. Jonathan is represented by Samuel Maenhoudt Gallery in Belgium. His education includes a BFA from California State University Long Beach and MFA from Columbia College Chicago.
Borderless Magazine is a member-supported nonprofit newsroom covering immigrants and communities of color. Borderless works to dismantle racist and harmful coverage of immigrants and reimagines immigration journalism for a more just and equitable future.
Sobre el evento
En conjunto con la exposición Andrea Bowers, el museo MCA presenta la discusion Sancturaio en Chicago y Centro Sin Fronteras.
Establecido en 1986, Centro Sin Fronteras es una organización activista basada en Chicago que defiende los derechos de los trabajadores y trabajadoras. Dirigida por la pastora Emma Lozano, la organización trabaja con miembros de la comunidad para llamar la atención sobre los derechos de los trabajadores.
Dentro de la exposición Andrea Bowers, Centro Sin Fronteras presenta selecciones de objetos de sus archivos para narrar sus orígenes e historia. Junto con la activista Elvira Arellano, su activismo comunitario es el tema central del cortometraje "Sanctuary" producido por Bowers.
Para esta discusión, Arellano y Lozano se unen con la cofundadora de la revista Borderless, Michelle Kanaar, y al artista basado en Chicago, Jonathan Michael Castillo, para una discusión sobre el santuario en Chicago, el legado de la organización y su activismo continuo.
Esta charla se podrá escuchar en inglés con traducción al español.
Borderless Magazine es una centro de media sin fines de lucro apoyada por miembros. La organizacion cubre temas relacionados a inmigracion y comunidades de color. Borderless trabaja para desmantelar la cobertura racista y dañina de los inmigrantes y reinventa el periodismo de inmigración para un futuro más justo y equitativo.
Jonathan Michael Castillo es un artista visual, fotógrafo y educador que vive en Chicago. Fue otorgado la beca Diane Dammeyer en Artes Fotográficas y Temas Sociales en 2019–2021. Jonathan fue incluido en la Bienal del Hyde Park Art Center 2021 en Chicago y fue finalista de la Comisión WMA en Hong Kong. Su trabajo ha aparecido en The New Yorker, Wired, CBS: Los Ángeles y G1 Globo de Brasil. Ha aparecido en la radio para hablar sobre su fotografía en "World Update" de la BBC y en los programas locales de radio pública de Los Ángeles KPCC y KCRW. Jonathan está representado por la Galería Samuel Maenhoudt en Bélgica. Su educación incluye un BFA de California State University Long Beach y un MFA de Columbia College Chicago.