Claire Cunningham & Jess Curtis The Way You Look (at me) Tonight
not only a choreography of bodies, crutches and people but a symphony of intimacy, tenderness, and generosity
Featured Images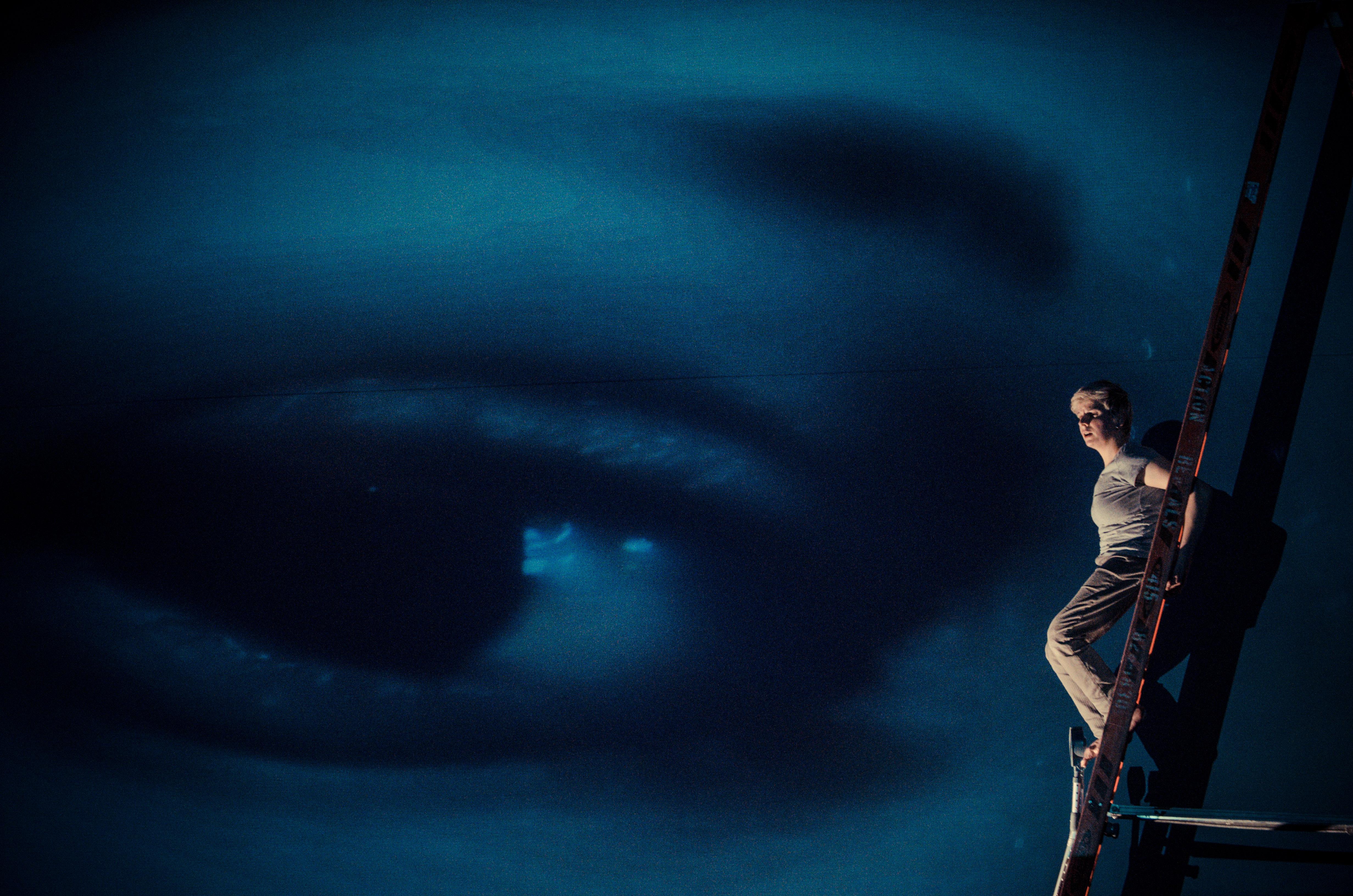 About
Presented in association with Bodies of Work
Artist and leading disability culture activist Claire Cunningham and Jess Curtis—recipient of the Herb Alpert Award for Choreography—debut in Chicago with The Way You Look (at me) Tonight. This sensory journey explores how we, as a society, perceive people and the world. Set to a lilting collage of original music and video, the duet dances, sings, and tells stories in close proximity to the seated audience. The performers excavate their own ways of seeing each other—as a man and woman of different ages, bodies, and backgrounds—spurring introspective moments and self-reflection.
Curtis first introduced Cunningham to movement in 2005, leading to her own career as a choreographer. For this new work, they combine their mutual interests in the ideas of noted author and philosopher Dr. Alva Noë, in order to investigate new ways of examining perception. With Noë—who is no stranger to performance, having worked with choreographer William Forsythe—they conceived and created The Way You Look (at me) Tonight as a kinetic social sculpture. Throughout the live performance, Noë's ideas and voice are incorporated via audio/video by media artist Yoann Trellu, with original music by Matthias Hermann and dramaturgy by Luke Pell.
Accessibility
ALL PERFORMANCES

All performances of The Way You Look (at me) Tonight feature optional Audio Description.
SAT, FEB 10, 11 AM
Claire Cunningham Jess Curtis lead a free* workshop for dance and theater artists that explores the creative potential of audio description for movement-based performance. Registration required. Call the Box Office at 312-397-4010.

TOUCH TOUR

SAT, FEB 10, 6:30 PM
Registration required. Call the Box Office at 312-397-4010.

ASL INTERPRETATION

FRI, FEB 9
This performance and post-show conversation feature ASL interpretation by Amy Kisner and Shannon Moutinho.
SUN, FEB 11, 2 PM
This performance is open to everyone, but the artists are offering it as a relaxed performance. Relaxed performances are for people, with or without disabilities, who prefer some flexibility in regards to noise and movement in the theater. Stage lighting and sound have been adapted by the artists to be less intense. Patrons are free to leave and reenter the theater as necessary, and the theater lights are kept at a glow to facilitate movement. Sensory rest areas are available outside the theater for patrons to take a break before returning to the show. Volunteers, many of whom are members of the disabled community, are present to assist. ASL interpretation by Amy Kisner and Shannon Moutinho and audio description is also provided. For more information, call the Box Office at 312-397-4010.
About the Artists
Claire Cunningham is a Glasgow-based performer and creator of multidisciplinary performance. Originally trained as a classical singer, Cunningham is an internationally renowned self-identifying disabled artist. Her work is often rooted in the study and use/misuse of her crutches—exploring the potential of her specific physicality with a conscious rejection of traditional dance techniques and the societal pressure to alter her movements or aesthetic to resemble that of a non-disabled body. Cunningham's work combines multiple art forms and ranges from intimate solo shows, such as Give Me a Reason to Live (2014)—inspired by the work of Dutch medieval painter Hieronymus Bosch and the role of beggars/cripples in his work—and the full-length show Guide Gods (2014), which looks at the perspectives of major faiths toward disabilities, to the large ensemble work 12, made for Candoco Dance Company.
Cunningham was Artist in Residence at the Women of the World Festival at the Southbank, London, and the Ulster Bank Belfast Festival at Queens, and in 2016 at Perth International Arts Festival, Australia, and Associate Artist at Tramway, Glasgow.
Jess Curtis is a founding member of the 1990s collective Contraband, and has created a body of work that ranges from the underground grunge of Mission District warehouses with Contraband (1985–1994) to the formal refinement of European State Theaters with Jess Curtis/Gravity (2000–ongoing). He was a member of experimental French circus project Compagnie Cahin Caha, Cirque Batard (1998–2002), and cofounded the extreme performance collective CORE (1994–98). Curtis has received multiple Isadora Duncan dance awards, a California Dancemakers Fellowship (2001), and the Homer Avila Award for innovation in physically inclusive dance (2011). He is a writer, advocate, and community organizer in the fields of contemporary dance and performance and teaches individuals of all abilities throughout the United States and Europe. He has been a visiting professor at the University of California at Berkeley and the University of the Arts in Berlin.
Alva Noë is a writer and philosopher living in Berkeley and New York. He is the author of Action in Perception (2004), Out of Our Heads: Why You Are Not Your Brain and Other Lessons from the Biology of Consciousness (2009), Varieties of Presence (2012), and, most recently, Strange Tools: Art and Human Nature (2015). He is a professor of philosophy at the University of California, Berkeley, where he is also a member of the Center for New Media and the Institute for Cognitive and Brain Sciences. Noë is a 2012 recipient of a Guggenheim Fellowship and a weekly contributor to National Public Radio's science and culture blog 13.7 Cosmos and Culture.
Additional Media
Funding
Touring support for The Way You Look (at me) Tonight is provided by the New England Foundation for the Arts' National Dance Project, with lead funding from the Doris Duke Charitable Foundation and the Mellon Foundation, with additional support from the National Endowment for the Arts.
Accessible programming for The Way You Look (at me) Tonight is supported by artist/scholar Carrie Sandahl, director of Bodies of Work: A Network of Disability Art and Culture and faculty in the Department of Disability and Human Development at the University of Illinois-Chicago.