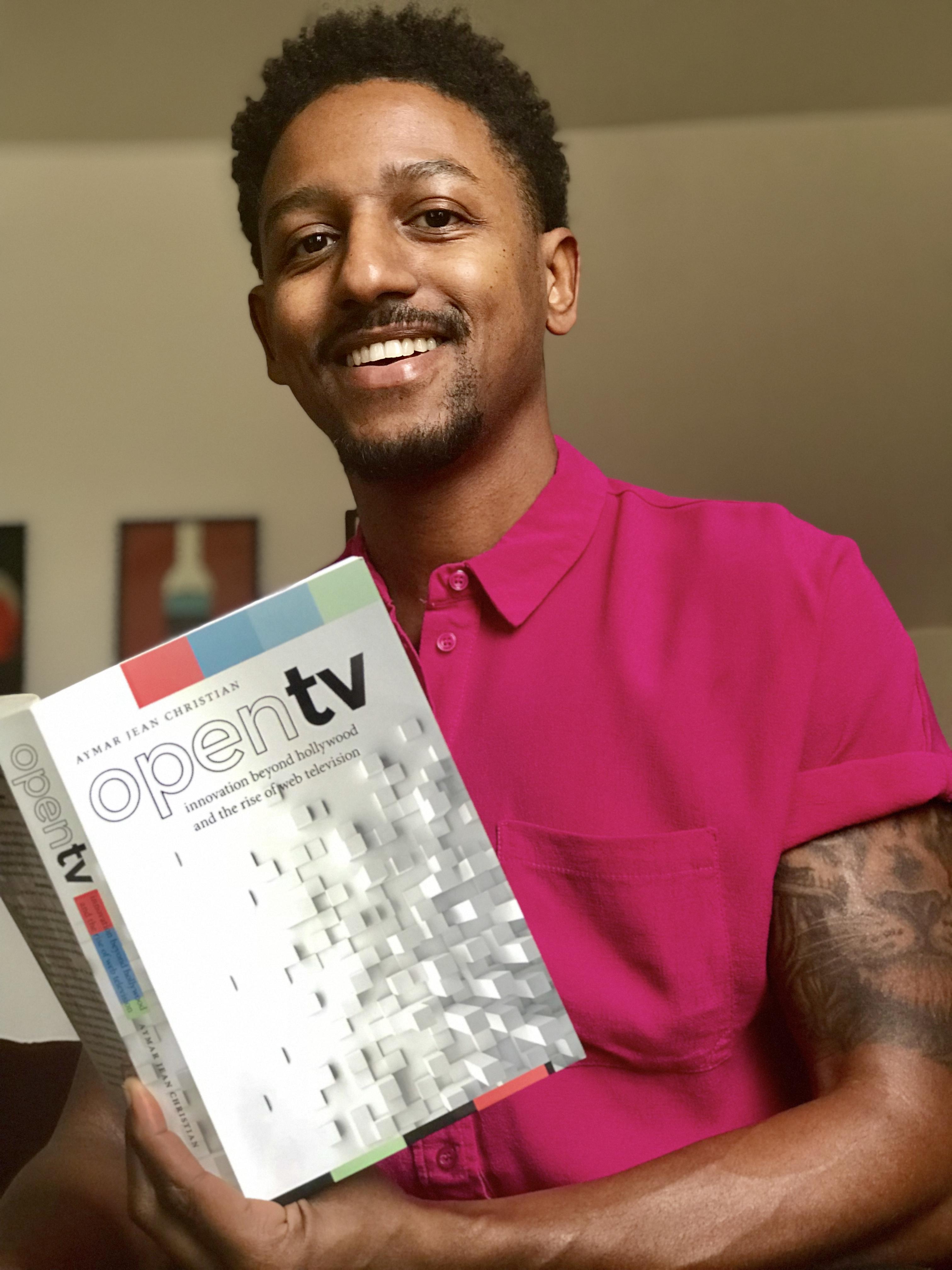 In Progress: Aymar Jean Christian
About the Event
Can the web open TV? Northwestern University professor Aymar Jean Christian argues that creators like Issa Rae and Ilana Glazer have used the internet to innovate the art and business of television in his new book, Open TV: Innovation Beyond Hollywood and the Rise of Web Television. Join Christian and Jacqueline Stewart, a noted University of Chicago film historian, as they use Christian's innovative art-based project, Open TV (beta), as a jumping off point to discuss the possibilities and barriers to diversity in media in our current political moment.
In Progress is a new series of public programs that gives visitors a glimpse into the working practices of artists, curators, and creative thinkers.
---
About the Speakers
Aymar Jean "AJ" Christian is Assistant Professor in the Media, Technology, and Society program in the Department of Communication Studies at Northwestern University and a fellow at the Peabody Media Center. Having earned his PhD from the University of Pennsylvania's Annenberg School for Communication, with a certificate in cinema studies, Dr. Christian researches new media and creative economy. He has written Open TV: Innovation Beyond Hollywood and the Rise of Web Television(NYU Press 2018), the first full study on web TV, incorporating years of documenting and participating in this emerging art form and market. He documents the changing market for television across popular and academic publications on his blog, Televisual; in academic journals, including International Journal of Communication, Continuum, and Transformative Works & Culture; and for trade publications Indiewire, Slate, and Tubefilter, among others. He has produced several independent video projects. The most significant of these is Open TV (beta), a platform for queer and intersectional television in Chicago. Open TV programs have received recognition by the Television Academy, HBO, Streamy Awards, Tribeca Film Festival, Gotham Awards, and the City of Chicago, along with funding from Northwestern, University of Chicago, Propeller, and Voqal Funds. Programs have screened in museums (Museum of Contemporary Art Chicago, Brooklyn Museum, Smart Museum of Art), galleries (Woman Made, Cooper Gallery, Chicago Art Department), universities (University of Chicago, Northwestern University, Notre Dame), and various community- and artist-run spaces.
Jacqueline Stewart is Professor in the Department of Cinema and Media Studies at the University of Chicago. Her research and teaching explore African American film cultures from the origins of the medium to the present, as well as the archiving and preservation of moving images, and "orphan" media histories, including nontheatrical, amateur, and activist film and video. She directs the Southside Home Movie Project and the Cinema 53 screening and discussion series. Stewart is also Director of the Gray Center for Arts and Inquiry at University Chicago, and is cocurator of the L.A. Rebellion Preservation Project at the UCLA Film and Television Archive. She also serves as an appointee to the National Film Preservation Board. She is currently researching the racial politics of moving image preservation and is also completing a study of the life and work of African American actor/writer/director Spencer Williams. Stewart is the author of Migrating to the Movies: Cinema and Black Urban Modernity, which has achieved recognition from the Society for Cinema and Media Studies and the Black Caucus of the American Library Association. She participated in the Public Voices Thought Leadership Fellowship Program, offered by Northwestern University, and the OpEd Project. She has been awarded fellowships from the Shelby Cullom Davis Center for Historical Studies at Princeton University and the New York Public Library's Schomburg Center for Research in Black Culture Scholars-in-Residence Program. Stewart earned her MA and PhD in English from the University of Chicago.