Brendan Fernandes, Art by Snapchat
---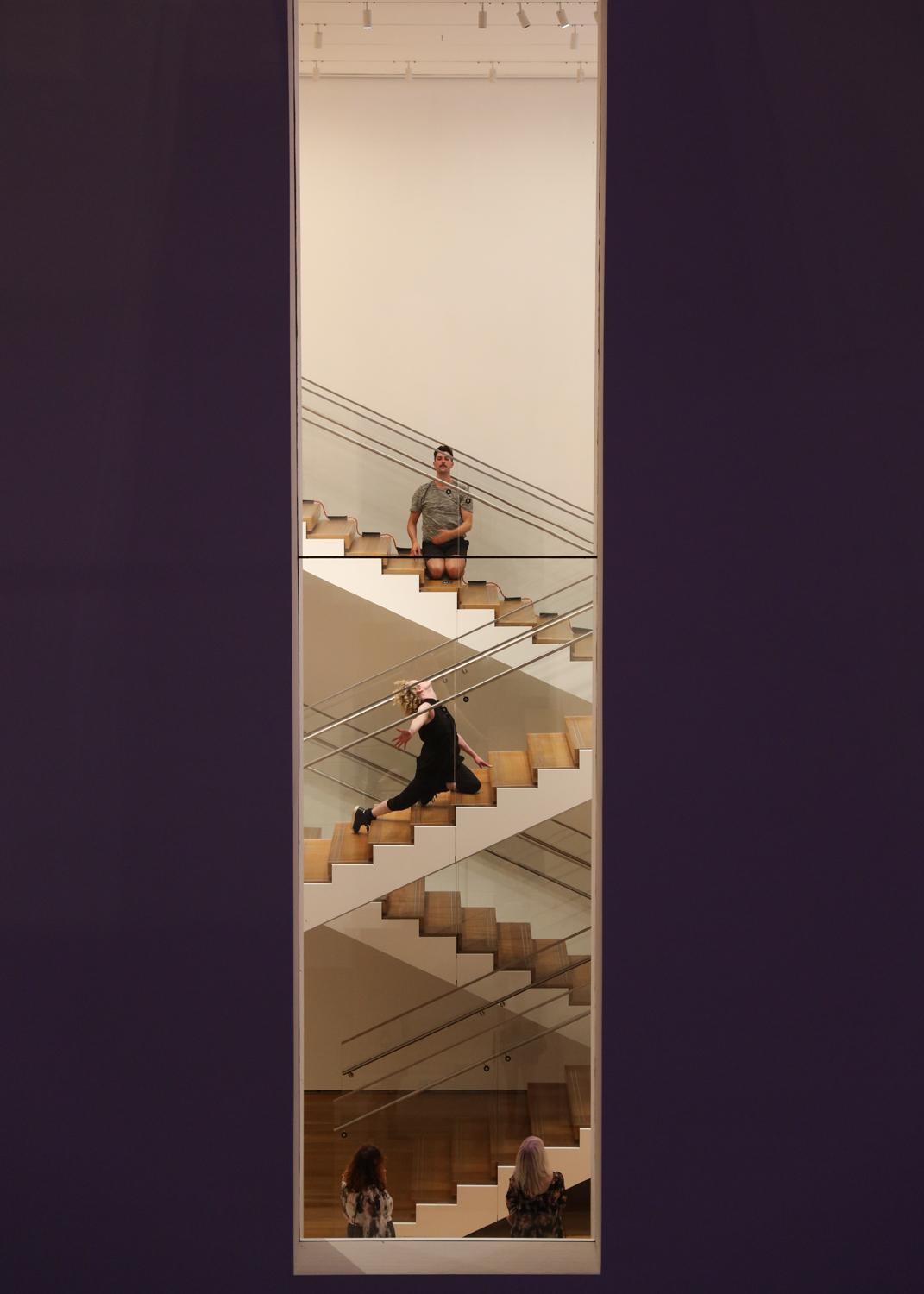 Inspired by Art by Telephone, an important exhibition in the museum's history where MCA staff created artworks based on instructions artists delivered via telephone, Brendan Fernandes's Art by Snapchat communicates choreography to dancers throughout the building via the social media platform Snapchat. This iteration of the performance includes dancers Kara Brody, Brandon Coleman, Paige Fraser, Joe Musiel, and Benjamin Wardell.
About the Artist
Brendan Fernandes is a Canadian artist of Kenyan and Indian descent. He completed the Independent Study Program of the Whitney Museum of American Art (2007) and earned his MFA from the University of Western Ontario (2005) and his BFA from York University in Canada (2002). Fernandes has exhibited domestically and abroad, including at the Solomon R. Guggenheim Museum, New York; Museum of Modern Art, New York; Museum of Art and Design, New York; Musée d'art contemporain de Montréal; The National Gallery of Canada, Ontario; The Brooklyn Museum, New York; The Studio Museum in Harlem, New York; MassMoCA, North Adams, Massachusetts: The Andy Warhol Museum, Pittsburgh; Deutsche Guggenheim, Berlin; Bergen Kunsthall, Norway; Stedelijk Museum, Amsterdam; The Sculpture Center, New York; The Quebec City Biennial; and the Third Guangzhou Triennial in China.
Fernandes has been awarded many highly regarded residencies around the world and was a finalist for the Sobey Art Award, Canada's preeminent award for contemporary art in 2010. In 2014, he was a recipient of a Robert Rauschenberg Residency and Fellowship. Recent exhibitions include Lost Bodies, which originated at Agnes Etherton Art Centre, Queen's University, Ontario (2016), traveled to the Textile Museum of Canada, Toronto (2017), and culminated in a catalogue. A monograph, Still Move, was published by Black Dog Press, London, in fall 2016. Fernandes's had his first solo exhibition, Free Fall, in January 2017 at Monique Meloche Gallery, Chicago; an expanded version of the performance, Free Fall 49, took place at The J. Paul Getty Museum, Los Angeles, in summer 2017. Upcoming projects include a residency at The Graham Foundation, Chicago (winter/spring 2017/18), and a solo exhibition at Aljira Center for Contemporary Art, Newark (spring 2018). He is currently artist in residence and faculty at Northwestern University in the Department of Art Theory and Practice, and is represented by Monique Meloche Gallery, Chicago.