About
Designed by Chicago youth and curated and hosted by the MCA's Teen Creative Agency (TCA), 21Minus is the MCA's annual exposition of teen creativity and passion. Join us for an afternoon of workshops, performances, art installations, and interventions—all designed to showcase the talents of the next generation of artists and cultural producers.
The event is free for people ages 21 and under and their families, though all are welcome to attend.
Additional information
21Minus
PROGRAM
Collaborate and create
Help create a collaborative universe with the Adler Planetarium Youth Leadership Council.
Meditate on meaningful relationships with Faryn Thomas and Rebecca Inskeep.
Practice movements that vibrate the body, from popping and locking to sneezing, with Lawrence Powell Jr.
Draw and exchange comics with Nicole Del Rio.
Check out live performances
* Hear live music sets by local bands:
Gold Box, with Connor Marks (3:30–4 pm, 5–5:30 pm)
LOAM, with Quinn Turley (2:30–3 pm, 4–4:30 pm)
Keep an eye out for a roving, phantom performance by Eli Adams.
Hear our DJ Matt Moen pump awesome jams throughout the museum.
Witness a high-energy dance performance by Sydney Schwartz.
Experience installations and interventions in the museum
Participate in a performance about teenage fandom and passionate obsession by Chloe Graham.
Watch a short film about race, raw emotion, and drama by Ben Medina.
Experience interactive sound sculptures made by Curie High School students.
Listen to the sounds of social justice and play musical chairs with students from Hancock High School.
Activate all your senses in an interactive, immersive installation by Mia Neumann, Miranda Poedke & Daisy Maass, and students from Taft High School.
Chill out with Yollocalli in a space filled with strange lights, projections, sounds, and a chill vibe.
Interact, talk, exchange
Pose for a photo and take part in a citywide project by the Hyde Park Art Center Youth Board.
Explore issues of identity and intersectionality with Media Corps.
Feel someone else's heartbeat with Nathan Downey.
Catch and release dreams with Ravi Jha.
Be brave and sing for Susan Jablonski.
And more!
Stick around for the finale and celebrate the close of 21Minus at 5:45 pm.
Images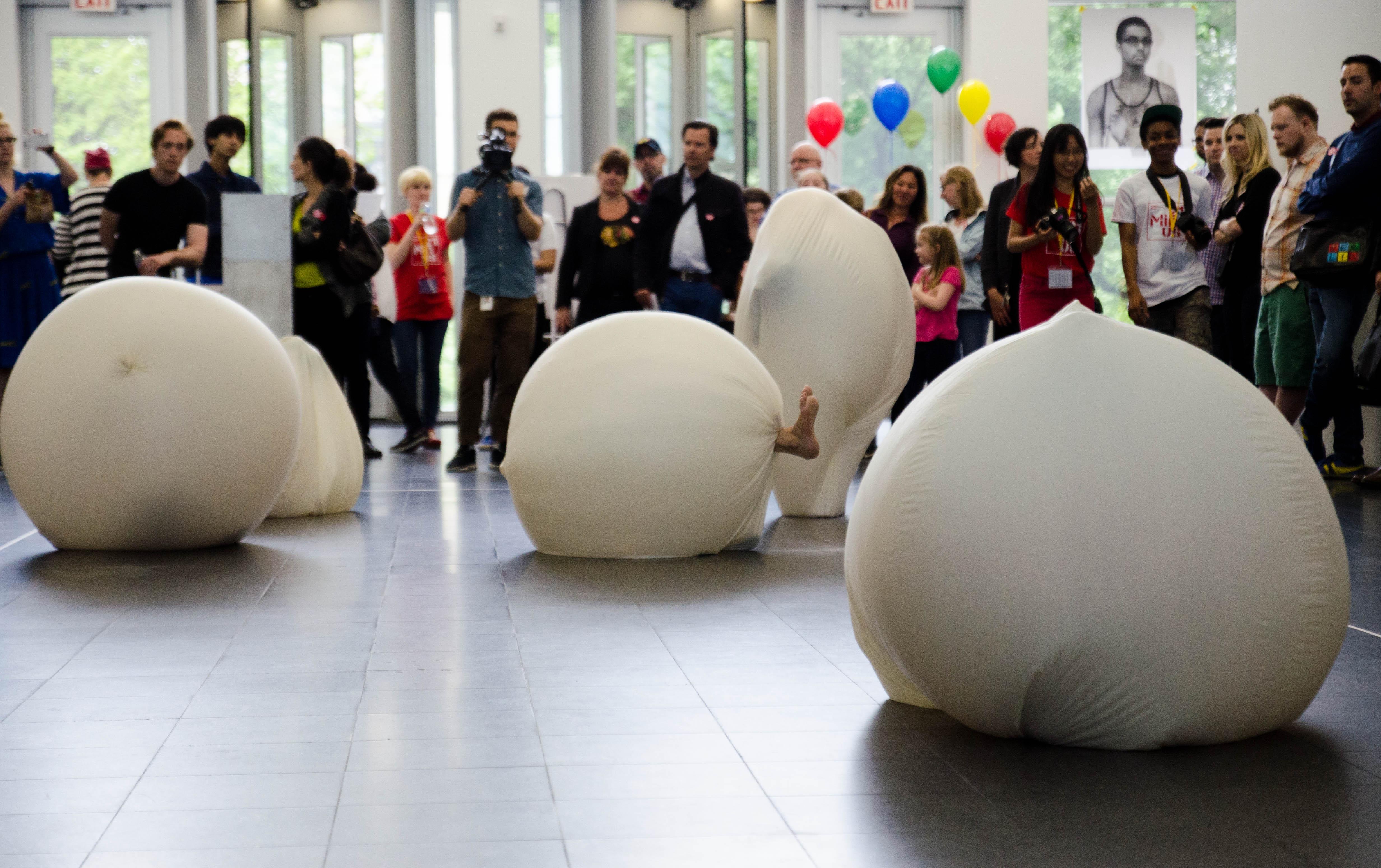 Funding
The Elizabeth Morse Charitable Trust is the generous sponsor of Teen Creative Agency. Major support is provided by Exelon. Additional support is provided by Lewis S. and Anne Neri Kostiner, and Luminarts Cultural Foundation at the Union League Club of Chicago.