MCA Live: Where Margins Meet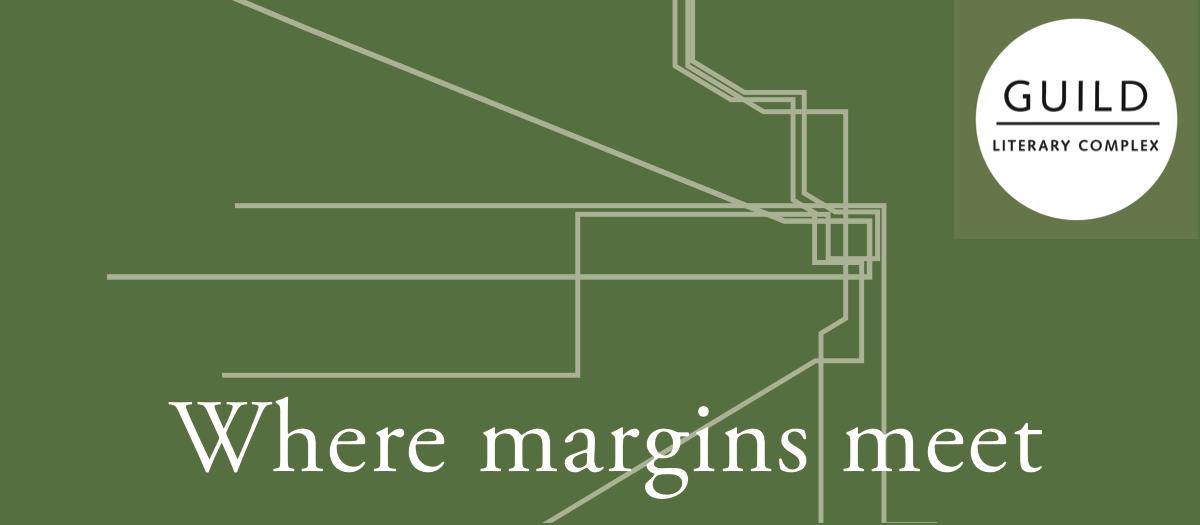 About
Where Margins Meet, copresented by the Guild Literary Complex,
features a selection of artists who will perform at BrooksDay at the
Chicago Cultural Center on June 7. At the MCA, this event features the
individual talent and flavor of Chicago voices through spoken-word,
graffiti art and poetry. Performers include Peter O'Leary, Noëlle
Pouzar, Natasha Estevez, Javon J. Smith, Sketch N, Tyme, C. Russell
Price, and Nate Marshall.
About the Artists
Peter O'Leary is the author of five books of poetry, including The Sampo(Cultural Society, 2016) and has edited several volumes of Ronald Johnson's poetry, including ARK(Flood Editions, 2013) and The Book of the Green Man(Uniformbooks, 2015). With John Tipton, he edits Verge Books. O'Leary lives in Oak Park and teaches at both the School of the Art Institute of Chicago and the University of Chicago.
Noëlle Pouzar is a feminist sex essayist and graphic designer. Her practice primarily focuses on female suppression by higher institutions, societal standards, and male dominance. Pouzar is currently an undergraduate student at the School of the Art Institute of Chicago.
Natasha Estevez is a 20 year old currently living in Chicago where she attends the School of the Art Institute of Chicago for creative writing. Up and out of her streets of Harlem, growing up like many around her with ambition and a movement up in her mind. To be better then what she had seen and to break the cycle of her streets. The mic is Estevez's home at times where she gets to spark something in someone's mind. With the stories she tells she hopes those who listen leave with a new found hope in their hearts.
Javon J. Smith, is an educator and double Louder Than A Bomb college slam champion. He recently appeared in Victory Gardens Theater's We Must Breathe. He is the runner-up of the Gwendolyn Brooks Open Mic Award, and has won numerous awards with Totally Positive Productions, Chicago Black Gay Men's Caucus, Queer Foundation, and Young Chicago Authors. A graduate of DePaul University, Smith studied secondary education English with three minors in African and Black Diaspora studies, LGBTQ studies, and theater studies. He has served as an artist-in-residence with Young Chicago Authors and a teaching artist for Free Street Theater and Victory Gardens Theater. His poetry collection Righteous Rage will be released later this year.
Sketch N'Tyme is an Art and Literacy Performance in which rapid drawings are created in real time to the reading and narration of fables/fairy tales, folklore, myths, legends, historical events, literature, and music. In addition to rapid drawings, Sketch N'Tyme rapidly uses other interpretive art, media, and forms to illustrate stories as well. Their goal is to showcase the value of art through storytelling in the promotion of moral development, literacy, creativity, and art's continued value as a critical educational tool.
C. Russell Price is an Appalachian genderqueer punk poet living in Chicago. Previous publications include: Assaracus, Court Green, Nimrod, MiPOesias, Weave, and others. They currently work with The Offing (a channel of the LA Review of Books) and Northwestern University.
Nate Marshall is from the South Side of Chicago. He is the author of Wild Hundreds (University of Pittsburgh) and an editor of The BreakBeat Poets: New American Poetry in the Age of Hip-Hop (Haymarket Books). Wild Hundreds has been honored with the Black Caucus of the American Library Association's award for Poetry Book of the Year and nominated for an NAACP Image Award. His last rap album, Grown came out in 2015 with his group Daily Lyrical Product. Marshall is a member of The Dark Noise Collective. He won a 2015 Ruth Lilly/Dorothy Sargent Rosenberg Poetry Fellowship and is currently a visiting assistant professor at Wabash College.
About the Organization
The Guild Literary Complex is a 501c3 nonprofit bringing together the varied voices of Chicago and the world through innovative and integrative programming highlighting the intersections of marginality, the power of community, the impact of arts and activism, with a mission of social justice and literary arts for all. They are an on-going curated literary festival serving Chicago's 50 wards since 1989.
Entering its fourth year and celebrating the centennial of Gwendolyn Brooks's birth in 1917, this all-day event celebrates Ms. Brooks's continuing legacy and lasting impact in Chicago and further afield through marathon poetry readings, remembrances, and performances. This year, BrooksDay is held at the Chicago Cultural Center on Ms. Brooks's birthday, June 7, from 10 am–6 pm.