Tim Etchells/
Forced Entertainment
Speak Bitterness
Announcement
While Speak Bitterness is best experienced in-person, if you can't make it Saturday, watch the performance's live stream and use #FESPEAKLIVE to add your confession on Twitter.
Featured image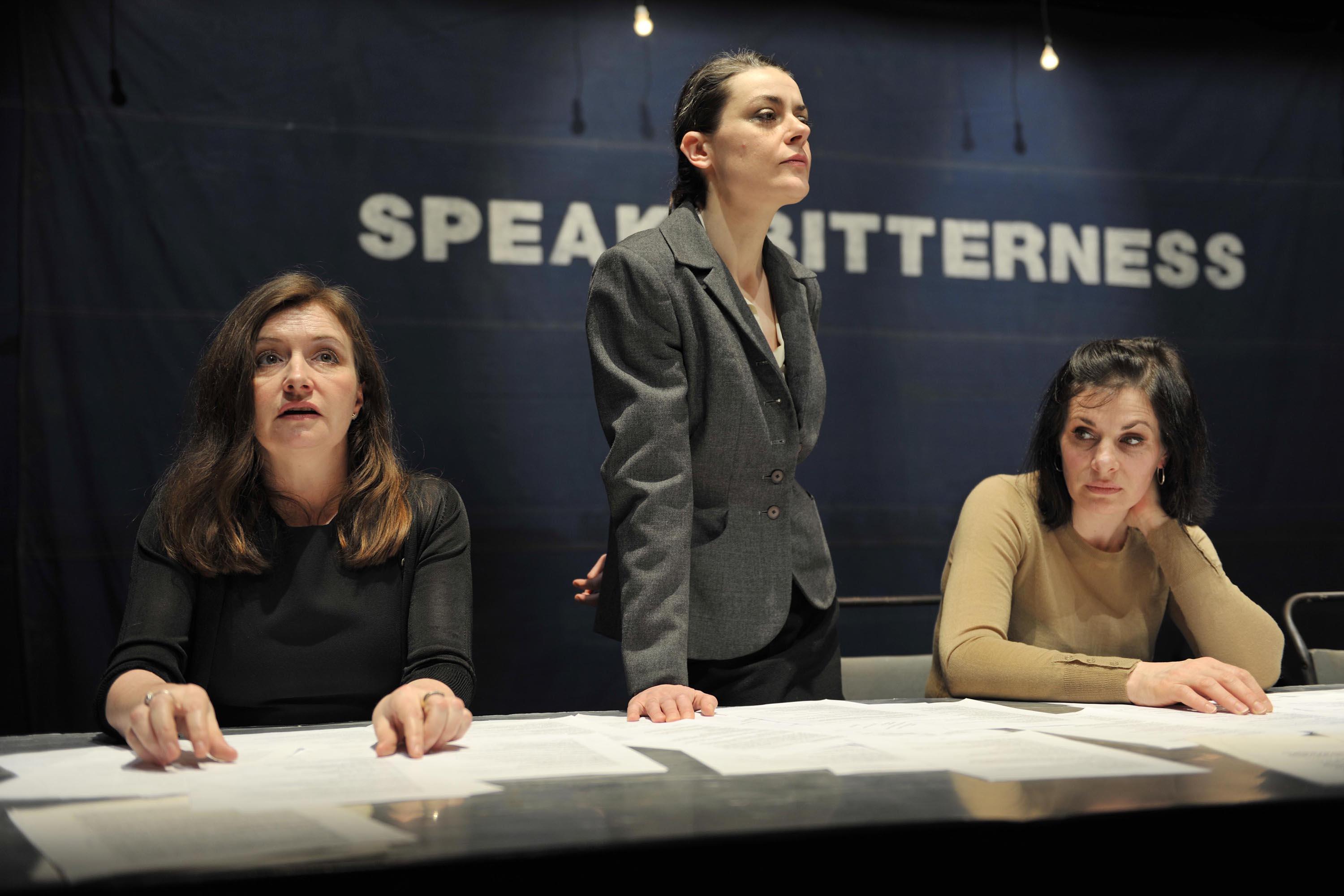 A beautifully simple idea, beautifully developed to create something clever, funny, mind-bending, and profoundly humane.

—The Scotsman
About
"We're guilty of homemade bombs and homemade wine. We're guilty of coldness and spite. We never laughed, and we never found the time."

—Speak Bitterness
Over a period of six hours Speak Bitterness shows a group of penitents whose enormous task it is to confess to everything. They are by turns cowed, breezy, anguished, reluctant, jovial, and—of course—determined. Occupying a brightly lit space, a group of performers behind a long table take turns competing to confess the most horrific, amusing, or convincing things—from crimes as serious as forgery, murder, or genocide to nasty little indiscretions, such as reading others' diaries and not taking the dog out for a walk. Somewhere between a mad catalogue of human infamy and a strange and comical show-trial, this exhaustive work draws on the culture of confession in our society at large. The audience is free to arrive, leave, and return at any point.
First presented in 1994, Speak Bitterness is a seminal but rarely performed work by Forced Entertainment, the widely influential British theater ensemble led by artistic director Tim Etchells. Etchells is vitally active in performance, visual art, and fiction. As a multidisciplinary center, MCA Stage is organizing an intensive focus on his work, featuring several works performed by Forced Entertainment, other performances, discussions, and visual artworks.
Running time: 6 hours (The audience is free to arrive, depart, and return at any point during the performance. One ticket is valid for the full duration.)
Inspired by their broad-ranging and memorable inquiries, in February 2016, the MCA presents a special focus on the works of Tim Etchells and Forced Entertainment. Over the course of two concentrated weeks, the MCA features three durational performances, one live stream event, a web project, and more.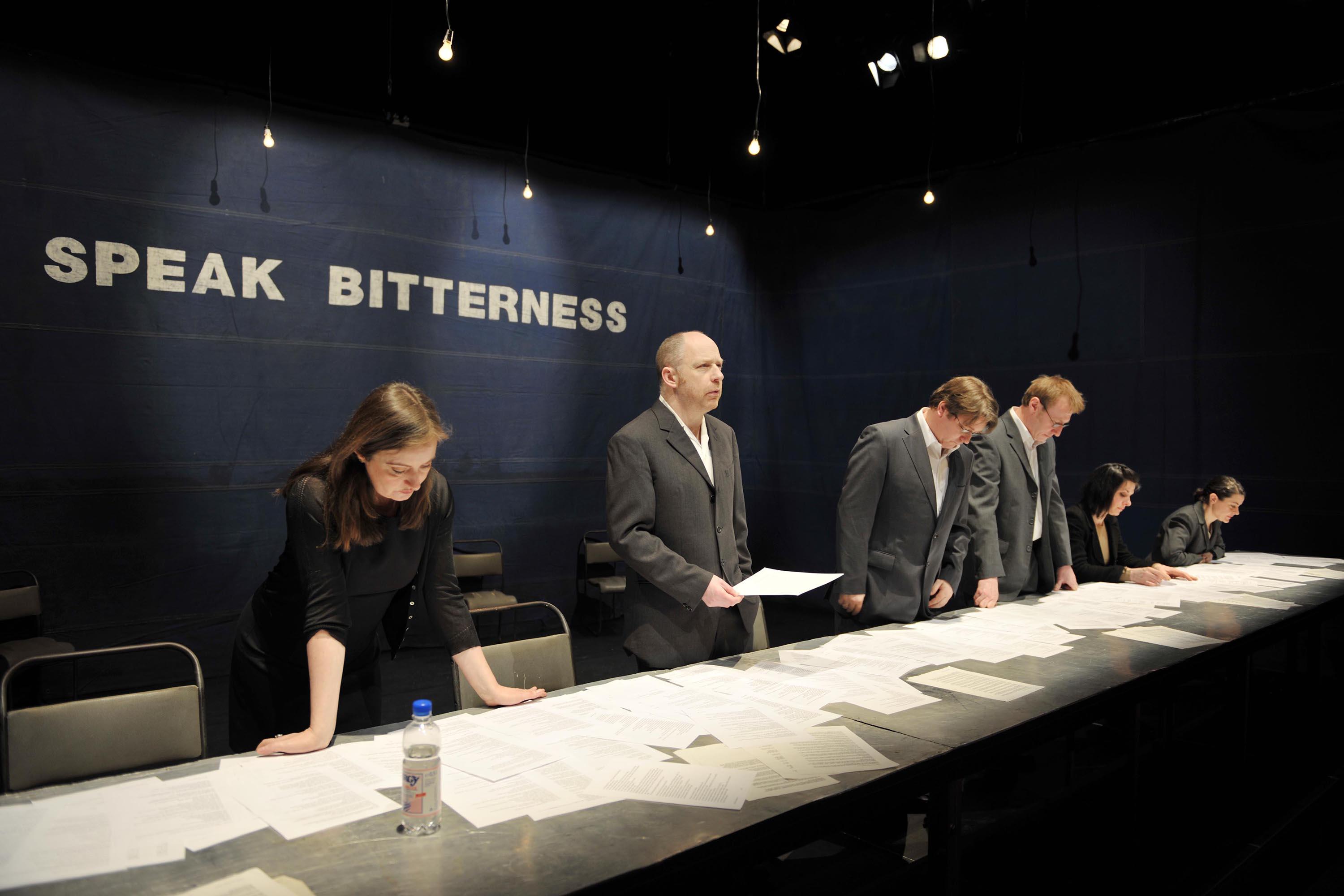 About the Company
For over 30 years, Forced Entertainment has made formative works that search for identity in a fractured, uncertain world. Based in Sheffield, England, and acclaimed internationally as one of the most important devised theater companies in the world, Forced Entertainment is a group of six artists who make theater and performance works, as well as installations, site-specific pieces, books, web projects, and more. Their artistic director, Tim Etchells, writes for and with the performance collective, and for his own print and online projects, and makes text-driven visual art.
Describing their work, they state, "We started working together in 1984; in the many projects we've created since then we've made lists, played games, spoken gibberish, stayed silent, made a mess, dressed up, stripped down, confessed to it all, performed magic tricks, told jokes, clowned around, played dead, got drunk, told stories, and performed for six, twelve, and even 24 hours at a stretch. We've worked on texts, we've danced and moved, we've fixed things meticulously, we've improvised. We've made serious work that turned out to be comical, and comical work that turned out to be deadly serious, digging deep into theatre and performance, thinking about what those things might be for us and what kinds of dialogue they can open with contemporary audiences."
Funding
Support for this project is generously provided by the British Council.
Commissioned by National Review of Live Art (Glasgow).