The Freedom Principle Opening Day
About
In celebration of the opening of The Freedom Principle: Experiments in Art and Music, 1965 to Now, the MCA is hosting a variety of live performances, talks, and workshops inspired by the Chicago collective AACM (Association for the Advancement of Creative Musicians) and their commitment to improvisation, collectivity, and experimentation. To honor this spirit of collectivity, the MCA is free all day.
Highlights include a live performance from cellist Tomeka Reid in an interpretive installation by artist John Preus; a jazz concert by Mike Reed's People, Places & Things outside on the MCA Terrace with dinner and cocktails; and in-gallery conversations and performances hosted by Chicago artists and musicians.
Tickets are required for an evening concert with Douglas R. Ewart's Clarinet Choir, Homage to Malachi Maghostut Favors on the MCA Stage at 7:30 pm.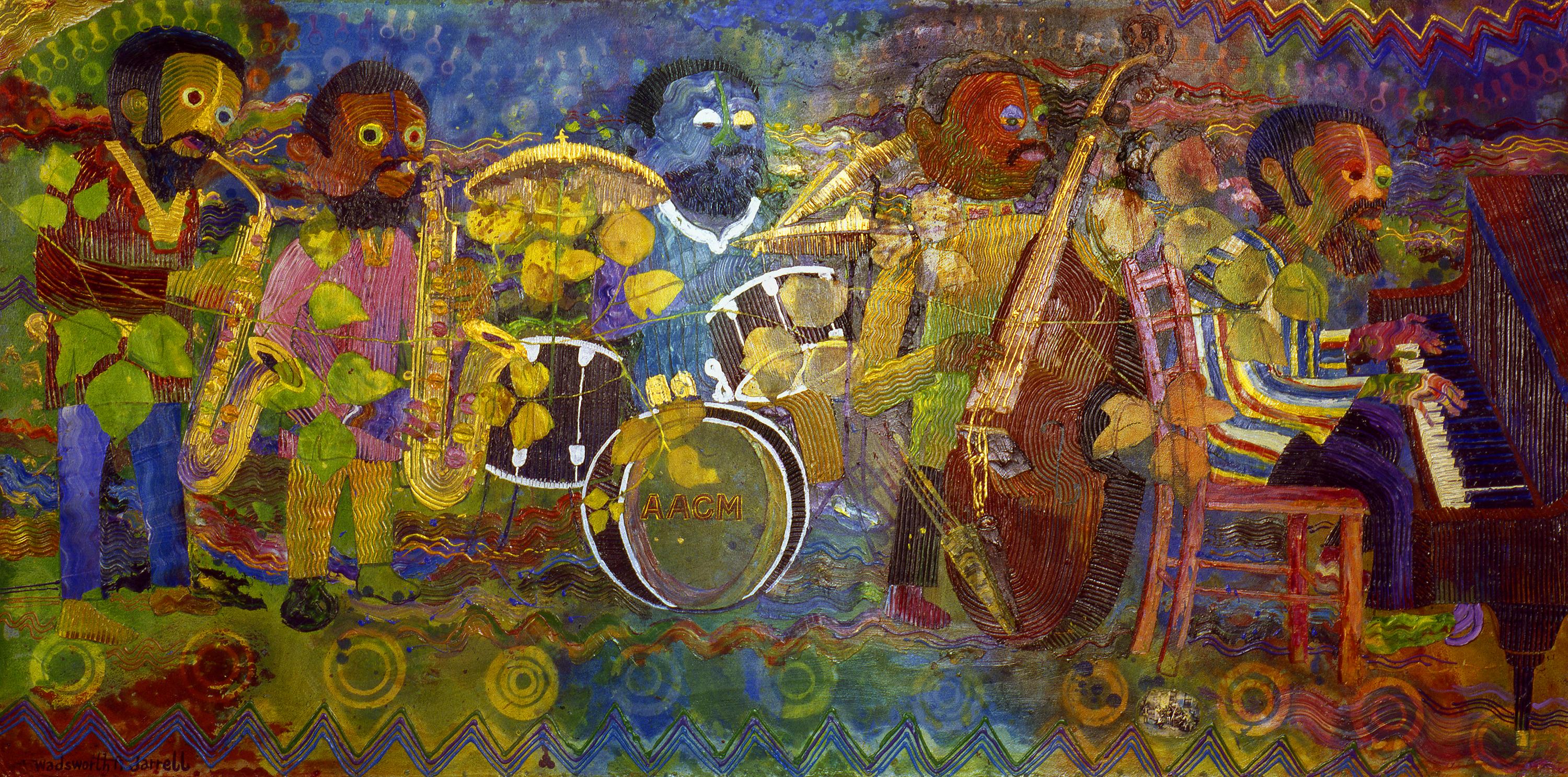 Noon–1 pm
Unveiling and Talk: Douglas R. Ewart, George Lewis, and Douglas Repetto, Rio Negro II
Douglas R. Ewart and George Lewis—longtime members of the AACM—unveil Rio Negro II, (an installation featured in The Freedom Principle) by performing on the instruments that make up the artwork with collaborator Douglas Repetto. The rainsticks and chimes, created by Ewart, are associated with the rituals of indigenous Brazilians, such as the inhabitants of the Rio Negro basin, which lends the work its name. Lewis created the sound files for the wooden stands and robotic mechanisms, designed and built by Repetto, and the three artists collectively created the bamboo/earth paths. Directly following the performance, they lead a conversation about the work. Attendance for the unveiling is limited for the safety of our patrons and the artwork.
1–4 pm
Chad Kouri, Jazz Movement Studies
Chad Kouri's Jazz Movement Studies is an ongoing project reflecting on the tradition of graphic notation. The project has grown from capturing physical movements of jazz performances in Chicago into a form of graphic transcription of music. In this workshop, Kouri invites visitors to join him in creating live graphic translations of the performances occurring over the course of the day.
1–2 pm
Performance and Talk: Natural Information Society and Lisa Alvarado
Chicago artist Lisa Alvarado performs with Natural Information Society, a band led by composer and multi-instrumentalist Joshua Abrams. Using layered improvisation to create hypnotic, highly rhythmic, psychedelic environments, they perform in front of Alvarado's large-scale paintings, equally reminiscent of psychedelic environments, which feature patterning and bright colors like those used by the AfriCOBRA artists in the 1960s. Directly following the performance, Alvarado participates in a conversation about her work.
2:30–4 pm
Cellist and composer Tomeka Reid and double bassist Silvia Bolognesi perform an exploration of improvisatory soundscapes. With Bolognesi, Reid—a master of performance and composition for a wide range of instrumentation—coleads the internationally recognized Hear in Now, a collaborative string trio that performs original, jazz-tinged avant-garde compositions.
5:30–7 pm
Mike Reed's People, Places & Things
Mike Reed's People, Places & Things is used as a vehicle to explore a repertoire from Chicago's jazz, blues, and improvised music scenes. The acclaimed group features drummer Mike Reed, bassist Jason Roebke, tenor saxophonist Tim Haldeman, and alto saxophonist Greg Ward. The performance takes place outside on the MCA's Anne and John Kern Terrace Garden with refreshments available for purchase.
7:30–9:30 pm*
Douglas R. Ewart Clarinet Choir: Homage to Malachi Maghostut Favors Composer and media artist Douglas R. Ewart convenes a supergroup of reedists, vocalists, and dancers, along with visual artist Floyd Webb and performance poet Sterling D. Plumpp to express the ideas, feelings, history, and consciousness of the AACM. Ewart premieres new compositions drawing from the poetry of Plumpp as well as the writings of J. A. Rogers. Tickets are $30 ($24 for MCA Members); buy tickets online. Ticketed event <script type="text/javascript">// <![CDATA[ var axel = Math.random() ""; var a = axel 10000000000000; document.write('<iframe src="https://4916112.fls.doubleclick.net/activityi;src=4916112;type=freed0;cat=mcafr0;ord=' + a + '?" width="1" height="1" frameborder="0" style="display:none">iframe'); // ]]>script