Rosas danst Rosas
Riveting and exhausting, fascinating and relentless . . . a mesmerizing exploration.

—The New York Times
Featured Images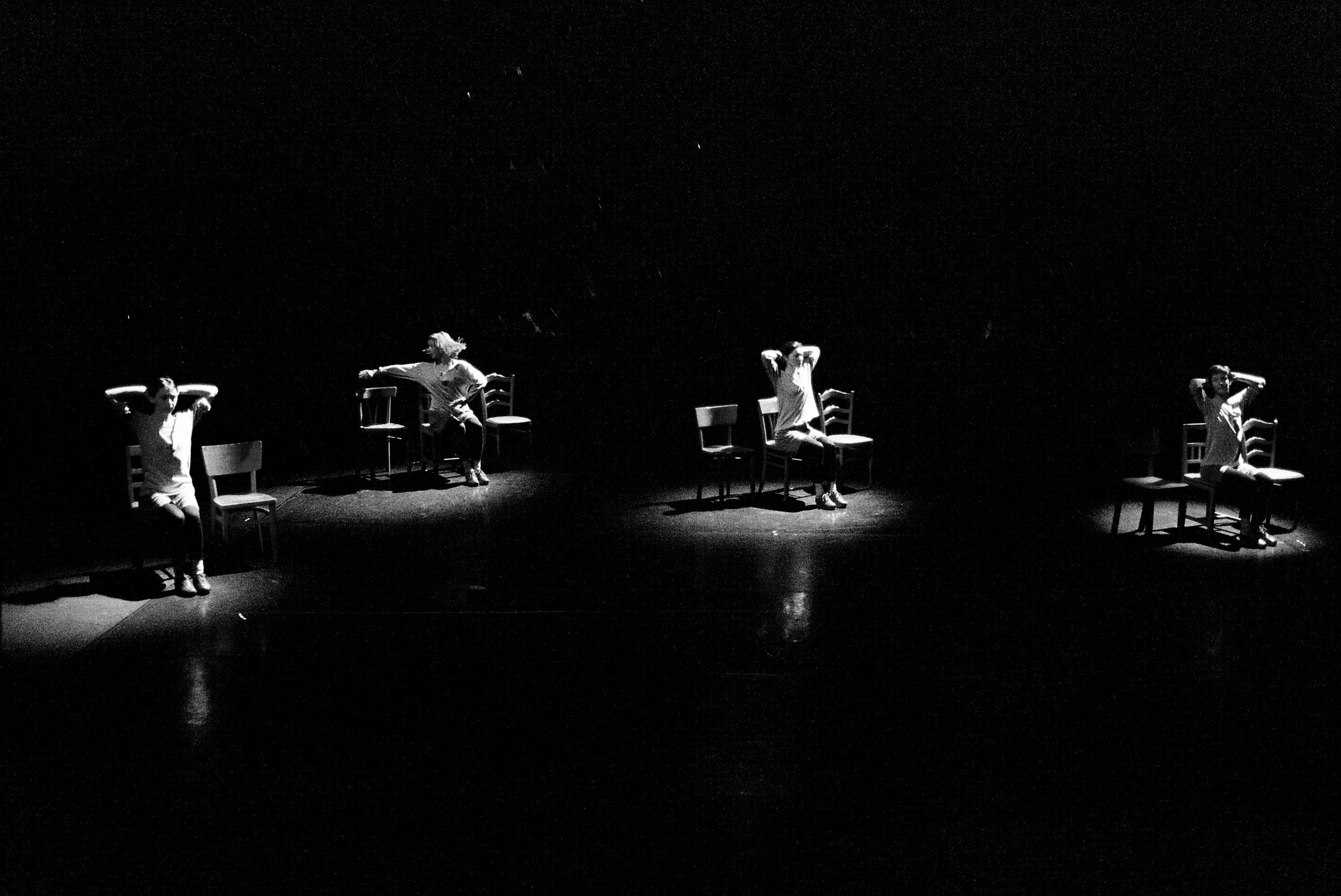 About the Performance
Deep, seductive, and utterly uncompromising, the stunning dance and driving music of Rosas danst Rosas builds an unstoppable rhythm of aggression and tenderness. Four women dance with grace and endurance to a place of power that is both vulnerable and vital. Belgian choreographer Anne Teresa De Keersmaeker brings this vibrant—and now iconic—work made in the 1980s to MCA Stage for her first return in 15 years. Three decades after its premiere, Rosas danst Rosas still surprises with its modernity.
Set to a pounding percussive score by Belgian composer Thierry De Mey, the classic work contrasts everyday movements with abstract dance. It weds the rigor of repetition with youthful audacity and abandon—a surrender to the beat of the music and the energy of the dance. It joins recognizable gestures—fingers running through hair, legs crossing on a chair—with abstract movements that defy categorization. And it explores the pronounced femininity that informed the choreographer's early works, invoking an emotional manifesto of a young woman coming into maturity.
Go behind the scenes with Rosas. Participate in a master class with Rehearsal Director Fumiyo Ikeda (Oct 11) or hear Anne Teresa De Keersmaeker speak about the making of her early works, including Rosas danst Rosas (Oct 12).
Running time: 100 minutes, no intermission
About the Artist
Anne Teresa De Keersmaeker is one of the most prominent choreographers in contemporary dance, a true pioneer who has revolutionized European dance since the early 1980s. After studying dance at Maurice Béjart's Mudra School in Brussels and New York University's School of the Arts, she burst onto the international dance scene with her 1982 debut, Fase, four movements to the music of Steve Reich. In 1983, her Belgium-based company Rosas premiered with the now-seminal piece Rosas danst Rosas.
Over the ensuing three decades, De Keersmaeker and her company have created an impressive oeuvre and a distinctive idiom. Her signature style combines compositional architecture with a strong sensuality and theatricality. At its heart lies the relationship between movement and music. She has worked with musical compositions ranging from the late Middle Ages to the twentieth century, including jazz, traditional Indian Music, and pop music. In 1995, De Keersmaeker founded the dance school P.A.R.T.S. (Performing Arts Research and Training Studios), an important center of contemporary dance. In 2011, De Keersmaeker received the prestigious Samuel H. Scripps/American Dance Festival Award for Lifetime Achievement.
One of the world's premier contemporary dance companies, Rosas has performed at leading venues in Europe and beyond. Since 1992, it has been the company in residence at Brussels's Théâtre Royal de la Monnaie/De Munt.