Tuesdays on the Terrace Brent Kimbrough & Company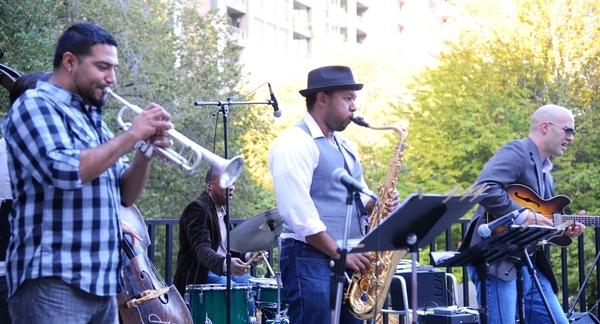 About
Join us for free live jazz concerts every Tuesday, June 3–September 9, 2014, 5:30 pm–8 pm.
Brent Kimbrough & Company (K&Co) is a consortium of the finest musicians in the Chicago area. With over 12 years of professional experience, the group utilizes a collective accumulation of backgrounds, disciplines, and educations, and has a deep repertoire—a culmination of swing, latin (bossa nova, samba, afro-cuban), be-bop, and soul-laden R&B and blues. K&Co is a mainstay at countless Chicago area jazz and blues clubs, and at major events, and has performed internationally in Paris, Amsterdam, Madrid, Shanghai, and Beijing.
A dinner buffet prepared by Wolfgang Puck Catering is available each week for $25 per person, and features a changing menu of dishes created using fresh, locally grown produce from the MCA Farmers' Market (see menu). Tables are limited—call 312.397.4034 or email to reserve your spot.
For a more casual evening, bring a blanket or rent an MCA lawn chair ($5 each) to relax on the garden lawn. Hamburgers, house-made sausages, and a variety of freshly made salads may be purchased from our outdoor grill along with cold beverages, wine, and seasonal cocktails from the cash bar on the lower terrace. Outside food and beverages are not allowed in the sculpture garden.
In case of rain, the event takes place inside Puck's Café.