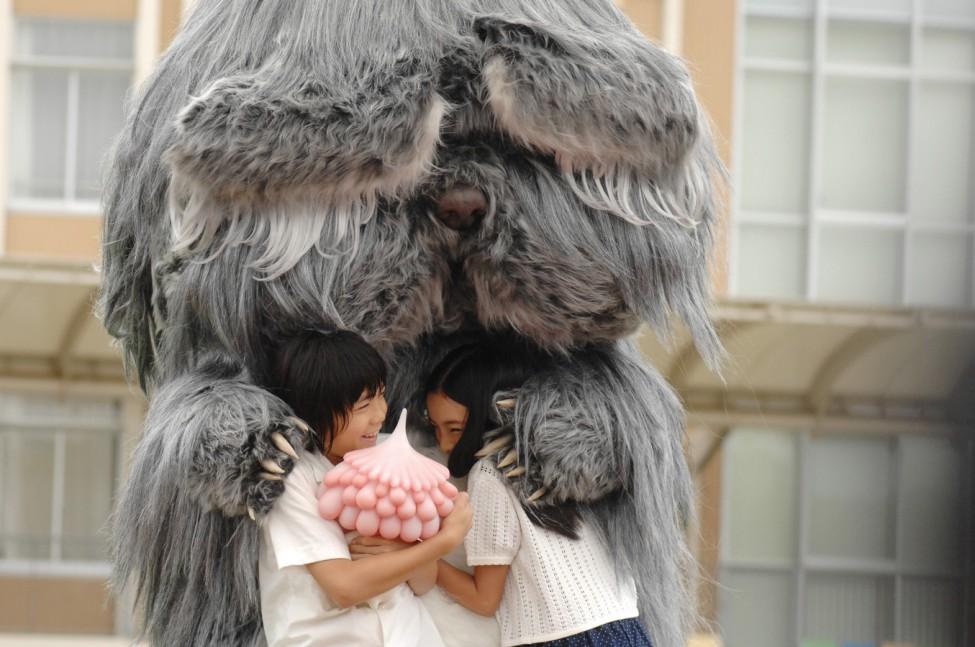 Takashi Murakami, Jellyfish Eyes
About the Event
Takashi Murakami visits the MCA to introduce his first live-action feature film Jellyfish Eyes(2013), which will embark on an eight-stop screening tour of art institutions and cultural venues across the United States. The film combines Murakami's trademark anime-inspired visual aesthetic with broader themes of social change and self-empowerment. Blending computer-animated graphics and live-action cinematography, Jellyfish Eyes is a coming-of-age tale set in a post-Fukushima world, recalling Japanese monster films of the 1950s while embodying the promise of generational hope. Jellyfish Eyes tells the story of Masashi, a young boy who moves to a sleepy town in the Japanese countryside with his mother in the wake of a natural disaster. After returning home from his new elementary school one day, Masashi discovers a flying jellyfish-like creature whom he befriends and names Kurage-bo. Masashi soon discovers that all of his classmates have similarly magical pets, known as F.R.I.E.N.D.s, which are controlled by electronic devices that the children use to battle one another. Despite their playful appearances, however, these F.R.I.E.N.D.s turn out to be part of a sinister plot that will threaten the entire town.
The film premiered at the Los Angeles County Museum of Art's Bing Theater in April 2013 and was released in theaters throughout Japan immediately thereafter.
Running time: 100 minutes
Presented in Japanese with English subtitles.
Born in Tokyo in 1962, Takashi Murakami is arguably one of the most influential and acclaimed artists to have emerged from Asia in the late twentieth century. His work has been exhibited extensively in venues around the world, including the Qatar Museum Authority; Palace of Versailles; Museum of Contemporary Art, Los Angeles; Brooklyn Museum; Museum für Moderne Kunst, Frankfurt; Guggenheim Museum, Bilbao; Fondation Cartier pour l'art Contemporain, Paris; Serpentine Gallery, London; Museum of Contemporary Art, Tokyo; and Museum of Fine Arts, Boston.