Rabih Mroué and Lina Saneh
33 rpm and a few seconds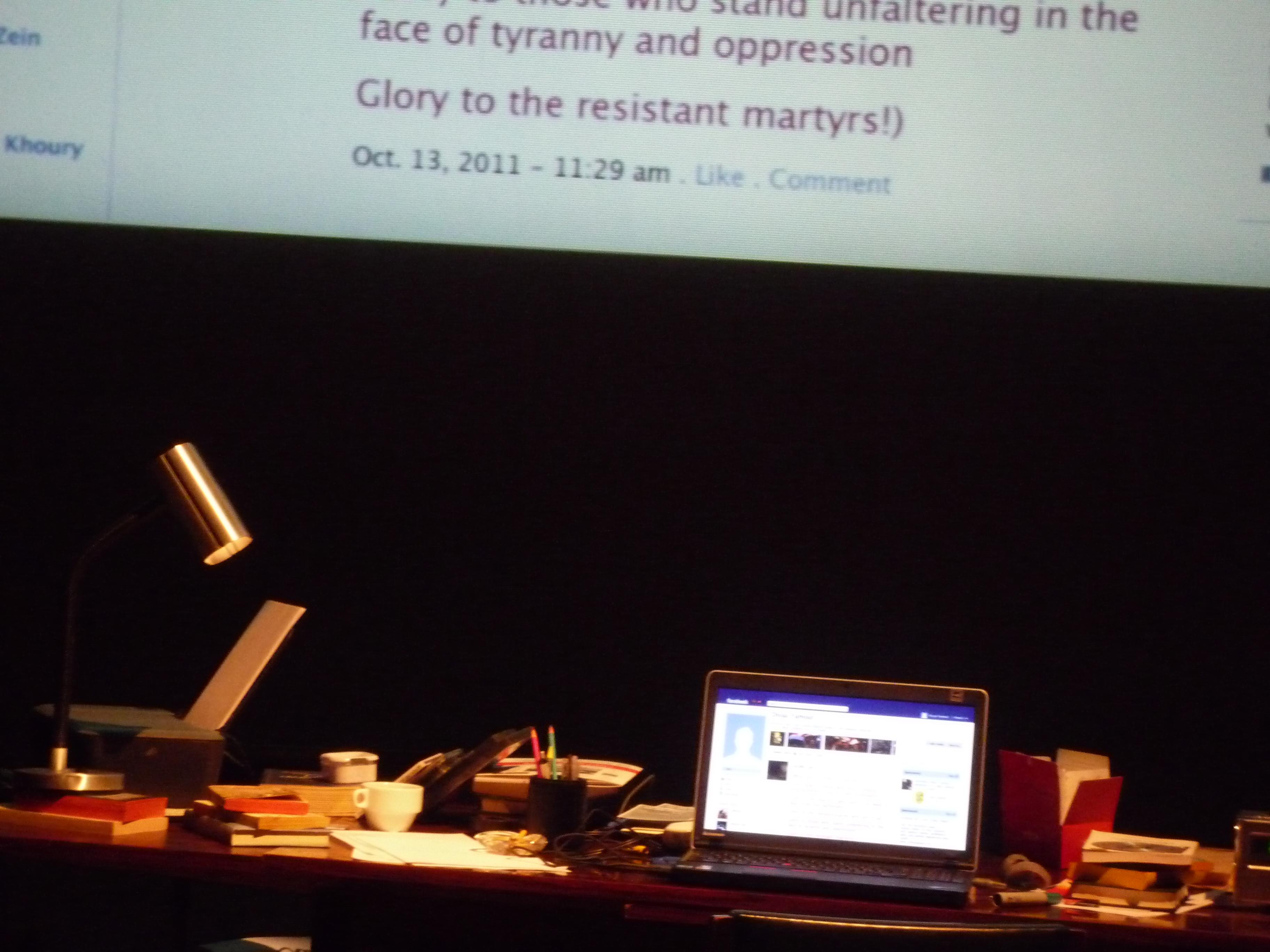 They are to Beirut what the Wooster Group is to New York: a blend of avant-garde innovation, conceptual complexity and political urgency, all grounded in earthy humor.

—The New York Times
About
A young Lebanese man takes his own life, declaring in a farewell letter that his reasons are personal and have nothing to do with politics. His suicide mobilizes an entire society desperately in search of meaning: institutions (official and unofficial, religious and secular, left-wing and right-wing) and individuals (young and old) find their own reasons for the tragedy. Does the young man's death belong to the public or only to him and his family? Did he hope his act would spur an uprising?
In 33 rpm and a few seconds, the stage is his vacant apartment, where everything lives on, vibrating and communicating: the television, the answering machine, and the computer. Time pauses and begins anew. History is pieced together—yet never fully constructed—from fragments of communication. In this semi-documentary work, collaborators Rabih Mroué and Lina Saneh astutely reconstruct the final moments of the young man's life and ponder the problems of Lebanon, where the revolutions of the Arab Spring have failed to take hold. (Read Rabih Mroue's thoughts on the Arab Spring.)
In Arabic, English, and French with English subtitles
Running time: 60 minutes, no intermission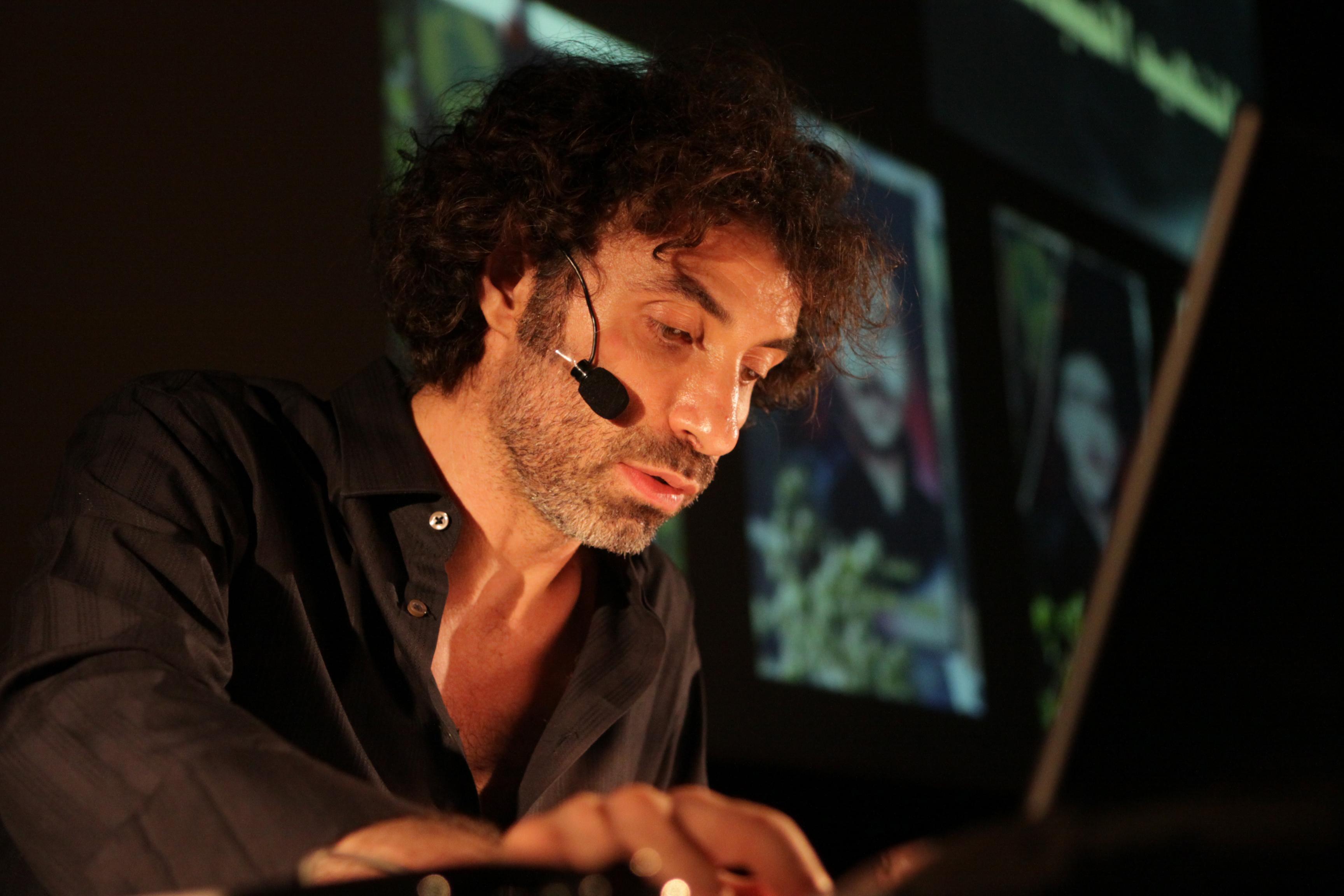 My works deal with issues that have been swept under the table in the current political climate of Lebanon.

—Rabih Mroué
About the Artists
Read Laura Allsop's CNN piece: Rabih Mroue, the Lebanese artist starting a creative rebellion.
Born 1967 in Beirut, Rabih Mroué is a crucial voice in the current arts movement investigating the nature of information and the archive. His works have been featured in theaters, festivals, and exhibitions in the Middle East and Europe, including Documenta 13 (2012) in Kassel, Germany. His works confound the boundaries between theater and the visual arts, often using screens and projected images; he also makes videos and installation art that incorporates photography, text, and sculpture. He works as a director, author, and visual artist, as well as an actor for stage and film.
With his "lecture performances" he has cultivated a form of theater that dates back to the tradition of the storyteller in the Arab markets. Mroué's point of departure is often an everyday discovery that he reworks into surprising contexts. Photographs, videos, and newspaper clippings serve as the source material for decoding meanings that may be hidden in official announcements. His performances, although scripted, are designed to appear more like improvised works in progress, reflecting his continuing theme of inquiry that deemphasizes spectacle in favor of provoking thought and searching for new relationships between actors and audiences.
Lina Saneh is a theater maker who collaborates with Rabih Mroué, and writes and directs her own works of theater and video. In her earlier works, Saneh focused on physical theater as a way of addressing how our bodies are imprinted by sociopolitical conflicts and contradictions in the Middle East. Her current multimedia artworks, performing arts, and video works interrogate the status of our citizenship and our position in public spaces, and raise the possibility of creating a new political liberation. She is an assistant professor at the Institut d'Etudes Séniques et Audio-Visuelles at the Saint-Joseph University in Beirut and at the Saint-Esprit University in Kaslik, Lebanon.
Learn more about Lina Saneh