Nightingale Cinema, Rough and Ready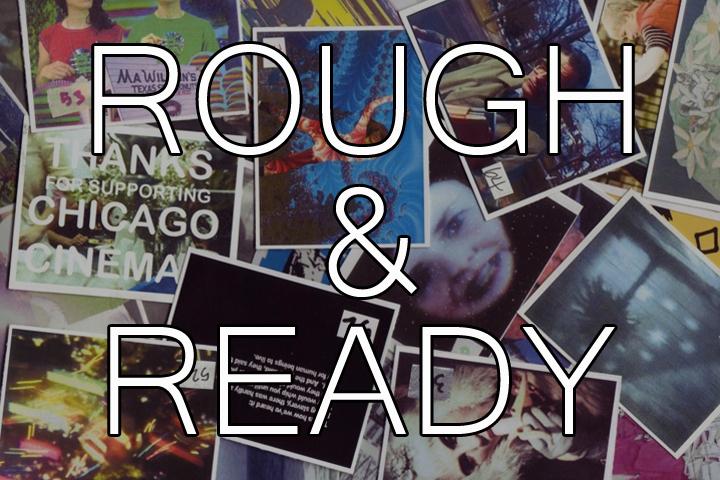 About
The Nightingale is a rough-and-ready microcinema located in Chicago's Noble Square neighborhood. Dedicated to screening emerging work in film, video, and new media, it hosts more than fifty events each year and serves as a hub for Chicago's vibrant cinema community.
From mid-March to mid-April at the Museum of Contemporary Art Chicago, dozens of Chicago-based artists and fourteen local programmers curate screenings that will run on the fourth-floor lobby monitor. Cribbing from its six-year history, the Nightingale's collaborative staff keep things fresh each week with the following programs: ROUGH (Mar 14-20), READY (Mar 21-27), MICRO (Mar 28-Apr 3), and CINEMA (Apr 4-11).
Program
MICRO
This program deals in the diminutive. If Hollywood blockbusters are at home on the big screen, the Nightingale proudly belongs to the world of small screen. From the folding chairs in our tiny community theater, patrons bravely transverse cinematic landscapes where even art-house theaters fear to tread. This week's program literally puts the micro in microcinema, focusing on all the little things. From tiny turtles enjoying encased meat products to tiny animation cycles building to chaotic crescendos—from the confines of claustrophobic spaces to the constraint of claustrophobic communities—from microscopic budgets to the politics of microprocessors.
Andy Roche, Tubular Freaks, 2013
2 minutes, 43 seconds
"Turtles have short legs, not for the walking, Turtles have short legs, not for the walking, But we can find it out, but we can find it out, But we can find it out, but we can find it out. Want to have a cigarette, not for the choking, Want to have a cigarette, just king-sized"
Fantasy is the only morsel available to the leashed dog.
Claudia Menendez
, Nothing to do with Electromagnets, 2011
A sci-fi version of a place affected by radiation, in a reality just as weird, where it's perfectly normal to start singing in the middle of a conversation.
Jo Dery, Chapter Three, 2012
This video was part of a multimedia installation designed for the DeNormandie Library at the deCordova Museum in Lincoln, MA. Chapter Three combined video animation, book arts, and sculpture; the central metaphor of the piece was the idiom "snake eyes." The work was exhibited in the deCordova's 2012 Biennial.
Michael Paul Lopez
, Some Southern Country, 2014
Three excerpts from a 13-part video series in which a teenage boy experiences sexual adventures and overcomes obstacles of the heart atop a generic American 1980s world determined to perpetuate tribal war in a southern jungle.
Amanda VanValkenburg, Deer Hallway, 2013
Deer Hallway is a piece about violence in slow motion. Playing with the visual language of video games, it reacts against the tradition of 3D bodies disappearing after they have been hit. The camera motion is derived from a first-person shooter's perspective, but the autonomy of a game is taken away, emphasizing an inevitable confrontation with the looming, struggling body.
Amir George
, Go Berzerk, 2008
A music video for Chicago performer Drunken Monkeee. Drunken and his followers run amok through the dark streets of Pilsen, wreaking havoc and going berserk.
Lindsey French, Drunken Text Messages from an Oak Tree, 2012
A series of text messages document drunken, uninhibited conversations between an oak tree and Virginia Woolf's Orlando.
Thorne Brandt
, AGOD, 2014
AGOD (acronym for animated gif of the day) is an organic horror video about the terror of entropy. A layer was added onto this video every day. It is organic in the sense that it has no solid state: the same version of this video will never be exhibited twice. It gains a stamp from every exhibition. As the video grows more complex, the form retains less meaning. The inevitable entropy of the aging mind parallels the decay of the accelerating universe and the speed of information in the digital age.
Jake Myers and Team Octagon,
Celestial Bodies, 2013
Science fiction, aerobics, and comedy collide in this experimental narrative. More than 70 Chicago artists, actors, filmmakers, comedians, and musicians collaborated on this project. The story follows Carl, Dward, E-grit, Fabz, Dr. Doug, and Omni as they try to discover fitness secrets in a dystopian universe.
Dan Paz, Kodak, 2013 B-roll, 2013
B-roll is a selection from a larger body of work, Kodak, 2013, in which I film contemporary queers and queers of color as they work through poses and gestures that, to them, articulate the ideals of their own identity expressions. B-roll transports this work into the space of the First Fridays event that Chances Dances hosted at the MCA in December 2013, and documents my interactions with attendees as I ask them to dance in increasingly slower motion. From the vantage point of the camera's preview thumbnail screen, this video reveals the tools of production to frame the tense, vulnerable, and productive spaces where trust is built onscreen. —Dan Paz
Adebukola Bodunrin, The Ooli Moves, 2014
The Ooli Moves is an Afrofuturist music video created for Nicole Mitchell's Black Earth Ensemble. The song, from the album Intergalactic Beings, was inspired by Octavia Butler's Xenogenesis novels, and the video explores the tension between repulsion and sensuality characterizing ooloi-human relations.
Nick Briz, Apple Computers, 2013
2 minutes, 28 seconds (excerpt)
An open letter to Apple and an experimental prosumer manifesto on the issues of planned obsolescence, upgrade culture, technological self-reliance, control, and copying. A [re]mix/make of Phil Morton's 1976 video tape General Motors, in which contemporary Chicago [dirty] new media artists explain their love/hate relationship with the "default art computer."
Christy LeMaster
, We are No Longer Brave Enough to Leave, 2014
We Are No Longer Brave Enough to Leave is a portrait of utopian impulses—past and present, real and reimagined—and learning new skills, moving from watcher to maker. This video invites specific artistic communities working in Chicago to reenact an intentional or utopian community from American history: Sequence 1: Summer Forum 2012 Residency as Robert Owen's New Harmony Socialist Society (1825, New Harmony, Indiana) Sequence 2: The Nightingale Cinema as the Source Family (1970s, Los Angeles, California).  
All pieces appear courtesy of the artists. Programmed by the Nightingale: Ed Crouse, Ian Curry, Emily Eddy, Patrick Friel, Jill Hansen-Lewis, Emily Kuehn, Sally Lawton, Christy LeMaster, Jesse Malmed, Chloe McLaren, Doug McLaren, Rory McSweeney, Jenny Miller, and Fern Silva.