Elevator Repair Service
Arguendo
This performances of Arguendo is an American Sign Language (ASL) Interpreted Performances. MCA Stage is pleased to offer ASL interpreted performances for the deaf, hard of hearing and ASL community.
Full of supremely naughty charm!
Featured Image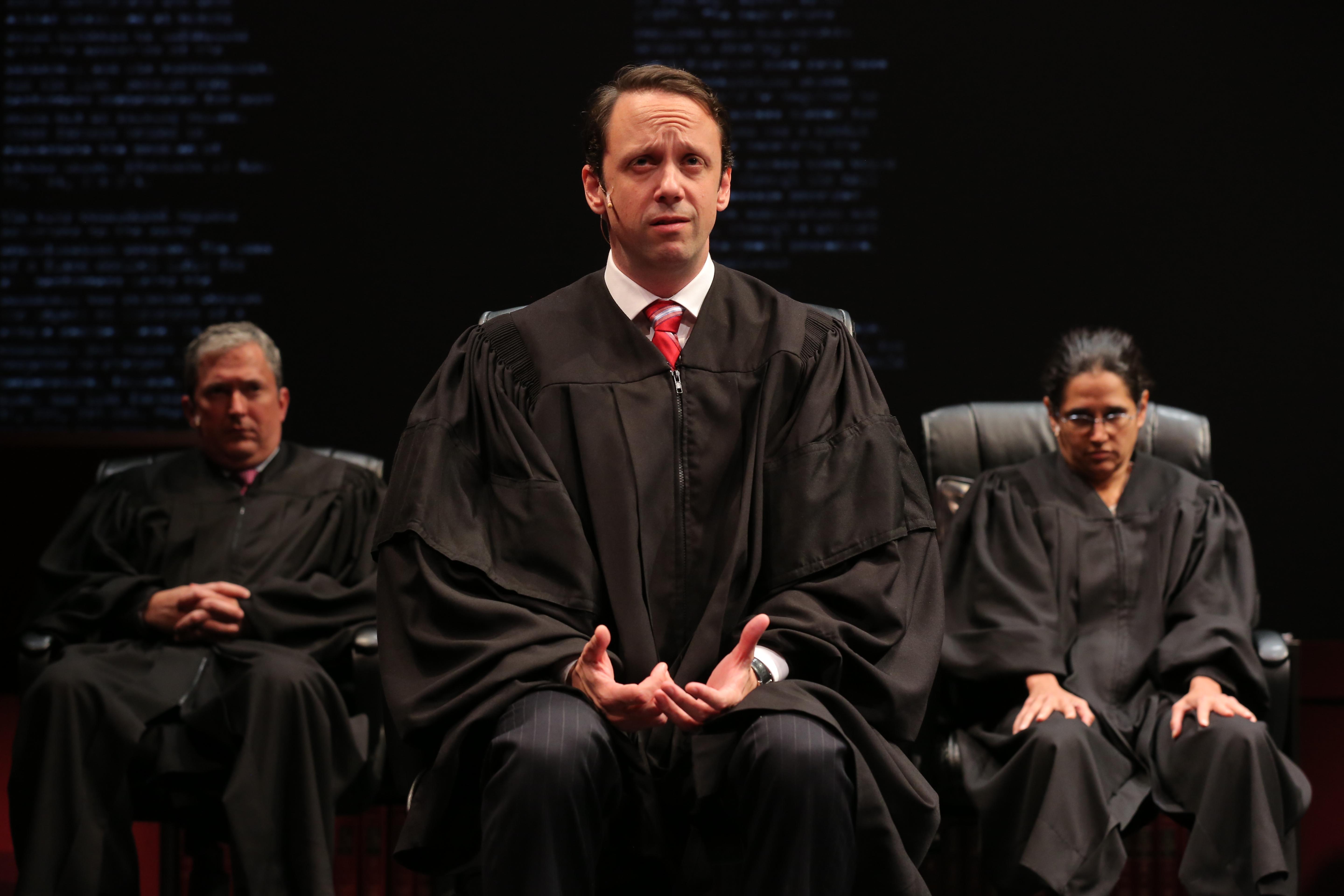 About the Performance
The go-go dancers of the Kitty Kat Lounge in South Bend, Indiana, claimed a First Amendment right to dance totally nude. Indiana law disagreed. So in 1991 the case made its way to the United States Supreme Court, and the justices debated the definition of dance, nudity in opera houses versus nudity in strip clubs, and whether erotic dancing is artistic expression or a crime. Now, the ever-provocative theater group Elevator Repair Service (ERS) revisits this landmark case—verbatim—and all the socially loaded questions it still contains. Their hilarious and intelligent Arguendo brings the Supreme Court oral arguments to the stage, along with an interview with an erotic dancer who wants to be able to earn her living.
Arguendo (from the Latin "for the sake of argument") plumbs the tension between two cherished aspects of being American: the unquestioned freedom to express oneself without fear of retribution, and the moral code of the larger society. It takes the "brainy, subversive sense of humor" (New York Times) of ERS to capture both the intellectual substance and comedic edges of this ongoing push and pull within our American identity—and turn it into riveting theater.
Recommended for mature audiences: some nudity
Running time: 80 minutes
About the Company
Elevator Repair Service (ERS) is one of New York's most highly acclaimed theater companies. Arguendo and their other celebrated works such as Gatz—the unforgettable piece seen at MCA five years ago—all grow out of the ensemble's innovative approach, drawing on existing texts to spark fresh interpretations. Directed by John Collins, ERS has been featured across the United States, Europe, Australia, and Asia and has received many awards including Elliot Norton Awards, Lucille Lortel Awards, a Bessie, and a 2012 Obie for Sustained Excellence.
Learn more about Elevator Repair Service.
Wittily inventive—Arguendo is one of those shows that keeps growing richer and more insightful in the remembrance. Count me in if Elevator Repair Service decides to take on the phone book as its next project.