The Best of Keren Cytter/The Worst of Keren Cytter
Publisher

Kunsthal Charlottenborg and the Museum of Contemporary Art Chicago

Binding

Two softcover volumes

Pages

900

Dimensions

190×279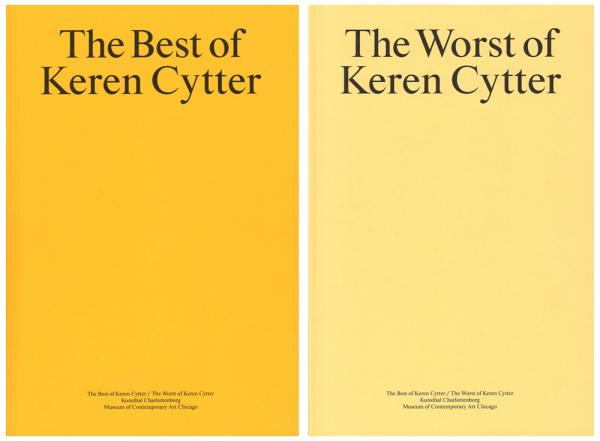 About
---
The Best of Keren Cytter/The Worst of Keren Cytter is the first comprehensive publication of multidisciplinary artist Keren Cytter's video screenplays. The artist invited two curators, Jacob Fabricius, formerly of the Kunsthal Charlottenborg, and Naomi Beckwith, of the Museum of Contemporary Art Chicago, to read and categorize transcripts of the entire body of her video work. The curators then debated the merits of every screenplay, ultimately deeming them representative of the best or worst of her work. This softcover, two-volume publication contains essays by both curators, explaining their experience reading and categorizing the screenplays, as well as two posters depicting stills from the best and worst of the artist's work.
This book is published by the Kunsthal Charlottenborg and the Museum of Contemporary Art Chicago, on the occasion of the exhibition Keren Cytter, curated and presented by Jacob Fabricius at the Kunsthal Charlottenborg, September 19–December 28, 2014; and at the Museum of Contemporary Art Chicago, March, 28–October 4, 2015, where it was organized by Naomi Beckwith.
Scripts by Keren Cytter; edited and with contributions by Naomi Beckwith and Jacob Fabricius; and produced by the Wrong Studio, in collaboration with the Design, Publishing, and New Media Department of the Museum of Contemporary Art Chicago.
Table of Contents
The Best of Keren Cytter
<table class="text">
<thead>
<tr>
<th>PAGEth
<th>CONTENTth
<tbody>
<tr>
<td>13td
<td>Atmospheretd
<tr>
<td>25td
<td>Coattd
<tr>
<td>31td
<td>Correctionstd
<tr>
<td>51td
<td>The Date Seriestd
<tr>
<td>103td
<td>Der Spiegeltd
<tr>
<td>117td
<td>Disillusioned Love Twotd
<tr>
<td>131td
<td>Dreamtalktd
<tr>
<td>145td
<td>Experimental Filmtd
<tr>
<td>151td
<td>Fifteenth of Decembertd
<tr>
<td>193td
<td>Four Seasonstd
<tr>
<td>203td
<td>The Hottest Day of the Year td
<tr>
<td>221td
<td>In Search for Brotherstd
<tr>
<td>230td
<td>New Agetd
<tr>
<td>291td
<td>Oceantd
<tr>
<td>307td
<td>Open Housetd
<tr>
<td>317td
<td>Performance Audience Mirrortd
<tr>
<td>325td
<td>Rose Gardentd
<tr>
<td>339td
<td>Show Real Dramatd
<tr>
<td>365td
<td>Silent Filmtd
<tr>
<td>371td
<td>Sirentd
<tr>
<td>389td
<td>Something Happenedtd
<tr>
<td>299td
<td>The True Story of John Webber and his Endless Struggle with the Table of Contenttd
<tr>
<td>431td
<td>Untitledtd
<tr>
<td>446td
<td>Vengeancetd
<tr>
<td>599td
<td>The Victimtd
<tr>
<td>627td
<td>Video Art Manualtd
<tr>
<td>641td
<td>War and Peacetd
The Worst of Keren Cytter
<table class="text">
<thead>
<tr>
<th>PAGEth
<th>CONTENTth
<tbody>
<tr>
<td>13td
<td>Avalanchetd
<tr>
<td>59td
<td>Brushtd
<tr>
<td>101td
<td>Continuitytd
<tr>
<td>107td
<td>Cross.Flowers.Rolextd
<tr>
<td>137td
<td>Disillusioned Lovetd
<tr>
<td>151td
<td>Empty Cans of Tunatd
<tr>
<td>161td
<td>Familytd
<tr>
<td>169td
<td>Force from the Pasttd
<tr>
<td>179td
<td>French Filmtd
<tr>
<td>187td
<td>The Friends Seriestd
<tr>
<td>205td
<td>The Hearttd
<tr>
<td>221td
<td>I Eat Pickles At Your Funeraltd
<tr>
<td>267td
<td>Konstruktiontd
<tr>
<td>285td
<td>The Legend of Devil's Hill and the Endless Search for Freedomtd
<tr>
<td>345td
<td>Les Ruisselement du Diabletd
<tr>
<td>359td
<td>MF PIGtd
<tr>
<td>373td
<td>The Mysterious Seriestd
<tr>
<td>405td
<td>Nightmaretd
<tr>
<td>413td
<td>Nothingtd
<tr>
<td>427td
<td>Peacockstd
<tr>
<td>441td
<td>Pokerfacetd
<tr>
<td>449td
<td>Repulsiontd
<tr>
<td>457td
<td>Square Triangle Straight Linetd
<tr>
<td>481td
<td>Timetd
<tr>
<td>495td
<td>Video Dancetd