Duro Olowu: Seeing Chicago Virtual Gallery
About the Audio Experience
Speakers include Duro Olowu and Naomi Beckwith. Quotes are selected from archival interviews with Lorna Simpson, Jack Whitten, Richard Hunt, Roger Brown, Kerry James Marshall, and Shirin Neshat.
An introduction to the exhibition
About the Exhibition

Duro Olowu believes in the idea of the "second look"—that there is meaning in the act of seeing something again and, perhaps, anew. The Nigerian-born British fashion designer credits this belief to his being raised in a multicultural family and his frequent international travels. From this cosmopolitan background, Olowu has gained a sensitivity to the expression of individual cultures. This awareness and reverence informs both Olowu's work as a fashion designer and his skill in combining multiple cultural influences together as a curator.

For Duro Olowu: Seeing Chicago, the guest curator lends this transcultural perspective to the renowned institutions, museums, and private art holdings of Chicago. Starting with works in the MCA Collection and drawing art and inspiration from multiple collections across the city, Olowu reimagines relationships between artists and objects across time, media, and geography. He moves away from traditional exhibition formats by curating maximalist scenes featuring artists from different eras, countries, and identities side by side. By gathering these artworks here, he provides all with equal respect.

Olowu's process of looking again at art in Chicago's many collections resulted in the selection of more than three hundred works. The exhibition is loosely structured around four thematic sections. A concluding gallery echoes Olowu's London space and includes his fashion designs. We invite you to join Olowu in his vast, interdisciplinary exploration that serves as a celebration of contemporary art and life.
Introduction
Museums display art and objects for an audience, but they also create a system for that display. Similar objects are often sorted together: all works from Africa are in one section, all works from nineteenth-century France are in another. Rarely are objects from one region or era displayed as equals with art from another time or place. Olowu breaks down these barriers to notice the shared concerns of artists across time and geographies, moving toward an organization inspired by visual pleasure and discovery.
This first gallery shows artworks from artists with ties to the city of Chicago. It is an example, as is the rest of the show, of Olowu's unbridled creative mixing: the artworks come from Chicago collections, but they span decades and regions. This space allows us to train our eye to take a "second look"—to see all artworks in the exhibition anew and as equals.
Featured images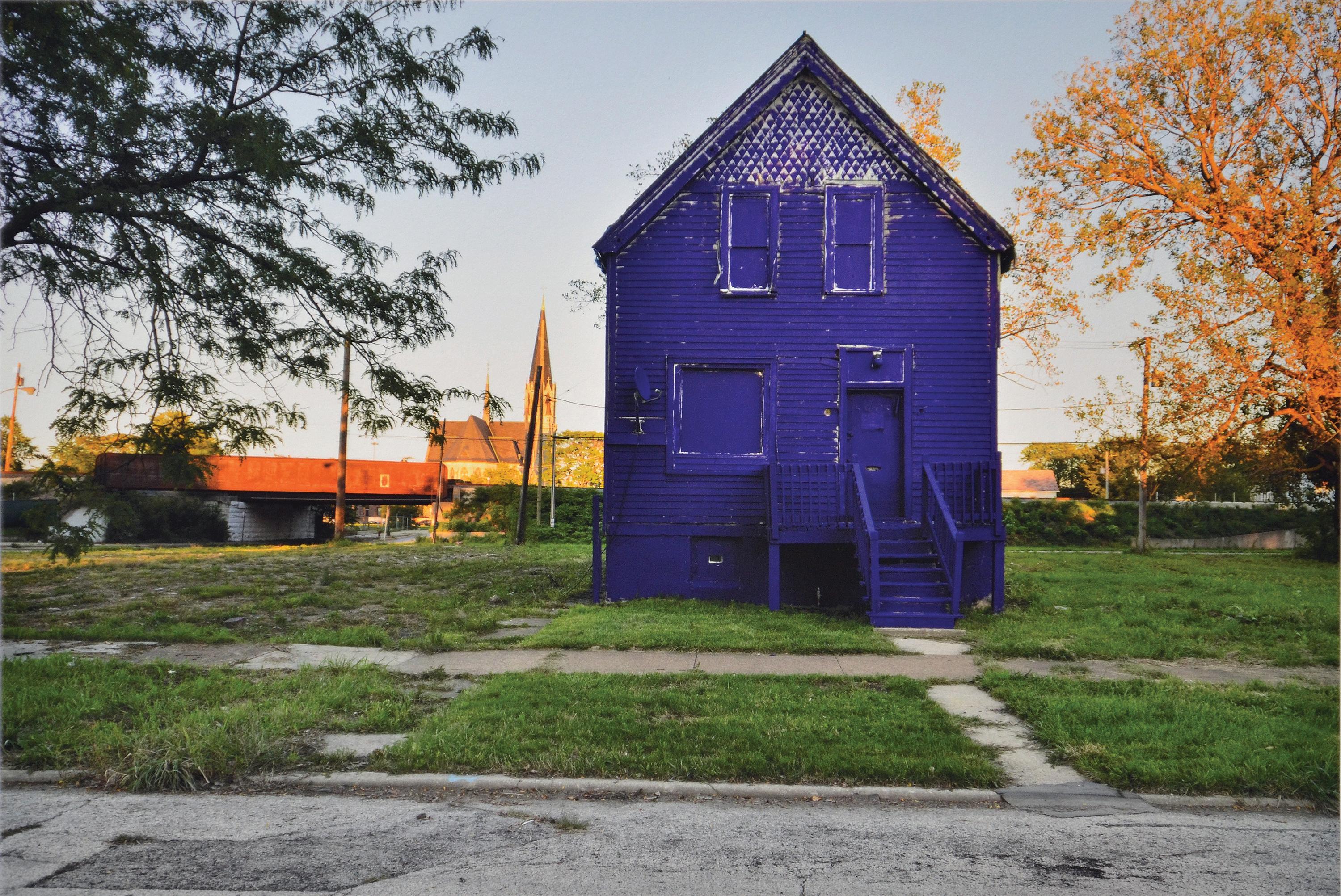 Audio Transcript
TRANSCRIPT

[Music: "River of Life" by Dom James]

Duro Olowu: In the times we live in, there's so much opportunity to spread one's eye even wider . . . to look at a wide, wide variety of work that is made by people to have an impact both on the eye and on the soul.

Naomi Beckwith: I'm Naomi Beckwith, senior curator here at the MCA. Welcome to Duro Olowu: Seeing Chicago. We asked Olowu, the Nigerian-born British fashion designer to turn his cosmopolitan eye to Chicago, selecting works from the city's public and private art collections for this exhibition.

Duro Olowu: I felt that, in this show, there needed to be a strong statement of what I saw, not just imagined, on the streets of Chicago. So, human interaction with other humans, with architecture, with ideals, with histories, both good and bad, the reimagining of all these histories and emotions and ideals was a major source of inspiration for the show.

One work by a Chicago artist, Amanda Williams, provided the perfect palette for the central walls in each gallery. The Color(ed) Theory series was really a great way to bring Chicago into the interiors of this museum.

[Music: "Imitations" by Steve Sidwell]

Naomi Beckwith: You can see Williams's Color(ed) Theory photographic series right here in this gallery.

Duro Olowu: The artist and her friends painted about-to-be-demolished buildings in different colors representing various consumer products that are marketed to black people, in particular, in Chicago. And usually these colors would be quite prominent in the South Side commercial area of Chicago.

[These colors,] as strong and glaring as they are, also seemed to me to be warm and inviting. They seem to have a very strong history, not just about black culture and black consumer culture, but also a strong history about resilience and strife and overcoming—and just living side by side in a city that is at once deeply divided and yet very communal in its approach.

[Music: "Imitations" by Steve Sidwell]

Naomi Beckwith: We think of this audio experience as a kind of peek into Olowu's creative process as you walk through the exhibition. If you want to hear more from Olowu, look for listening stations throughout the exhibition. They're located at benches with patterned cushions.
Featured images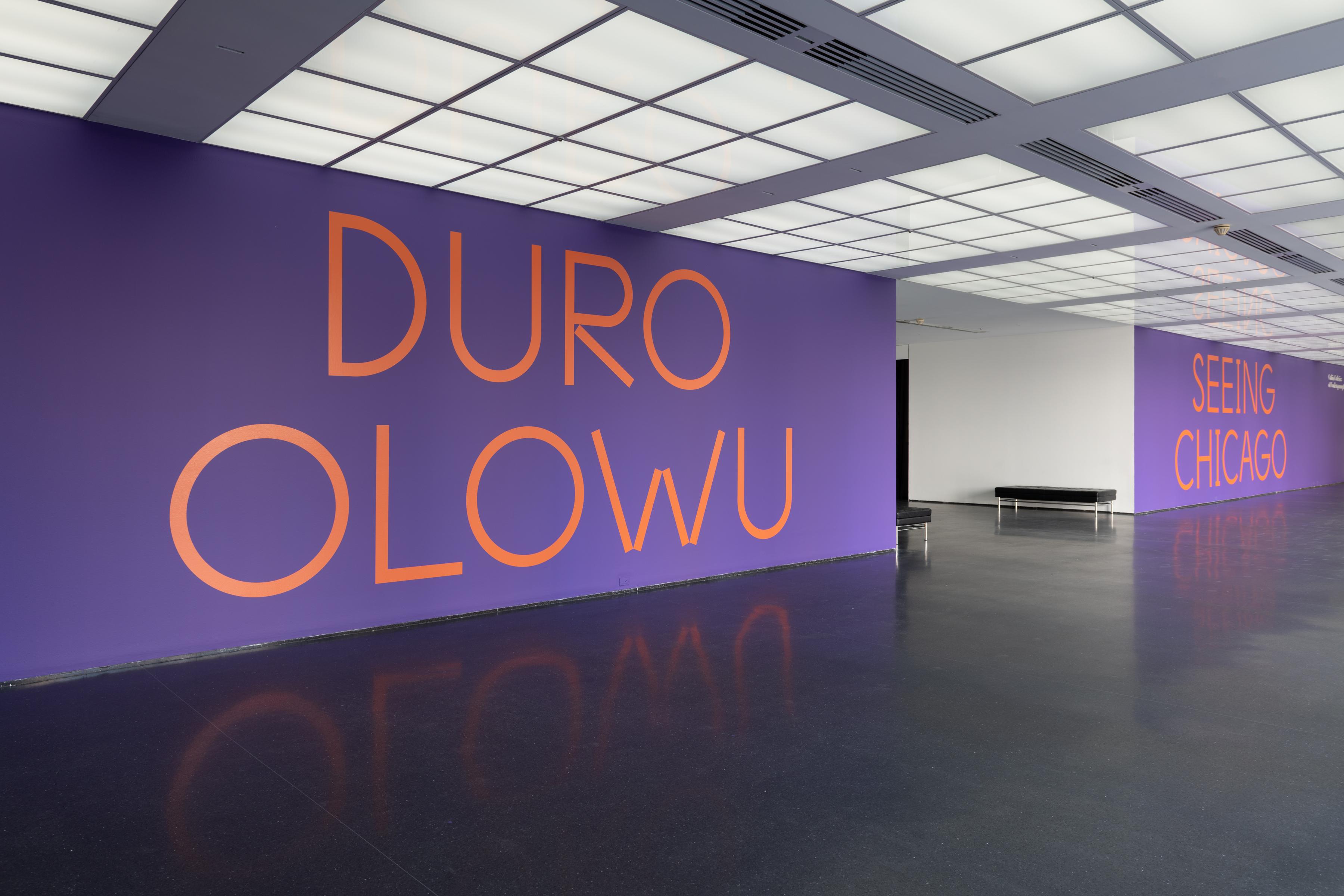 Look At Me
One might typically think of portraiture as focusing on the human figure, primarily in one medium, technique, or culture. Here Olowu brings together a diverse cast of subjects, styles, and artistic media. Olowu challenges the idea of what a portrait can be, refusing to dismiss artworks that don't represent our idea of traditional portraiture. By showing photography, painting, and sculpture together, he values them all equally, doing away with notions of hierarchy.
A second look at Olowu's arrangements rewards the viewer with new ways of seeing. In some cases, there are lines, shapes, forms, and patterns that will emerge—in others, you may notice repeated themes such as ideals of beauty across time and culture. For example, sculptures by Simone Leigh (American, b. 1968) using elements of traditional African art are set in front of black-and-white photographs: Sophie Calle's (French, b. 1953)The Striptease and Lorraine O'Grady's (American, b. 1983)Miscegenated Family Album, contrasting aspects of ancient Egyptian sculpture and portrayals of contemporary women.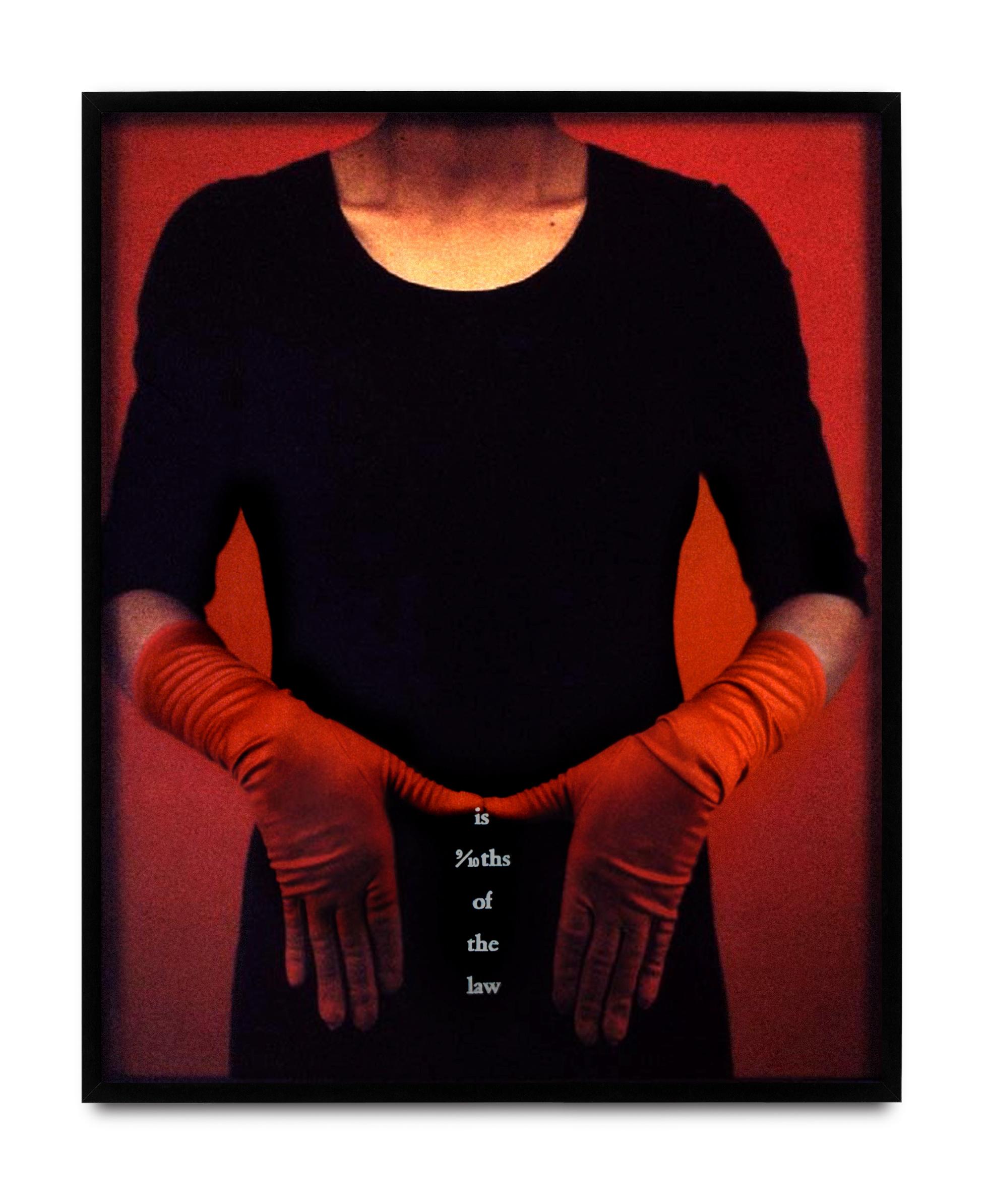 Audio Transcript
TRANSCRIPT

Duro Olowu: For everyone that visits the museum, regardless of race, gender, or sexuality, it's important to walk into a museum exhibition and see yourself represented.

The idea was to create a room filled with different faces. In a way, you walk in and you focus on one or two of the works, but like walking into most crowds, in reality, you're then suddenly surrounded by this whole world of different physical attributes and body types and races and genders that is very representative, to me, of real life.

[Music: "River of Life" by Dom James]

To also have all of these artists in the room was to give the show an interesting take on the whole idea of portraiture.

Naomi Beckwith: In these galleries, Olowu plays with images of the human form.

Duro Olowu: Some artists are very, very, very affected by the need not to be judged by one's face. There's some images that just do away with the obvious physical features of the face—a sort of refusal to be fully represented is evident.

Naomi Beckwith: An example of this is Lorna Simpson's photograph, Self Possession.

[Music: "Oto" by Ryuichi Sakamoto]

It shows the torso of a black woman in a black dress wearing red gloves with her head intentionally cropped. Here's the artist:

Lorna Simpson: In some ways, to provide a face then, in some ways assumes that I'm talking about that particular—about biography. And I'm not really interested in that, per se, and having to do with myself. It's more the telling of stories and how the stories are interpreted.

I try to raise questions about black female identity and the complexity of that identity. And what it is, is kind of an examination of moments or an examination of particular questions and situations and contradictions within that identity, and kind of also in things in the world. So I guess I walk a very, maybe a very thin line in terms of focusing in, and dissecting the body and talking about different body parts, and having those body parts cropped in the frame and dramatized a certain way, photographically. But at the same time, either through the text in that juxtaposition, try to humanize it, so that I don't repeat this kind of dehumanization or objectification of even the person, of the construction I'm making of a particular woman.

[Music: "This Love" by Janet Kay]

Naomi Beckwith: Olowu thinks deeply about the complexities of self-representation and identity in his work.

Duro Olowu: With my work, design work, I'm always thinking about how one chooses to place oneself in the world and how one wants to be seen in the world and how one wants to be remembered in the world or amongst people you know or don't know.

And this, to me, is a form of armor, and it doesn't signify anything aggressive. But it is a form of armor. It's a form of protection that has served people well for centuries. It served African Americans well during the segregation. It served my mother and her family well during the fifties in England when they all came on the Wind Rush to London. It served immigrants in America, in Europe, for centuries, you know? And I really feel that what people remember is not just the face, but what the person was wearing.
Featured images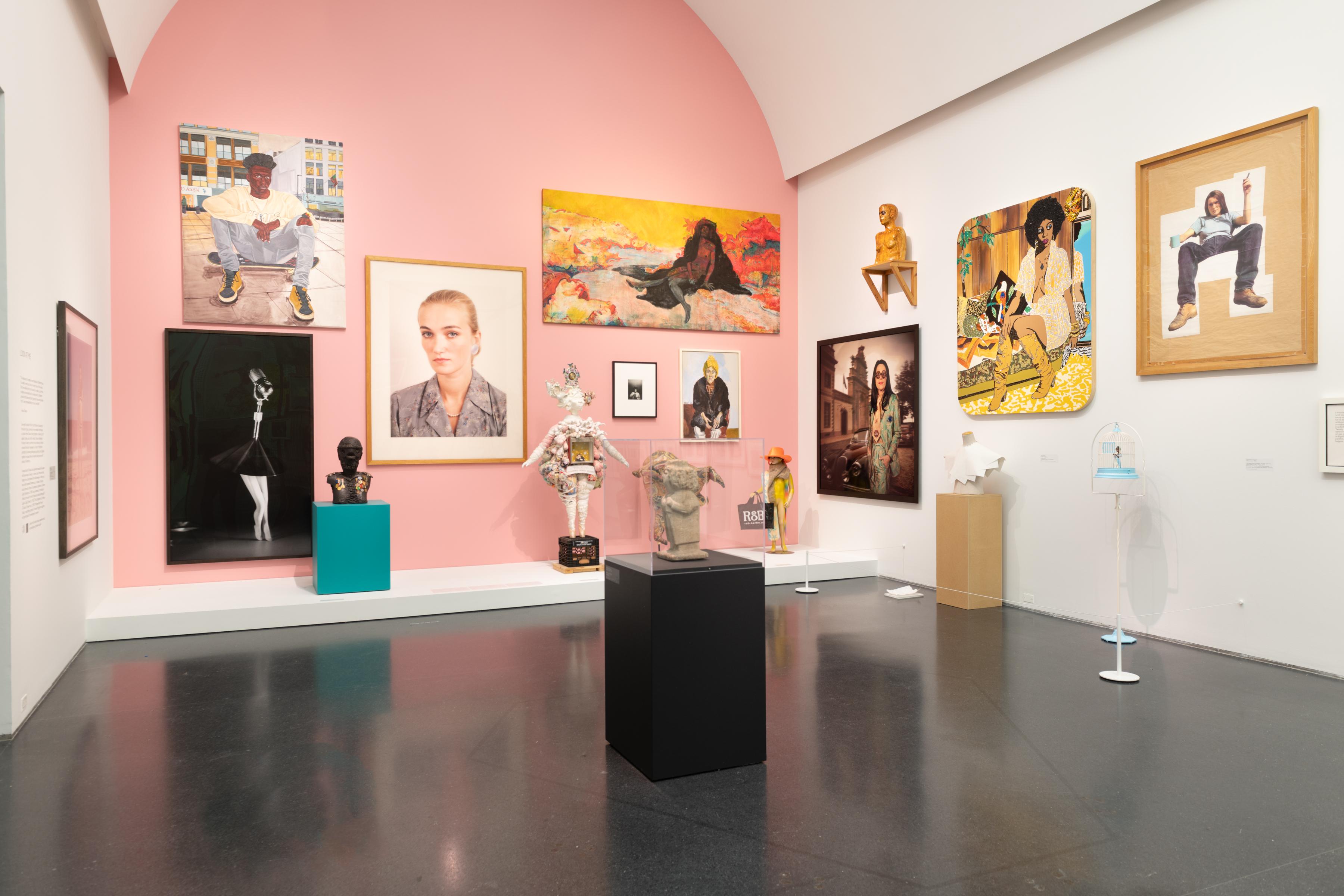 Toward Abstraction
Throughout the twentieth century and into the twenty-first, artists pushed the boundaries of realistic representation. Whether portraying people, objects, or environments, some artists elected to forgo accurate depictions of reality to focus on pure color, form, and pattern. While abstraction was often considered a Western art movement, in these galleries Olowu shows this style in art across cultures and geographies.
Olowu wants you to abandon yourself to the visual symphony of color and pattern in these rooms. While you might see recognizable subjects, like female nudes, planets, or Chicago's Marina Towers, a further look past subject matter reveals formal qualities. These forms blur distinctions between object, craft, and art.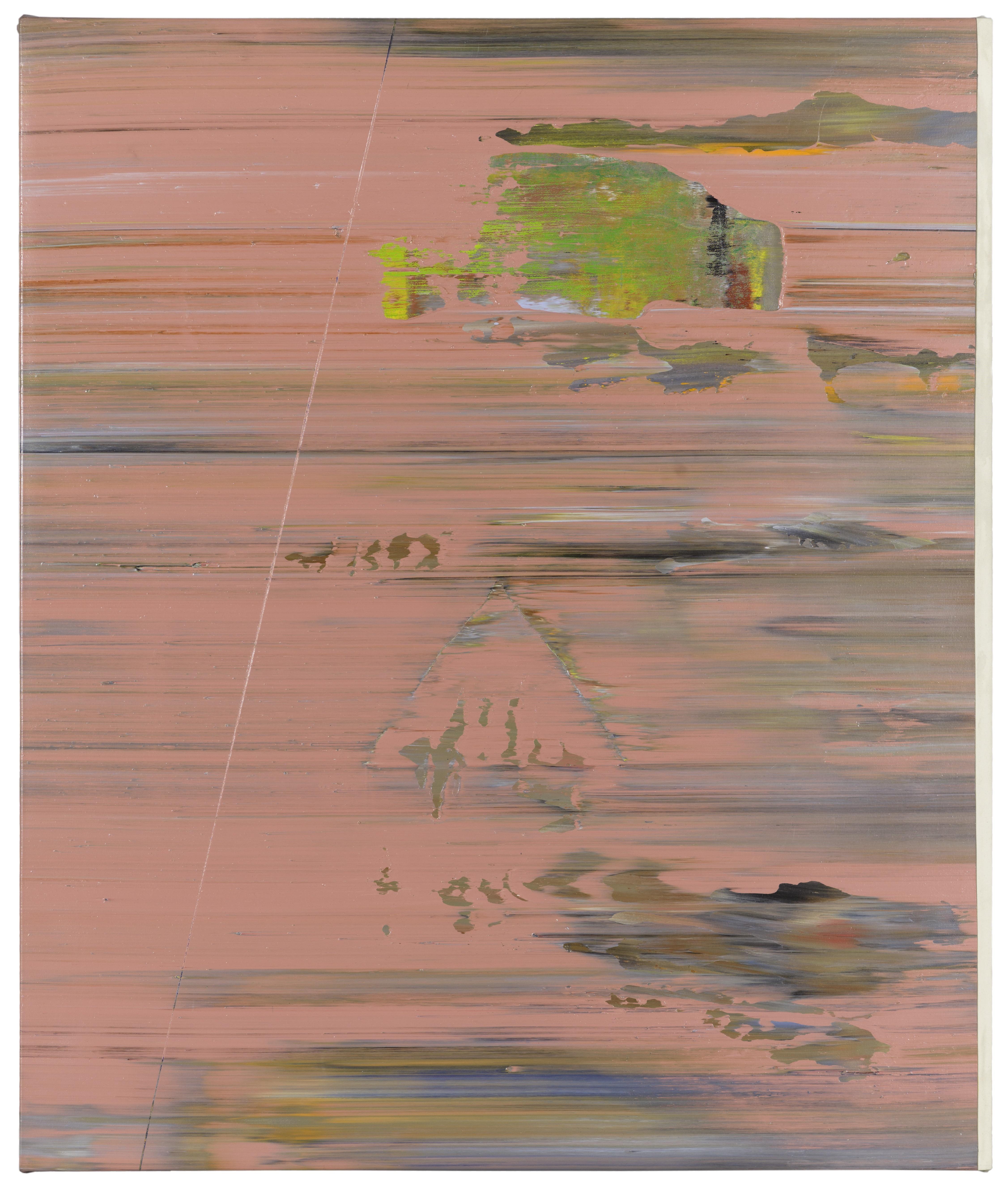 Audio Transcript
TRANSCRIPT

[Music: "Amore" by Ryuichi Sakamoto]

Duro Olowu: I'm compelled by the ability to use abstract shapes and forms to form a narrative that is both persuasive and beguiling. The works in this room represent that.

So this room is really about the power of shape, whether it's three-dimensional or not, and the power of color, in all its glorious mixes, to inspire the viewer to think about this creative, experimental exercise that artists have undertaken to create something that is at once opaque and not obvious, but at the same time, extremely powerful in the message it conveys about the state of the world and about life.

In a room where you can't pinpoint exactly what the shapes and the colors mean, in a room where you have to sort of let yourself go and just experience this whole exhilarating atmosphere of artistic endeavor. The same way, hopefully, that the artists felt when they were making the work.

Naomi Beckwith: Here's the artist Jack Whitten speaking about discovering his own approach to abstract painting.

[Music: "Tunnel Vision" by Terry Devine-King]

Jack Whitten: At the end of the sixties, my work took a drastic, radical change. Why? Because I realize that abstract expressionism had controlled my destiny as a young painter [laughs], and I didn't like it. So I made a decision in 1970 to get rid of all my brushes. Got rid of the oil paint—all of it—and knew that I had to make a decision to learn more about what I call the materiality of paint. The studio became a laboratory.

Naomi Beckwith: You can see Whitten's large pink abstract painting Pink Psyche Queen in this section.

The studio as a lab is a recurring metaphor for many of the artists featured in this section. Here's the artist Richard Hunt. You can see several of his metal sculptures in the exhibition.

They're abstract works that sometimes begin to take the shape of natural forms, as do many works in these galleries.

Richard Hunt: My work that's just part of my studio activity is just something where I'll go in in the morning and start putting things together. And one of the things about this direct metal approach is that you can put things together and take them apart. It's not like sawing off a piece of wood and then deciding oh, I shouldn't have done that, and trying to glue it back together. The process of welding, cutting things, forming them, repositioning them, is just part of it. So it's much more free and improvisatory, in a way. I like that. I think one of the things I like about what art suggests, the practice of it, the use of it, is that artists are, or make themselves, free enough to make it. And other people are free enough to choose it, look at it, utilize it, for whatever [laughs] use they can find for it.

[Music: "The Dry Cleaner from Des Moines" by Joni Mitchell]

Naomi Beckwith: Olowu describes his thinking behind how the works are displayed.

Duro Olowu: My feeling about exhibiting work by artists in a way that rids the viewer of the need to know whether the work is by a trained artist or an non-trained artist, whether the work is by a male artist or a woman artist, whether the work is by an American artist or an African artist or a European artist—is that these are not priorities that I think are important. In fact, I don't think they're important at all. My intuitive sense is to place works next to each other that seem to be made by artists that consider themselves peers. And that is the crucial element about this show.

Somehow it was always very important to convey the fact that all art is art and all art that is important is worthy of being hung together, and I hope that this room is a very powerful representation of that.
Featured images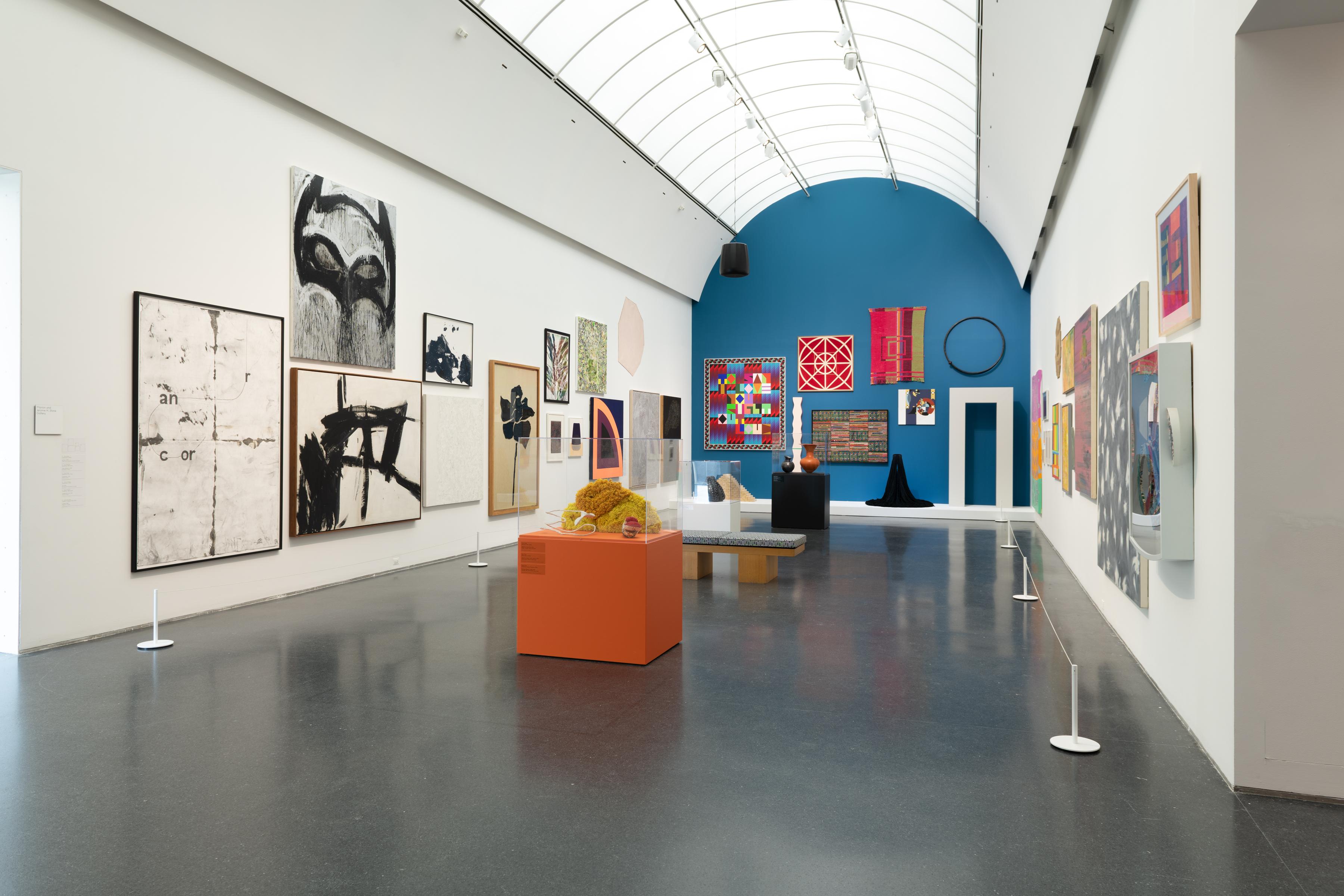 Lost In Space
In this section, Olowu presents a selection of artists who consider how people have shaped natural landscapes into homes, communities, and cities. These artists investigate differences between interiors and exteriors, private spaces and the public domain. Additionally, Olowu continues to show how supposedly distinct cultures influence one another—from interior space to the outdoors.
Though landscapes tend to be defined by physical features such as rivers, mountains, or buildings, here the meaning of "landscape" expands into the conceptual world of emotion and attachment to place. As such, Olowu has selected works that fit into a traditional definition of landscape art in that they depict space, but he also includes work that defines the artistic landscape of Chicago. As all the artworks in this exhibition live in this city, the exhibition itself could be seen as a dynamic portrait of Chicago.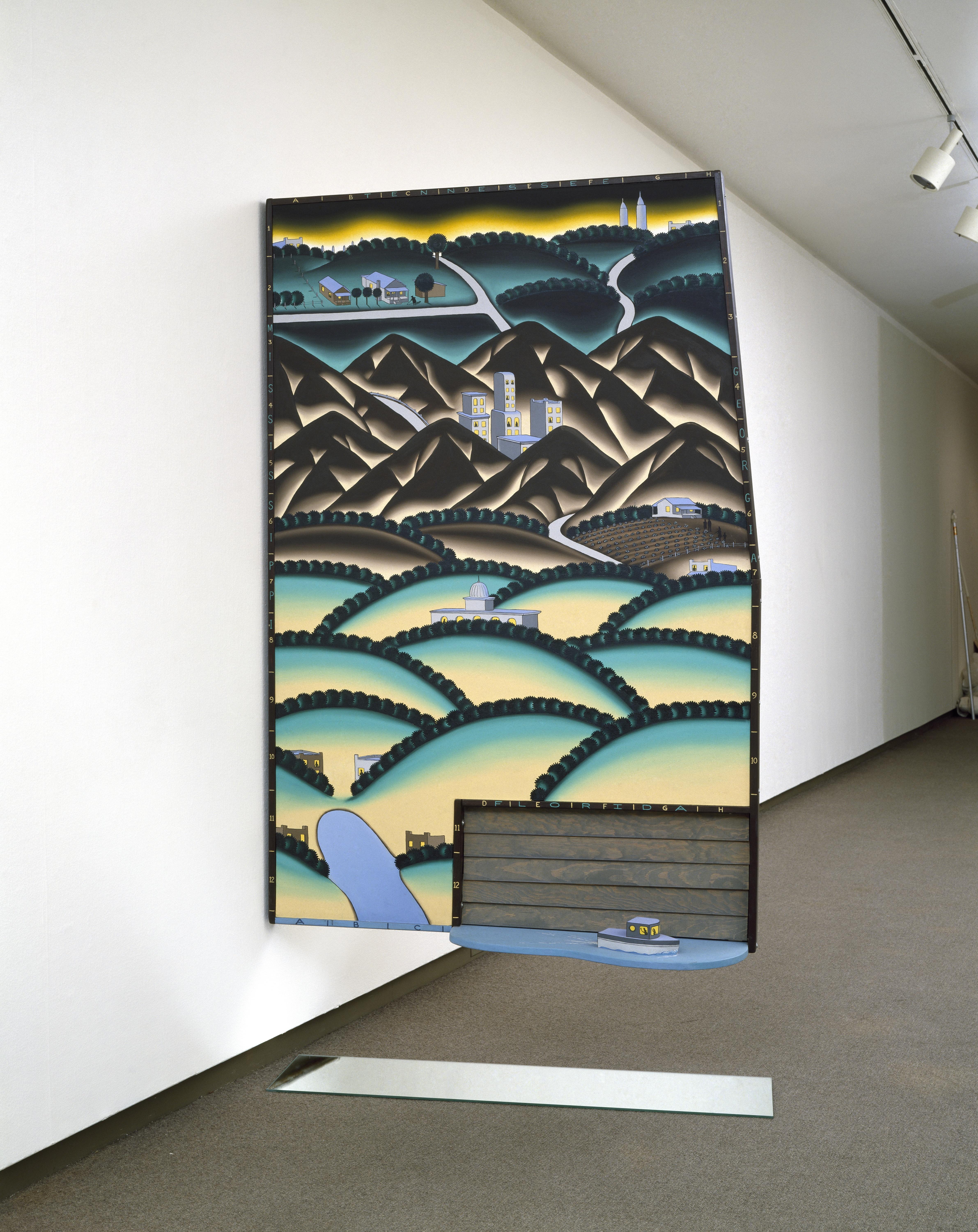 Lost In Space Audio Transcript
TRANSCRIPT

Duro Olowu: The room is meant to be a leisurely stroll through an art collection that has come from a city that is both beautiful to inhabit and beautiful to walk through. Chicago has an incredible and very, very unique landscape that seems to really capture a sense of space.

[Music: "Frei Bier" by Furio Di Castri and Paolo Fresu]

The idea of space in the context of the show and in the context of this gallery is really space within one's mind. It's about how one feels and what one is thinking about when one is looking at a work. And the hope was to create an environment that seemed very architectural, very landscaped, very much like Chicago, where artworks of certain genres... were placed or arranged in a way that allowed the viewer to walk past and through them, feeling their presence but also feeling a sense of freedom, allowing each work to breathe in its own entirety. So, it's not about content or medium, it's just about immediate, intuitive, emotional reaction to the work.

[Music: "Sidelines" by Dom James]

Roger Brown: It was always my way of thinking is like, why paint unless you can establish that kind of response in a person?

Naomi Beckwith: That's Roger Brown. He painted the bold, whimsical landscape in this gallery called Autobiography in the Shape of Alabama. Look for the painting that isn't flat against the wall but hung like an open door.

Roger Brown: What's the use of it if it just sort of sits there statically on the wall? I want something that, you know, has some kind of emotional power to it.

[Music: "Frei Bier" by Furio Di Castri and Paolo Fresu]

Naomi Beckwith: Space has another connotation for Olowu. He believes that looking at a work of art a first, and then a second, time—with physical and mental space in between—is crucial.

Duro Olowu: The idea of looking at something and really thinking that one can take it all in in one view is quite unrealistic. It's understandable, but it's unrealistic. To really understand and try to begin to be a part of what is happening within a work, one has to walk away from it and come back to it, maybe more than once, and in doing so, one's line of thought is fed by other things that one comes into contact with. And I think every time I look at a painting, I see something different. And I think that this is the joy of being the viewer.
Featured images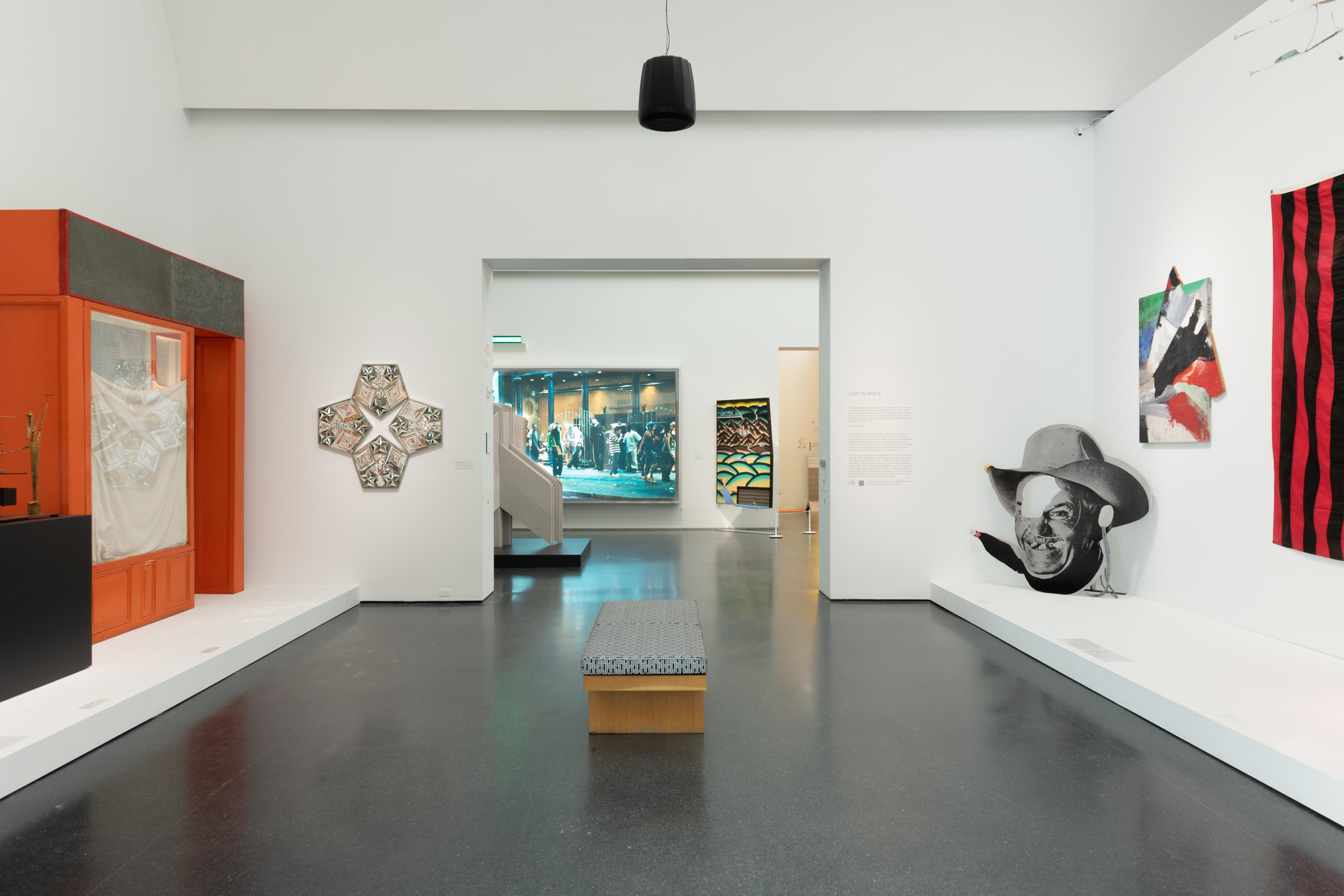 Power To The People
Artists primarily concern themselves with making art but time and time again have asserted themselves as citizens who engage with the social and political world. The Trophy, a painting by South African artist Marlene Dumas (b. 1953), depicts a naked female prisoner restrained by guards, highlighting aspects of misogyny and colonialism. American artist, writer, and activist David Wojnarowicz (1954–1992) sets a butcher's shop against a background of surrealist battle sites in North/South: The New Legionnaires to offer parallels between how both war and disease ravage human bodies.
Through the selection of these artworks, Olowu highlights artists whose practices address the prevailing social and political concerns of the twentieth and twenty-first centuries. These artists engaged with topics such as the civil rights movement, the American HIV/AIDS crisis, and ongoing struggles against racism, homophobia, misogyny, and other forms of systemic oppression. Olowu brings together a range of artistic responses to these topics.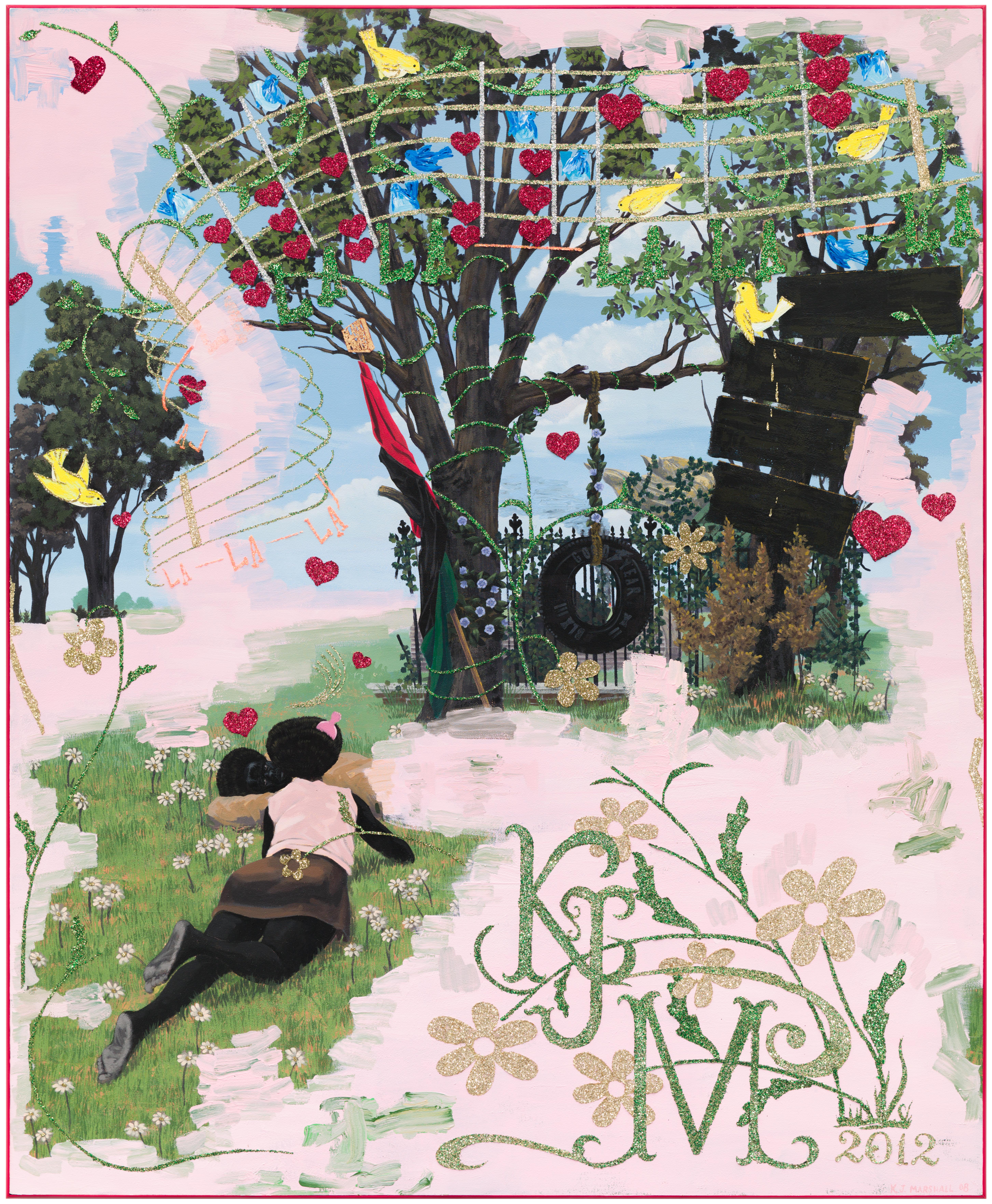 Power to the people Audio Transcript
TRANSCRIPT

[Music: "Imitations" by Steve Sidwell]

Duro Olowu: The room is very much about telling the story of the trials and tribulations both of people in Chicago and elsewhere, and somehow how people have overcome—whether it's the artists themselves or people in the situations that the artists are representing in the work. It is a room for the people, really.

The intersection of art and politics, I feel, always needs to be strongly emphasized, in any exhibition.

Naomi Beckwith: For photographer and filmmaker Shirin Neshat, politics emerges naturally from her personal experience. Her large photograph Fervor, seen in this section, depicts a prayer service, yet one woman in the crowd is turned away as if she sees another reality.

Shirin Neshat: First of all, everything I do is deeply personal and seems to be framing issues and questions that I have faced in my life as an Iranian woman living abroad. But being personal my work has not been autobiographical because my personal life has been gravitating always with the political reality, as I am an Iranian living in exile. So my work has not only been about a concern of personal anxiety but about social political anxiety.

Everything I do somehow sort of navigates . . . the struggle of human beings in light of people, power, dictatorship and yet fanaticism and religion.

Duro Olowu: The other essential thing about the works in this room, and in this exhibition in general, is the fact that a lot of them are things that just are hardly ever seen. For example, due to reasons of race, a lot of black artists or artists of color were never given the opportunity to be shown in major institutions, and only recently have we really seen a change.

[Music: "Tricky" by Michael Paul Kersting]

Naomi Beckwith: For Chicago artist Kerry James Marshall, it's not only that African American artists are missing opportunities, but museums are also missing images of African American subjects. His pink landscape called Vignette (La La La) is in this section of the exhibition.

Kerry James Marshall: A part of what I tried to do, is in a way, is to not only make sure that I was making work that could be added to the narrative of painting but to introduce into the museum world, and the world of art history, a set of images that could claim a space in that historical narrative that I was trying to make as valuable as the images that were already there.

Naomi Beckwith: Marshall wants to change art history with his work. In order to do that, he realizes he not only has to be a good artist, but also a good citizen.

Duro Olowu: But the most important aspect of all of this work is there's a strong element of protest, which, particularly in the world we live in now, politically, I think is an incredibly important thing. Various social themes are very prominent in the gallery regarding race, and sexuality, the AIDS crisis, the oppression in various ways all around the world, whether it's religious or otherwise.

This also applies to what I feel has been an absence of many women artists at certain levels of the contemporary art world—this was something which always disturbed and bothered me, but which I always saw as not done on purpose, until I realized that, actually, that was the institutional approach to women artists. And I was very conscious about looking at the work of women artists in Chicago collections, both private and public. It was a huge and wonderful opportunity.

[Music: "The Right Vibes" by Matthew Slater]

Naomi Beckwith: From landscape to portraiture, from sculpture to video, and books to furniture, even fashion garments, Duro Olowu has drawn together amazing treasures from Chicago collections to give us a second look at our Second City.

I'll leave you with a parting thought from Olowu:

Duro Olowu: Conceiving the idea behind the show, I was overcome by a need to make the show something that visitors would remember for the right reasons, not necessarily for the names of particular artists, not even necessarily because the show brought together so many different genres and ideas about art, but more because the show is a celebration of what art and museums can be in a community. And the show is really to remind people in Chicago what is there for them to see, to visit, revisit, in all their institutions—and to feel very proud of.
Featured images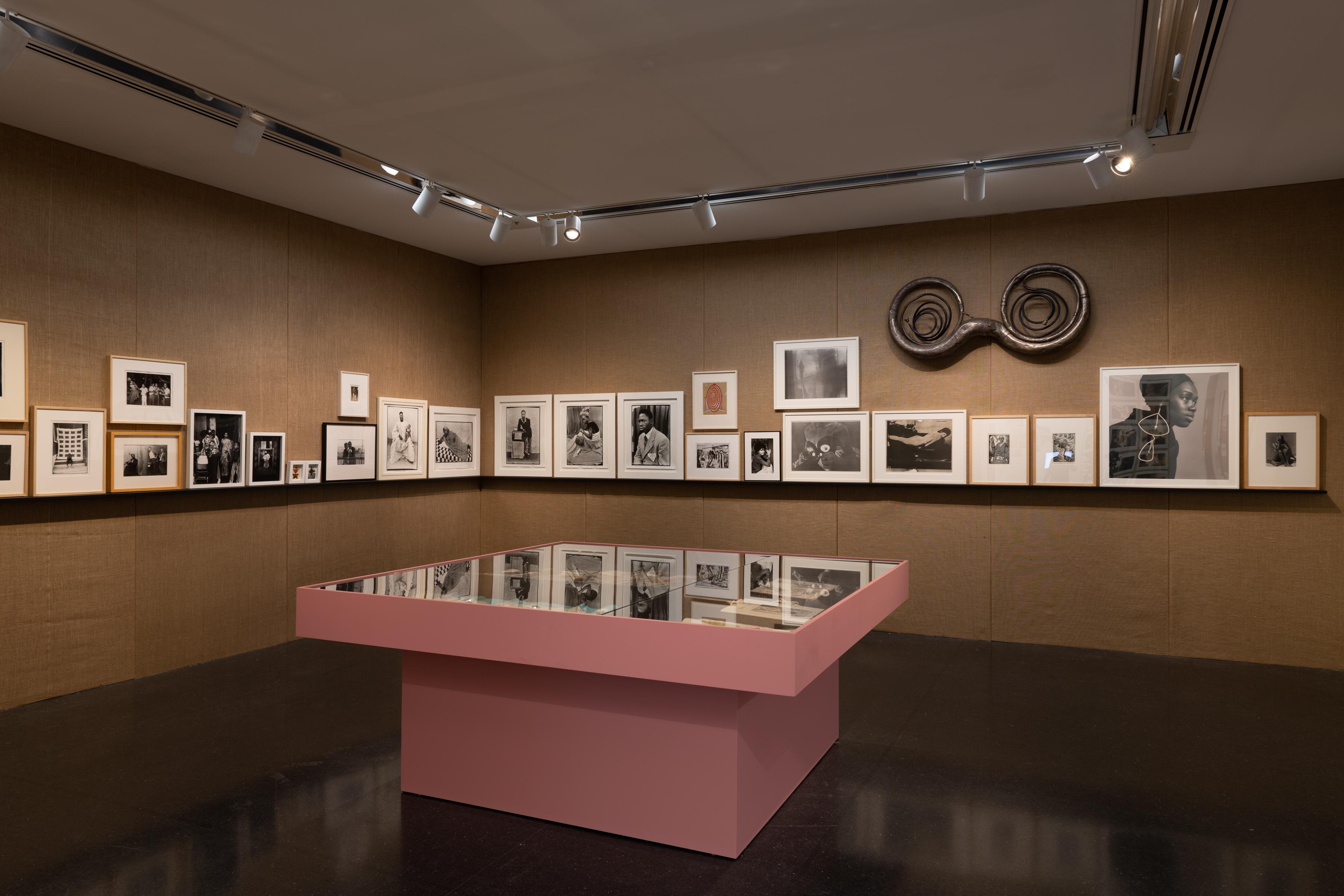 Second Look
In this section, artwork and clothing are shown together in a scene reminiscent of the displays at Olowu's fashion boutique in London, where garments are displayed alongside art, furniture, and books. This inclusive display speaks to Olowu's ability to see relationships between all forms of creativity.
A cast of mannequins dressed in Duro Olowu garments from various past seasons become fellow museum visitors, all directing their sustained gaze in the same direction: to view a collage-like display of artworks. This final room serves as a conclusion to the exhibition, demonstrating how new ways of seeing can be carried out of the galleries and into the everyday.
Featured images
Audio credits
Audio Credits

Producers: Joan Horn and Miranda Smith

Writer: Sara Ivry