Featured images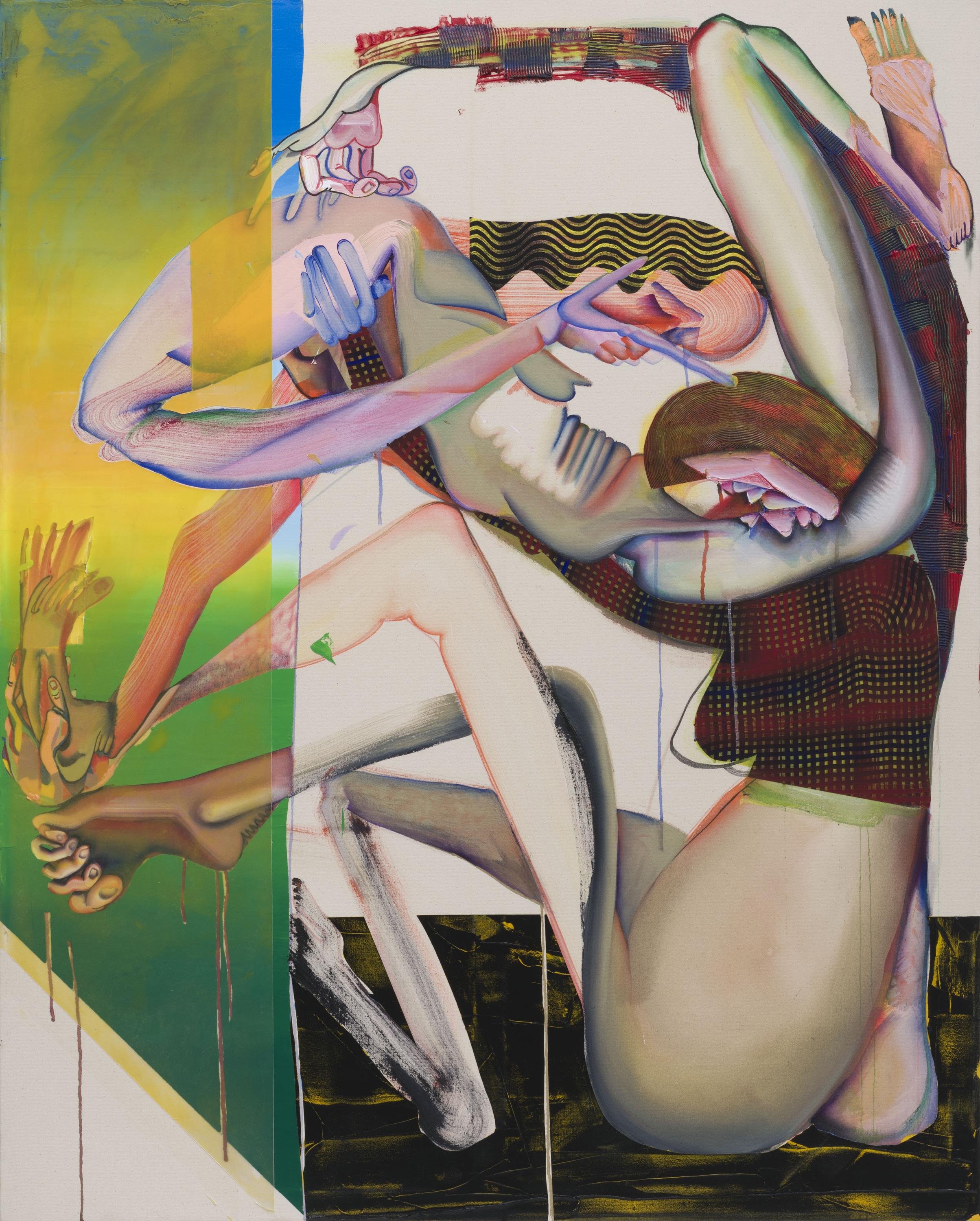 About the Artist
Los Angeles–based artist Christina Quarles (American, b. 1985) paints bodies that are subjected not only to the weight and gravity of the physical world but also to the pleasures and pressures of the social realm. Her ambiguous and evocative scenes feature figures whose limbs, torsos, and faces collide and merge with familiar domestic objects made strange through her color choices and experimental painterly gestures. Her work explores the universal experience of existing within a body, as well as the ways race, gender, and sexuality intersect to form complex identities.
The largest presentation of her work to date, the exhibition at the MCA brings together a selection of her work made over the last three years, as well as a new, large-scale installation that explores illusions and histories of painting.
The exhibition is curated by Grace Deveney, former Assistant Curator, and Jack Schneider, Curatorial Assistant. It is presented in the Bergman Family Gallery on the museum's second floor.
Installation Images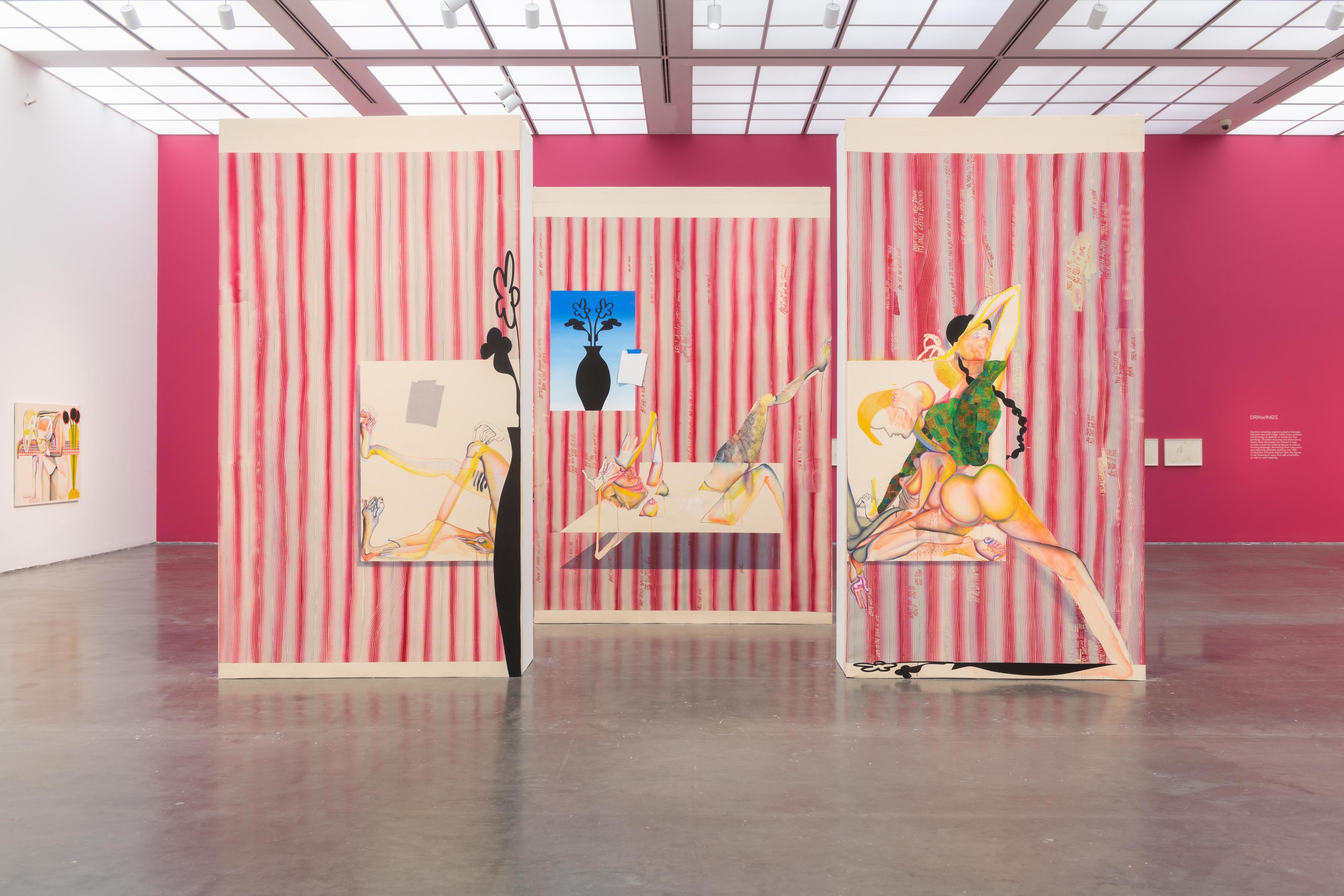 Video
Christina Quarles
Transcript

I think a lot about how painting itself can be an interesting conceptual medium to talk about a lot of the themes in my work: dealing with identity and the body, and sort of the expectations of living within a body and within a form.

I try to always paint within a fairly short window where nothing's precious. So sometimes I'll paint a really beautifully rendered face, and I'll be like, "Oh, that's not going to actually serve this painting." [laughs]

So I'll, before I leave for the day, will do something to really mess it up. Or sometimes I'll use a really clumsy tool. Because I know that I can do the gestural line fairly exacting, but if I use a really old, awful brush, I know that I'll be forced to sort of abstract that line.

So I really try to play back and forth until I get the feeling of something, like the feeling of an arm, rather than the actual look of an arm. I don't start off with any sketches, or any idea about what the painting is going to be when I start it. I start off really gesturally and sort of abstractly, and will lay down a lot of abstract brushstrokes.

And then as that's happening, I'll try to stop myself from completing the mark and completing the form, and I'll take a step back and look at what I've made, and then start to draw out the images from there.

So it's kind of similar to looking at clouds in the sky and starting to see an image forming from there. I think a lot about, I guess, intimacy and touch in the work. And thinking about a fairly broad understanding of intimacy, and how that is something that happens not only in love or in sex, but it's also something that happens in sickness, or violence, or hunger, sleepiness.

There's all these moments of intimacy where that idea of being this frontal face sort of breaks down. When we meet somebody, we concentrate on their face, but with our own selves we don't really have a clear understanding of what our face looks like.

But we can see our hands and our feet interacting with space. So often with these works, to indicate the sense of an internalized sense of self and of the world, I will prioritize expression, like the hands and the feet, over the faces and the figures. I always thought of art as being really just a form of language that you can use to express ideas.

But I felt I really didn't have any ideas by the time I was eighteen. [laughs] So I decided to go to liberal arts college and study philosophy and ended up doing my dissertation in critical race theory. I ended up writing about multiply situated racial identity. I was interested in using my own biography, as somebody that is born to a white mother and a black father and who is often mis-seen as white, especially by white people. I was interested in picking apart this idea of being mixed race. It's something I think today is actually really present in my work and in my interests.

I hope to express what it is to be in a racialized or gendered body, and what that feels like—to be sort of limited by how you are perceived by others, and also the sense of being given certain liberties based on how you're seen by others. And so I will often use a sense of gravity or weight, or a sense of being held or contained by the context of, say, a patterned plane. And I will use elements of fragmentation and containment to express the feeling I have of being within a gendered or racialized body.

And trying to express that range of emotional resonance throughout any one experience or circumstance. I mean—or even thinking again about the contradiction of fixed identities being used to marginalize, but then also being used as a platform to have political change, or to have a sense of empowerment, or a sense of community.

And how you can sometimes choose to fragment or fracture yourself in order to be seen, or to be included or welcomed into a community. And how we are constantly sort of shedding this excess of our full potential in order to be social beings. There's this, I think, real desire to be social and to be understood.
Funding
Lead support is provided by Kenneth C. Griffin; the Harris Family Foundation in memory of Bette and Neison Harris: Caryn and King Harris, Katherine Harris, Toni and Ron Paul, Pam Szokol, Linda and Bill Friend, and Stephanie and John Harris; the Zell Family Foundation; R. H. Defares; the Margot and W. George Greig Ascendant Artist Fund; Cari and Michael Sacks; and Anonymous.
Major support is provided by Julie and Larry Bernstein; Citi Private Bank; Gael Neeson, Edlis Neeson Foundation; PHILLIPS; and Charlotte Cramer Wagner and Herbert S. Wagner III of the Wagner Foundation.
Generous support is provided by Murat Ahmed and Katherine Mackenzie, Ellen-Blair Chube, Denise and Gary Gardner, Ashlee Jacob, and Bernard I. Lumpkin and Carmine D. Boccuzzi, and Carol Prins and John Hart/The Jessica Fund.
This exhibition is supported by the Women Artists Initiative, a philanthropic commitment to further equity across gender lines and promote the work and ideas of women artists.