Otobong Nkanga: To Dig a Hole that Collapses Again
Featured images
About
Born in Nigeria and now based in Antwerp, Otobong Nkanga explores the contested social and political histories of colonialism, with a particular focus on the relationship between Africa and the Western world. She does this through performance, drawing, photography, and installation—examining how raw minerals are transported through various covert economies and how they are transformed into desirable consumer objects.
Nkanga is fascinated with what she has referred to as "glimmer" and "shine," the surface qualities of natural resources such as mica, a mineral that is used in makeup and turned into an object of seduction. This interest has led the artist far and wide, studying the intense mining of the world's natural resources since the rise of late capitalism. One of the primary means by which the artist's interest manifests is through the body. In Nkanga's works on paper and her tapestries, the body becomes a border implicated within the field of mining.
Nkanga acts as a cultural anthropologist—tracing the violent means by which contested minerals and objects are exhumed from their natural environments, such as Nigeria and Namibia—and considers how they are transported to the West. Through her work, the artist re-imagines our relationship to our everyday environment.
Otobong Nkanga's first ever US survey exhibition, To Dig a Hole That Collapses Again, takes its name from the "Green Hill" in Namibia. The name is a direct translation of the town that houses it, Tsumeb, one of Namibia's "rare gems."
The exhibition is organized by Omar Kholeif, former Manilow Senior Curator and Director of Global Initiatives. It is presented in the Bergman Family Gallery on the museum's second floor.
Carved to Flow Gallery Performances
Tue & Fri

Noon–7 pm

Sat & Sun

Noon–3 pm**
At select times throughout the run of the exhibition, performers will be in the gallery to explain the traditions, histories, and people behind the making of O8 Black Stone, a hand-crafted soap. Designed by Nkanga, the soap is made of butters and oils from across the Mediterranean, the Middle East, and North and West Africa. During performances, visitors may purchase the soap for $25 a bar. All proceeds go to the Carved to Flow Foundation, an organization Nkanga founded that will fund future iterations of the project while supporting its mission of providing opportunities for the people of her native Nigeria to learn about the value of their land, natural resources, and ancestral knowledge.
Installation Images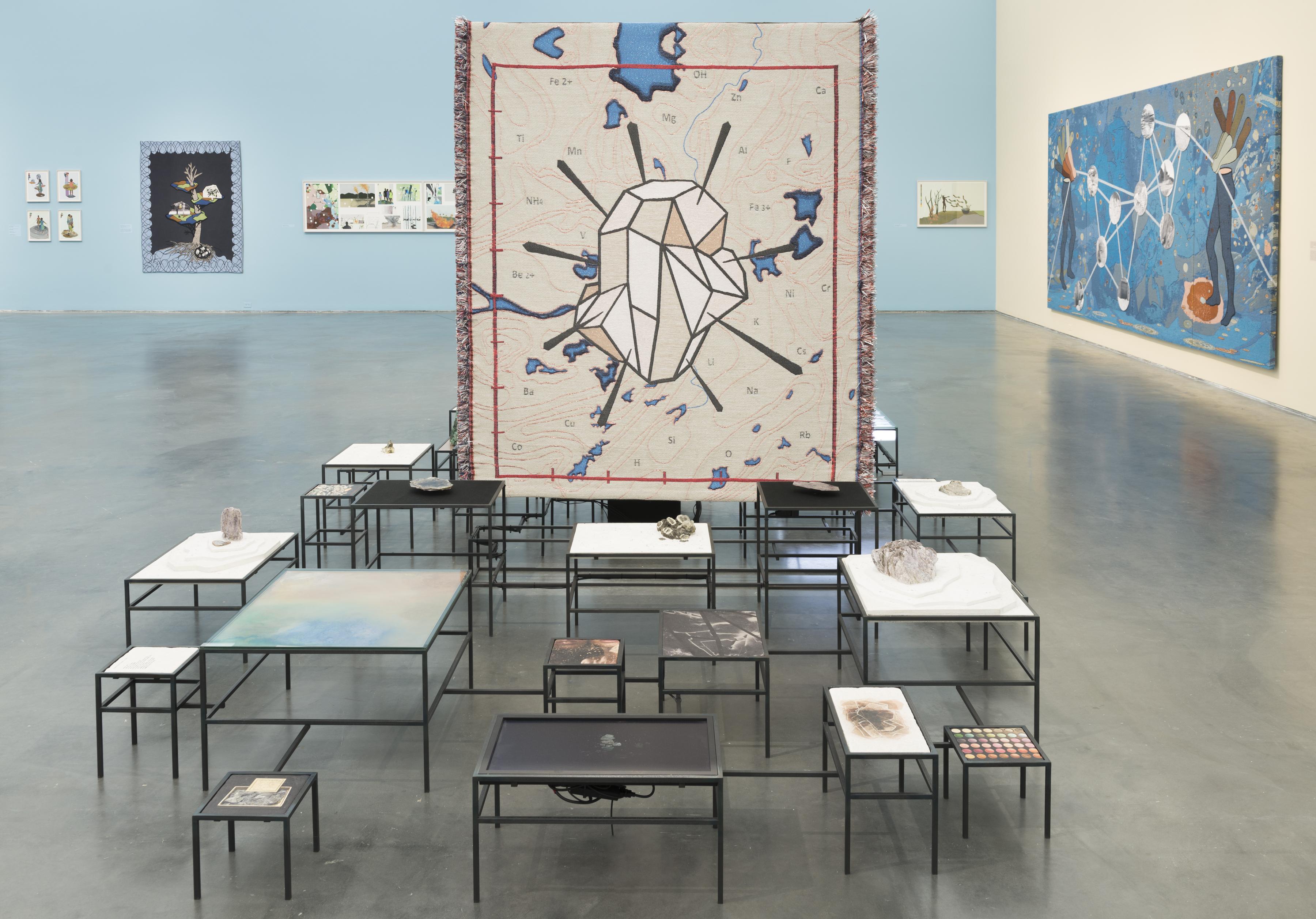 Funding
Lead support for Otobong Nkanga: To Dig A Hole That Collapses Again is provided by R. H. Defares; the Harris Family Foundation in memory of Bette and Neison Harris: Caryn and King Harris, Katherine Harris, Toni and Ron Paul, Pam and Joe Szokol, Linda and Bill Friend, and Stephanie and John Harris; the Margot and W. George Greig Ascendant Artist Fund; and Helen and Sam Zell.
Major support is provided by Nancy and Steve Crown, and Elissa Efroymson and Adnaan Hamid.
Additional generous support is provided by Galerie In Situ-Fabienne Leclerc, Paris; and CE Horton.