Featured images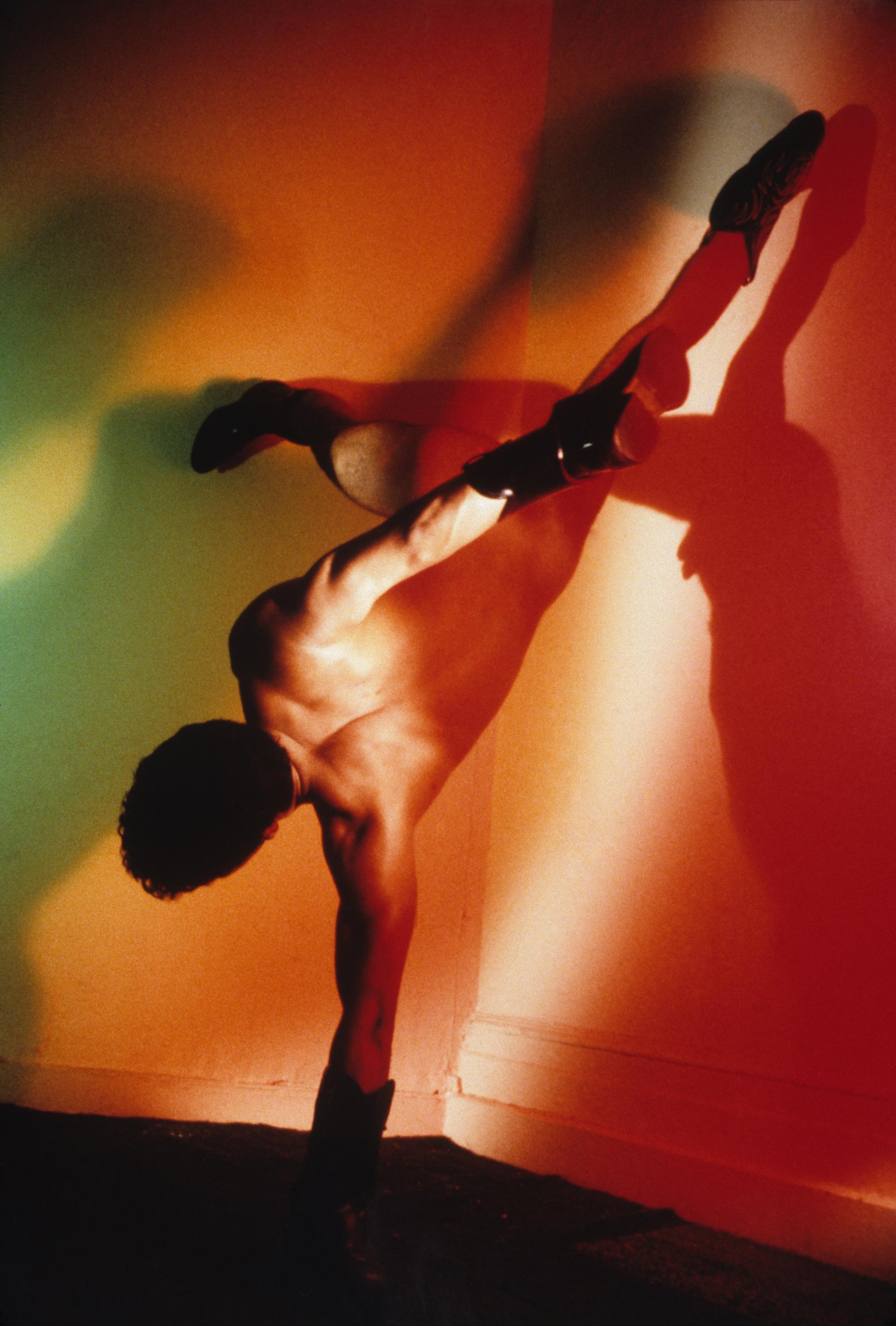 ---
Groundings explores movement—both seen and unseen—through a series of residencies with artists who work in dance, music, and performance art. Using durational processes, the artists inhabit and shape the gallery space alongside works from the MCA's collection. The exhibition considers the reciprocal influence between bodies in motion and the invisible forces that govern movement, such as gravity, time, and electricity. Featured collection works consider movement and its relationship to identity, place, and action. Over the run of Groundings, the performers hold open rehearsals in which they create performances and physical objects that speak to the themes of the exhibition.
The exhibition is organized by Grace Deveney, Assistant Curator, and Tara Aisha Willis, Associate Curator of Performance. It is presented in the Turner Galleries on the museum's fourth floor.
---
ARTISTS FEATURED IN THIS EXHIBITION INCLUDE:
Katinka Bock

(German, b. 1976)

Blythe Bohnen

(American, b. 1940)

George Brecht

(American, b. 1925)

John Cage

(American, 1912-1992)

Martin Soto Climent

(Mexican, b. 1977)

Julia Dault

(Canadian, b. 1977)

Jimmy DeSana

(American, b. 1949)

Jonas Dovydenas

(American, b. 1939)

Adam Ekberg

(American, b. 1975)

Whit Forrester

(American, b. 1983)

Felix Gonzalez-Torres

(American, b. Cuba, 1957-1996)

Rashid Johnson

(American, b. 1977)

Isaac Julien

(British, b. 1960)

Annette Kelm

(German, b. 1975)

Paul Mpagi Sepuya

(American, b. 1982)

Jack Pierson

(American, b. 1960)

Stan Shellabarger

(American, b. 1968)

Nancy Spero

(American, 1926-2009)

Dannielle Tegeder

(American, b. 1971)

Carrie Mae Weems

(American, b. 1953)
James Welling (American, b. 1951)
---
Performers-In-Residence
Over the course of the exhibition the following performers are in the galleries Tuesday, 1–6 pm, and Wednesday–Saturday, noon–5 pm. Informal performances occur at 6 pm on Fridays.
**Jan 15–19
Anna Martine Whitehead (Chicago)**
Performance on Jan 18
Anna Martine Whitehead is working on Notes on Territory, a performance lecture about architecture and freedom. The formal themes Territory investigates are space, surveillance, sound, and light. Whitehead plans to explore the architecture of the museum generally, as well as the constraints and flexibilities of the Groundings gallery and dance floor. Working with experts and experimenters in the fields of surveillance, sound, and light, Whitehead builds a modular space for future iterations of the project and uses the MCA as a site to host Future Supper, a conversation about prisons with family over good food.
**Jan 29–Feb 2
Mariana Valencia (New York)**
Performance on Feb 1
Mariana Valencia is researching a performance lecture that will interrogate various ways of making sound. The dance will be developed from different stepping forms from American folk dances, tap, and flamenco that she calls "soundings." The work synthesizes these elements and investigations into a performance that invites her audience to learn, listen, and to think about their own narratives and production of sound.
**Mar 19–23
Jennifer Harge (Detroit)**
Performance on Mar 22 in the Commons
Jennifer Harge is currently developing TOMBOY, an immersive exhibition that premieres in Detroit later in 2019. TOMBOY invests in the creation of black space and black queer liberation practices through the mundane, the intimate, and the home. Much of Harge's work is guided by scores—a series of written prompts that activate movement and initiate research. During the residency Harge plans to develop and experiment with scores that prioritize domestic mundanity, black interiority, and choreographing pleasure.
**Mar 26–30
Patricia Nguyen (Chicago)**
Performance on Mar 29
Patricia Nguyen explores the cartographies of refuge and containment through her series of meditations on detentions and deportations of Southeast Asian Americans. Nguyen sews herself into moving sculptures, experimenting with her own breath and white fabric, or khăn tang, used in Vietnamese death ceremonies to honor lives lost. The fabric's measurements are based on the dimensions of various detention center cells across the US. The thread is from the flags of countries that have signed repatriation agreements with the US, which can expedite deportation. During this residency, Nguyen will imagine possibilities for transgression as her body slips across the cracks, fissures, and holes created by these materials, investigating gestures of resistance within and through conditions of capture.
**Apr 2–6
Brandon Markell Holmes (Chicago)**
Performance on Apr 5
Brandon Markell Holmes turns his five hours a day, five days a week spent in the gallery into Office Hours: diligently marking time, he investigates how time passes, how the present moment can be suspended, and whether the artist's presence is integral to the presence of an artwork. Holmes documents his stay in the gallery with photography, video, and musical composition.
**Apr 30–May 4
Rosé Hernandez (Chicago)**
Performance on May 3
Rosé will utilize the gallery space as a performance lab in preparation for their latest performance, Viscera, to be presented on the final day of their residence. Viscera will be a durational performance that ruminates on the ideas of the poetics of monumentality as it surrounds personal identity and human transcendence. The performance uses themes within early Italian Renaissance sculpture such as the draped nude, Neptune in astrology, and the year 1991.
This performance contains mature content, including partial nudity. For more information, please contact the box office.
Installation Images