Isa Genzken: Retrospective
Featured Images
About
Isa Genzken is one of the most important and influential sculptors of our time. Yet, although she had a solo show at Chicago's Renaissance Society, in 1992, she has never had a large-scale retrospective in an American museum. This exhibition of work by the Berlin-based German artist, organized jointly by MCA Chicago, the Museum of Modern Art in New York, and the Dallas Museum of Art, seeks to correct that oversight, introducing American audiences to the breadth of Genzken's 30-plus-year career. Her work has had a steady presence in the mainstream of American-European artistic discourse since she began exhibiting in the late 1970s, appearing regularly in solo shows in major galleries and museums as well as grand international group shows such as the Venice Biennale and Documenta. Her early work was initially in dialogue with minimalism but quickly spiraled out into ideas about hybridity and what has come to be known as the "post-medium" condition, a blurring of traditional distinctions between media such as painting, sculpture, and photography.
Genzken's way of working could be compared to the multiplicity of approaches found in the paintings of Gerhard Richter and Sigmar Polke or the related efforts of James Welling in photography, yet, unlike those artists, Genzken cannot be defined by a single medium or tradition and has made compelling and influential contributions in numerous fields. It is difficult to pinpoint any artist working in this period who has pursued such an intentionally varied path, and in recent years, a new generation of artists, curators, and art lovers has been inspired by her radical inventiveness. The past decade has been particularly productive for Genzken, who has taken her interest in found objects and collage and created several bodies of work that have redefined assemblage for a new era. These works, which range from smaller, diorama-like works to room-filling installations, incorporate photographs, kitschy souvenirs, pop culture cast-offs, cheap household products, and high-end design objects, obliterating any hierarchy of value between them as they are combined into powerfully evocative statements that are immediately recognizable as Genzken's.
This exhibition encompasses Genzken's work in all media, produced over the past four decades. Despite Genzken's influence on an international array of sculptors working today, the breadth of her achievements—which include not only provocative assemblages but also paintings, photographs, collages, artist's books, performances, films, and public sculptures—has remained obscure in the United States, and many of the works in this exhibition will be on view in Chicago for the first time. The exhibition and accompanying catalogue secure Genzken's legacy as a transgenerational force in international contemporary art.
This exhibition is organized by James W. Alsdorf Chief Curator Michael Darling, Museum of Contemporary Art Chicago; former Chief Curator Sabine Breitwieser, Department of Media and Performance Art, and Curator Laura Hoptman, Department of Painting and Sculpture, the Museum of Modern Art (MoMA), New York; and Hoffman Family Senior Curator of Contemporary Art Jeffrey Grove, Dallas Museum of Art, with Curatorial Assistant Stephanie Weber, Department of Media and Performance Art, MoMA.
Installation Images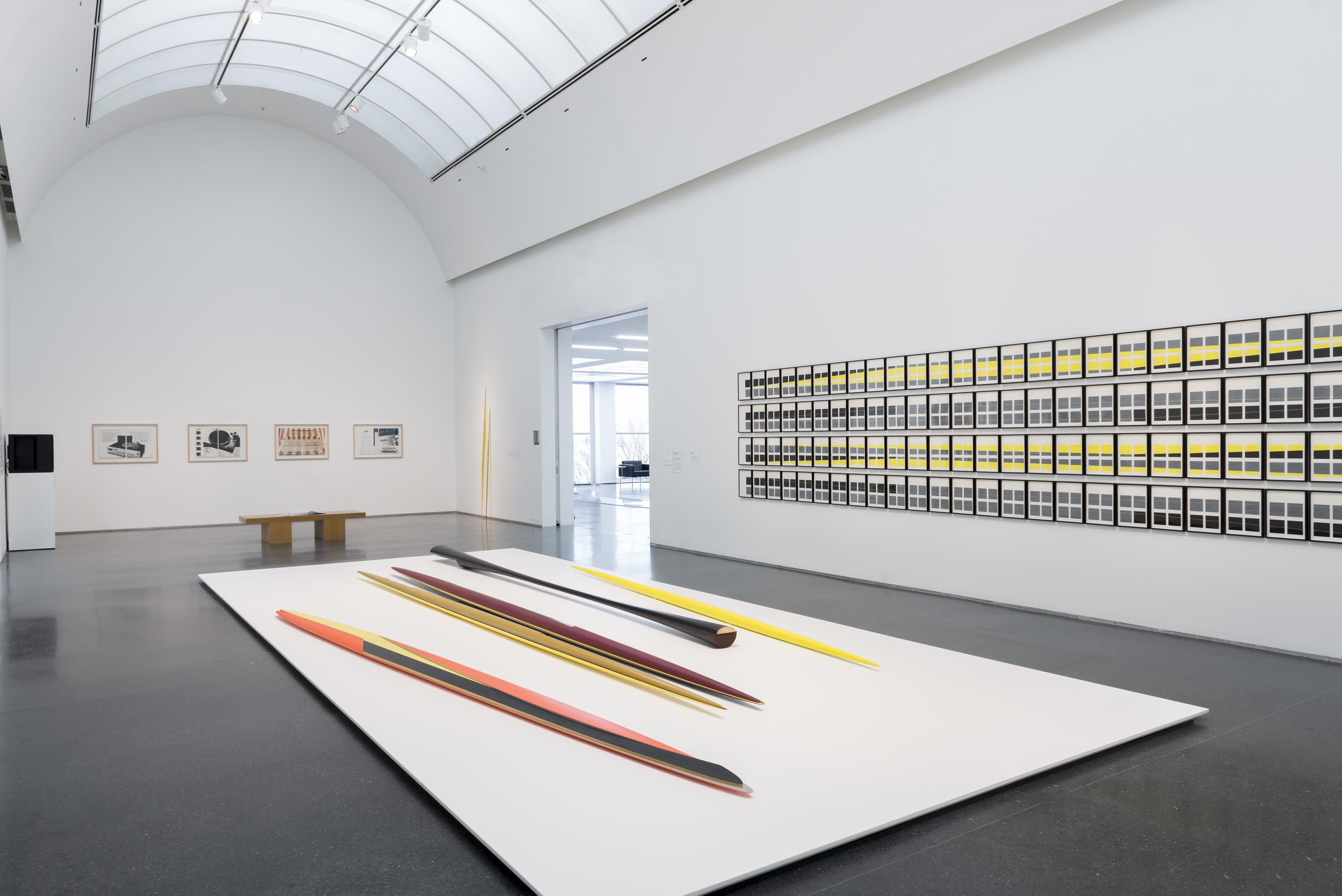 Funding
Isa Genzken: Retrospective is organized by the Museum of Contemporary Art Chicago, the Museum of Modern Art, New York, and the Dallas Museum of Art. Lead support for the Chicago presentation of this exhibition is provided by Kenneth and Anne Griffin, Howard and Donna Stone, and Helen and Sam Zell. Major support is provided by The Bluhm Family Foundation, Stefan Edlis and Gael Neeson, Andrea and Jim Gordon, and Margot and George Greig. Additional generous support is provided by Christie's; the Jacques and Natasha Gelman Trust; Hauser & Wirth; David Zwirner, New York; Julie and Larry Bernstein; Anne and William J. Hokin; Sylvia Neil and Daniel Fischel; David Teiger; Galerie Buchholz, Berlin/Cologne, Daniel Buchholz and Christopher Müller; the Goethe-Institut and the Foreign Office of the Federal Republic of Germany; Agnes Gund; neugerriemschneider, berlin; the Graham Foundation for Advanced Studies in the Fine Arts; Lois and Steve Eisen and the Eisen Family Foundation; Martin Modahl; Mary Ittelson; Helyn Goldenberg and Michael Alper; Mari and Peter Shaw; Melissa Weber and Jay Dandy; Ashlee Jacob; and Contemporary Art Partners.

Official Airline of the Museum of Contemporary Art Chicago