Featured images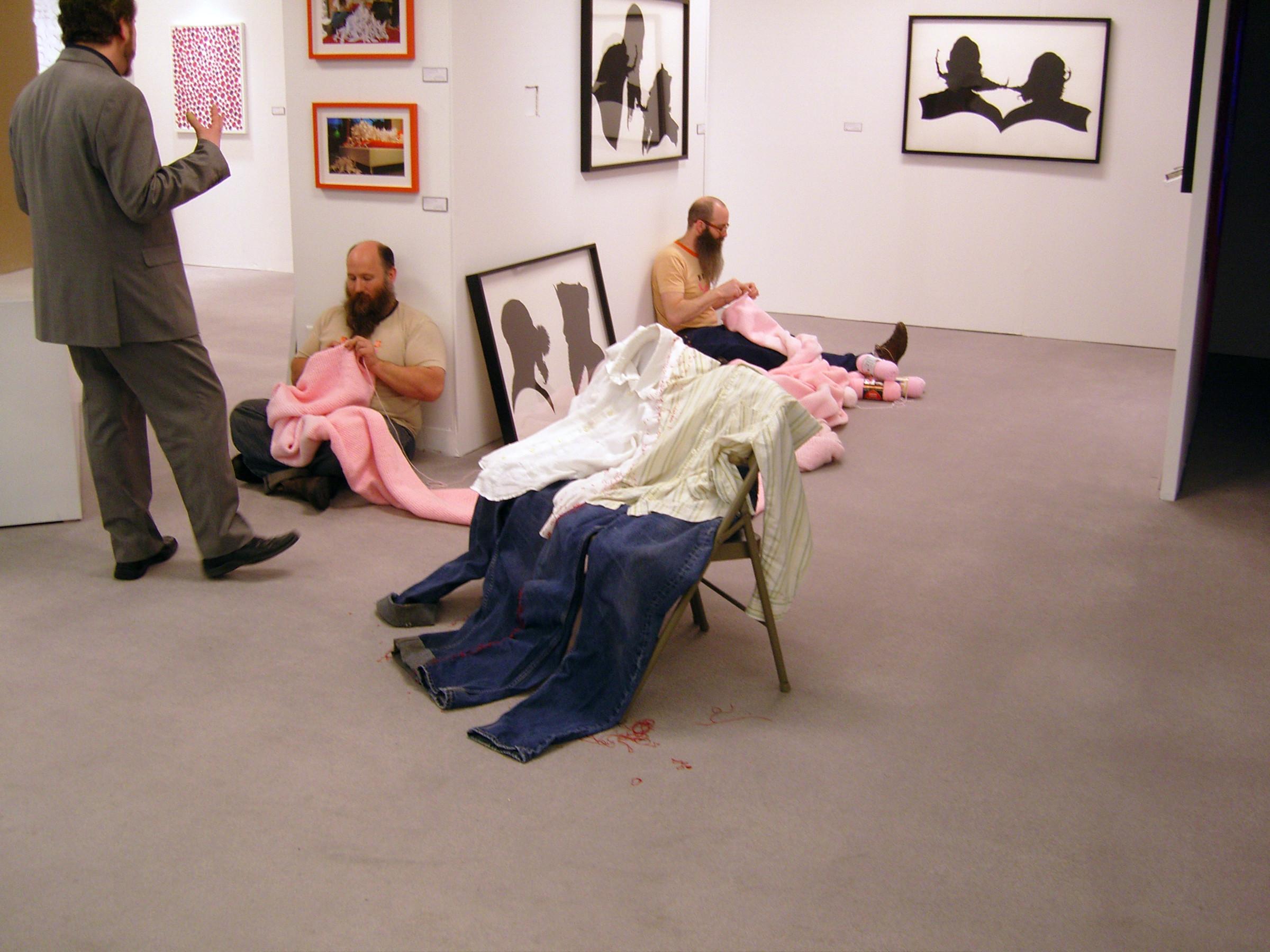 About
Chicago-based artists Stan Shellabarger (American, b. 1968) and Dutes Miller (American, b. 1965) mark the 10th anniversary of their ongoing project Untitled (Pink Tube) (2003–present) by continuing this work through performances in public spaces throughout the Museum of Contemporary Art Chicago on Tuesdays, Thursdays, and Saturdays, October 15–November 19, 2013. When the artists are not actively producing the artwork, the crocheted tube is on display at the museum.
Initiated in 2003, Untitled (Pink Tube) periodically brings Miller and Shellabarger together—often for hours at a time—to crochet an ever-growing pink tubular form out of acrylic yarn. As the tube grows longer, it pushes the artists farther apart, yet connects them through their shared work. For the artists, who are married, the form of the tube is an open-ended reference to the body and a physical manifestation of their personal and artistic bond. The resulting object functions as a timepiece—each interlocking stitch records a measure of time that points to a more personal and intimate understanding of its value. By moving the relatively ordinary domestic task of crocheting into the context of the museum and making their collaborative process publicly accessible, Miller and Shellabarger—who are open to talking and interacting with the public—create a space for visitors to find the beauty in the seemingly mundane tasks of everyday life. Disarmingly familiar yet poignant, Untitled (Pink Tube) explores gender roles, body politics, and artistic labor, with a keen awareness of the growing significance of craft-based production to contemporary art practices.
This exhibition is organized by Julie Rodrigues Widholm, Curator at MCA Chicago.
Performance Schedule
* Tuesdays: 4–8 pm
* Thursdays: 2–5 pm
Saturdays: noon–3 pm
Installation Images