Featured images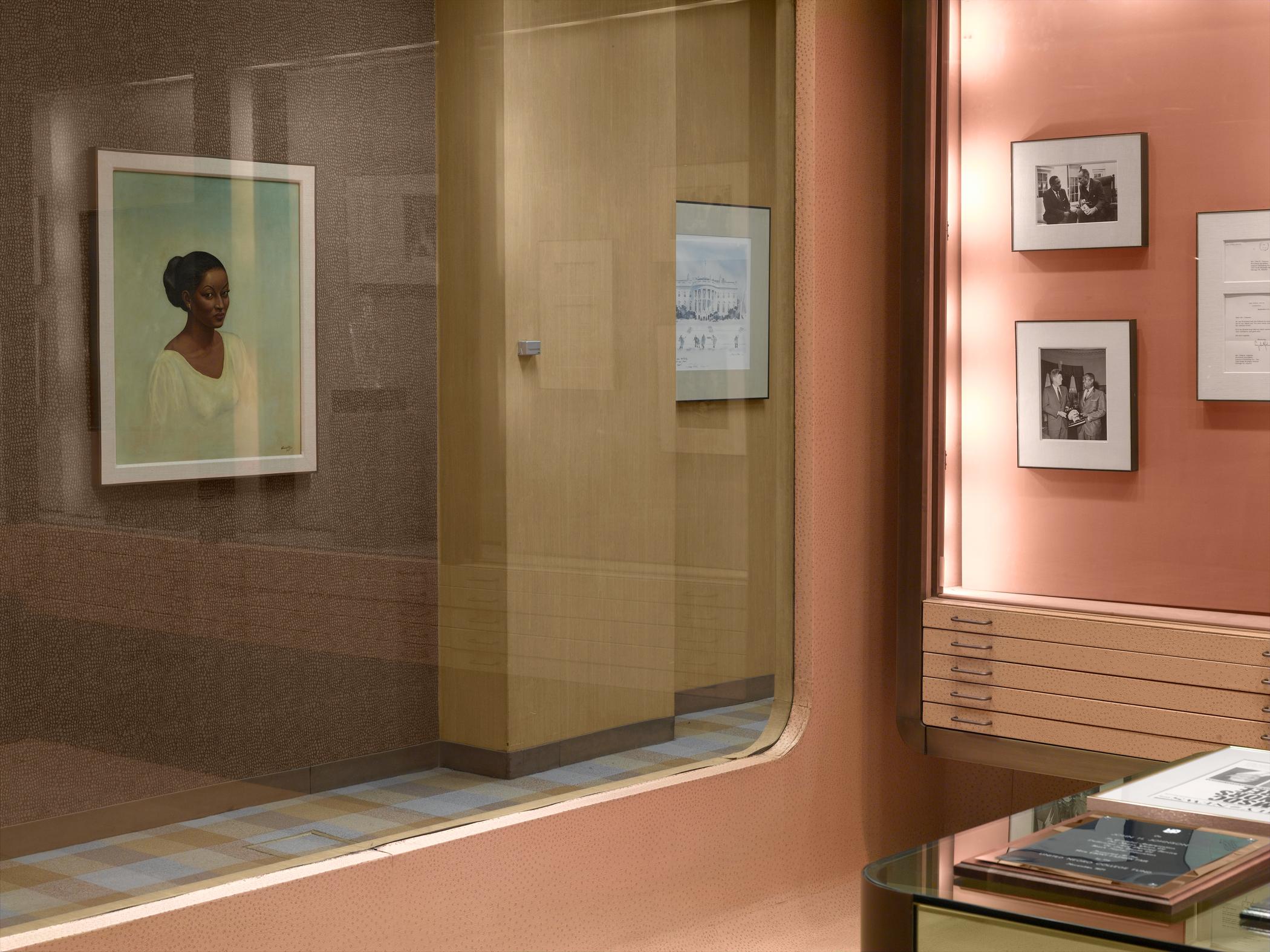 About
David Hartt's project Stray Light inaugurates a new series of media-based exhibitions at the MCA called MCA Screen. Hartt, a Chicago-based Canadian artist, has been working with photographs for many years, attracted to the social, cultural, political, and economic complexities of the subjects he captures, rendering them with a cool, dispassionate eye. Stray Light includes a film displayed in a room carpeted in the style of his subject, the Johnson Publishing Company building in Chicago, as well as a group of photographs in an adjacent room. Granted unprecedented access to film and photograph in this John Moutoussamy–designed building after a long process of earning the trust of the owners, Hartt earnestly records the time-capsule nature of the space, which meticulously heeds to Arthur Elrod's original 1971 interior design. The building was purpose-built as the headquarters of this important publishing company, made famous by its Jet and Ebony magazine titles and its role as a leading arbiter of African-American taste and culture during the latter half of the 20th century. Moutoussany was an African-American partner in the firm Dubin, Dubin, Black, and the eleven-story building has an iconic presence on South Michigan Avenue with its illuminated Ebony-Jet marquee at the top of the building. The interior of the building is a clear and exuberant expression of Black taste, resolutely modern, colorful, and complex, a pure expression of founder John Johnson's vision of what a leading, Black-owned business can be.
Founded in 1942, Johnson Publishing Company produces Ebony and Jet magazines as well as Supreme Beauty and Fashion Fair beauty products. Johnson's wife and business partner Eunice established the Ebony Fashion Fair in 1958, an annual traveling fashion show that raises money for scholarships and charities in cities across the US and Canada. Eunice Johnson was a fashion icon, trendsetter, and taste maker, and over the years accumulated the largest collection of haute couture clothing in North America. Hartt's new film and photographs are intimate portraits of the dreams and ideals of the Johnson family's business which continue to exert a force in American culture under the leadership of the founder's daughter Linda Johnson Rice. As the titles Jet and Ebony describe naturally occurring black materials, and Johnson publishing has used other names such as Tan, Hue, and Black Stars in other publications, Hartt has likewise chosen a title that comes from science to describe monochromatic frequencies. "Stray Light" is also a term used to refer to unpredictable light within a controlled environment, a fitting metaphor for this outside observer let into this inner sanctum of African American cultural history. His works raise questions about the commingling of the personal and the public, the narratives and ideologies that underlie the Johnson firm, and their lasting impact today. His project became even more poignant with the unexpected news that the building was sold in late 2010 and the company will relocate to another site. Thus, these careful portraits will also be lasting documents of the style and ethos of this unique work environment.
Installation Images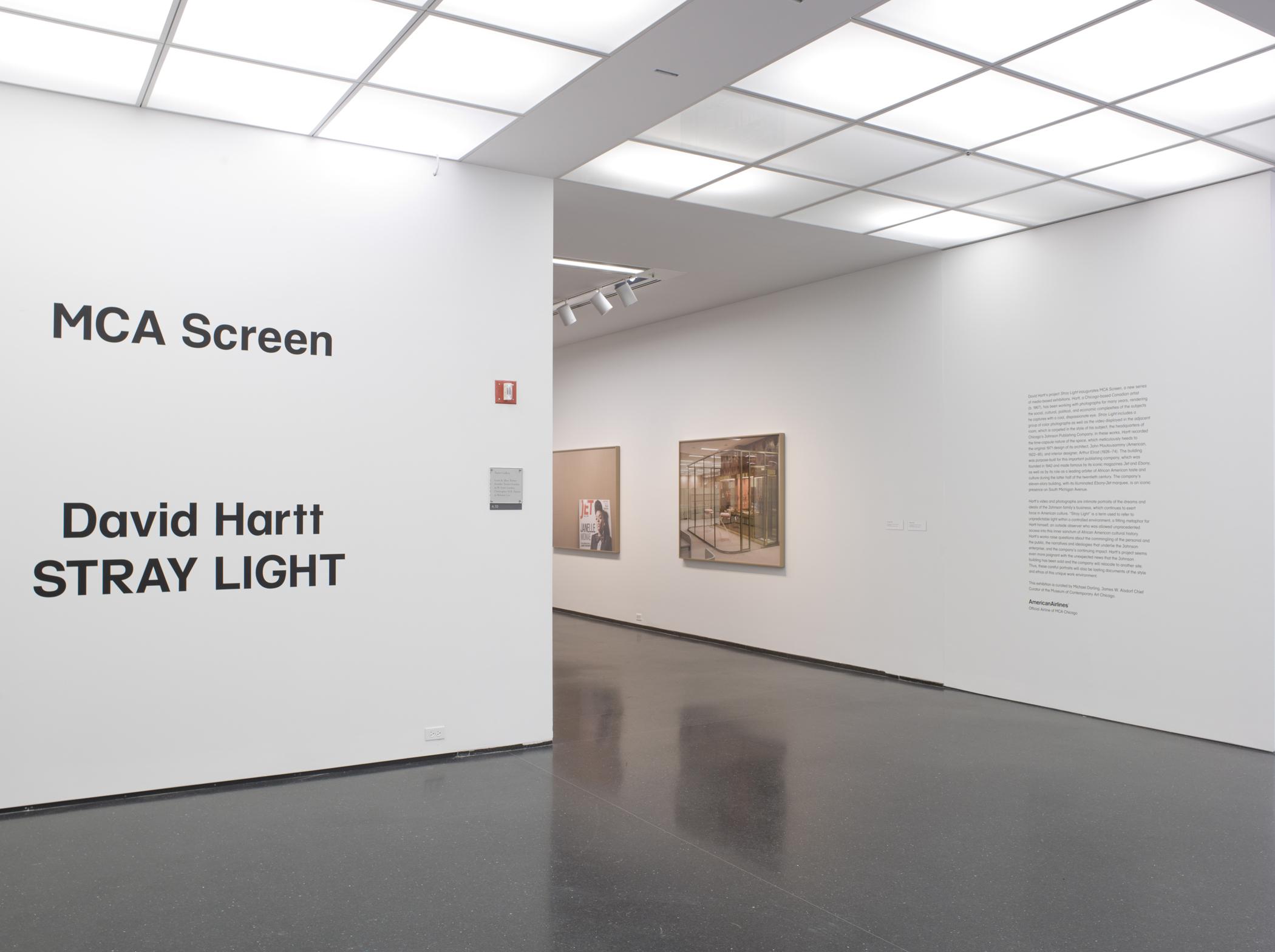 Funding
Support for this exhibition is generously provided by the Chauncey and Marion Deering McCormick Family Foundation.
Official Airline of the Museum of Contemporary Art