Images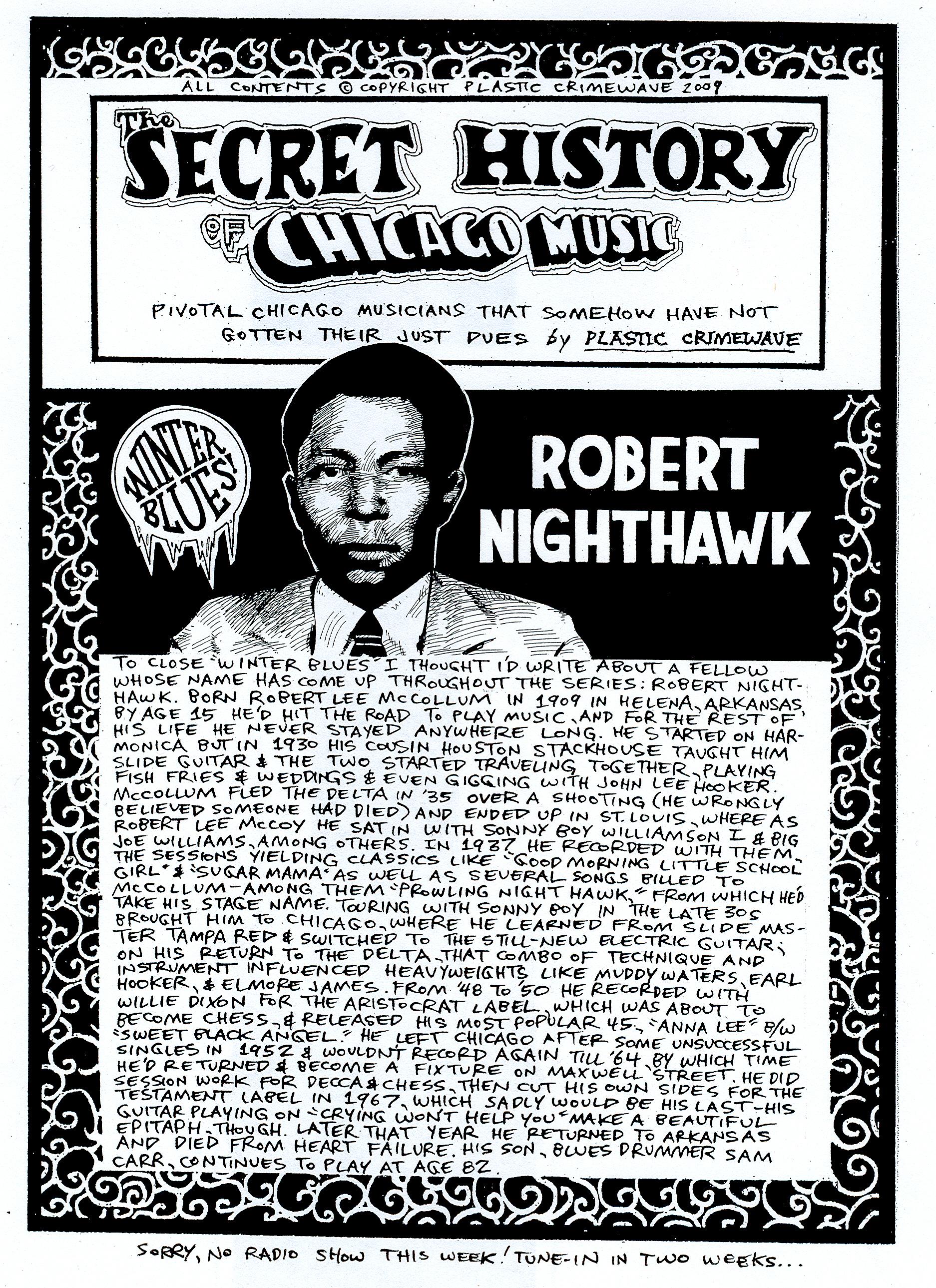 About
Steve Krakow, aka Plastic Crimewave, is an artist, musician, and curator widely known for his info strip, The Secret History of Chicago Music. Comprising approximately 100 8-by-11-inch drawings that incorporate extensive research by the artist, The Secret History of Chicago Music has developed into an important study of the obscure blues, jazz, rock, funk, soul, folk, R&B, and punk musicians from Chicago's rich and diverse musical history. As Krakow states, the series highlights "pivotal Chicago musicians that somehow have not gotten their just dues."
Krakow hand draws and writes each installment of the strip in a style that references such iconic comic artists as Robert Crumb, while the series itself continues the tradition of documenting and disseminating America's musical heritage, as pioneered by Folkways Records and Harry Smith's Anthology of American Folk Music. The info strip is published every two weeks in the Chicago Reader and is included in a musical segment/show aired every second Sunday on the Nick Digilio show on WGN 720.
For his 12 x 12 exhibition, Krakow presents a selection of The Secret History of Chicago Music strip, dating from 2005 to the present. The exhibition also includes a series of Tuesday night performances by musicians who have been featured in The Secret History of Chicago Music. The performance series takes place in the UBS 12 x 12 gallery.
In addition to The Secret History of Chicago Music, Krakow's Galactic Zoo Dossier, a hand-drawn "psychedelic magazine" is published by the Chicago-based label Drag City, and his illustrations have been commissioned for numerous magazines, album covers, comic books, and promotional posters. Krakow is also a member of the psychedelic rock band Plastic Crimewave Sound, and curates the Million Tongues music festival at the Empty Bottle in Chicago.
Performance Schedule
Tuesday, May 11, 7 pm
ONO have been shaking up Chicago audiences since the early 1980s with their curious mix of art theatre, gospel, electronics, and anything else they choose. Produced by Al Jourgensen of Ministry and label mates to legendary acts like Flipper and the Birthday Party, they also polarized crowds opening for punk acts like Naked Raygun. The electric front man known only as Travis and the musical genius P. Michael, continue to impress.
Saturday, May 15, 3 pm
Bil Vermette experimented with the earliest synthesizers in the late 1970s and formed groundbreaking electronic group VCSR. Influenced by Tangerine Dream, Cluster, and Brian Eno, Vermette went solo in the 1980s to pursue his own soundscapes, with 1984s Katha Visions and his early cassettes finally being hailed as visionary work.
Tuesday, May 18, 7 pm
Early in his career, Phil Cohran helped start both the Chicago Affro-Arts Theater and the still-groundbreaking institution that is the AACM—plus played with the mighty Sun Ra. He left Ra to follow his own path, basically pioneering the entire "soul/jazz" genre with his Artistic Heritage Ensemble, which included members of the Pharaohs and Miles Davis's band.
Tuesday, May 25, 7 pm
Chet Nicholls has been playing music since he was a teenager in the melodic garage band The Chosen Few. He hit the road in the 1970s and in California cut the now-classic, major-label, loner-folk record, Time Loop. He went on to make TV appearances as an actor, and still records and produces today.
Funding
Sponsored by