Hiroshi Sugimoto: Architecture
Images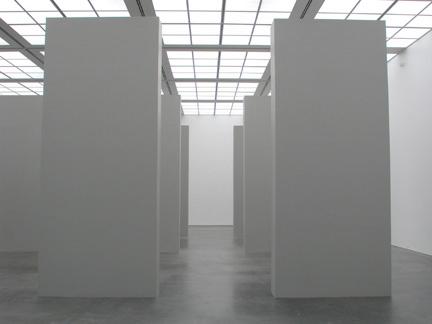 About
The MCA is organizing an exhibition of Hiroshi Sugimoto's latest body of work titled Architecture. Shown for the first time in its entirety, the series was started in 1997 and the exhibition is comprised of a selection of 30 images. It includes some of the most landmark architectural structures of the 20th century, ranging from the Eiffel Tower, the Barcelona Pavilion, and the Empire State Building to buildings by Frank Gehry, Tadao Ando, and Frank Lloyd Wright, among others in Europe, North America, and Asia. Shot distinctly out of focus and from different angles, the buildings are shown isolated from their urban context, resembling models or toys thus rendering them dreamlike and uninhabited. In the photographs, the emblematic buildings appear to be intangible structures as the viewer takes on the role of the sole voyeur. The MCA's presentation of Hiroshi Sugimoto will feature an installation designed by the artist.
Since the 1970s, Sugimoto has created several internationally recognized bodies of work, most of which are ongoing photographic projects that span more than 20 years. The sublime black-and-white photographs, always devoid of humans and taken as long-time exposures, include meditations on empty movie theaters, natural history dioramas, wax museums, and seascapes. While these photographs reveal the void beneath appearances, they also slowly uncover the passing of time, or as Sugimoto has described it, "time exposed." His work evokes the interrelated disciplines of art, science, religion, and history in questioning varying modes of inquiry, representation, and the reception of information. In his work, Sugimoto extends his concerns with photography's inextricable relationship to the past, conjuring both collective and personal memories.
Born in 1948 in Tokyo, Sugimoto studied photography at Los Angeles's Art Center College of Design before moving to New York in the 1970s. This major exhibition is scheduled to open at the MCA on February 22, 2003 and run until June 1, 2003 with additional national and international venues to follow. The show will be accompanied by a fully illustrated catalogue with an essay by Francesco Bonami, among others.
Funding
This exhibition is generously supported by the Kovler Family Foundation, Helen and Sam Zell, and Equity Office. Additional support for programming on architecture is provided by the Richard H. Driehaus Foundation.
Air transportation is provided by American Airlines, the official airline of the Museum of Contemporary Art.
Accommodations provided by The Peninsula Chicago. Media support provided by CS magazine.