Claes Oldenburg: Projects for Monuments
---
---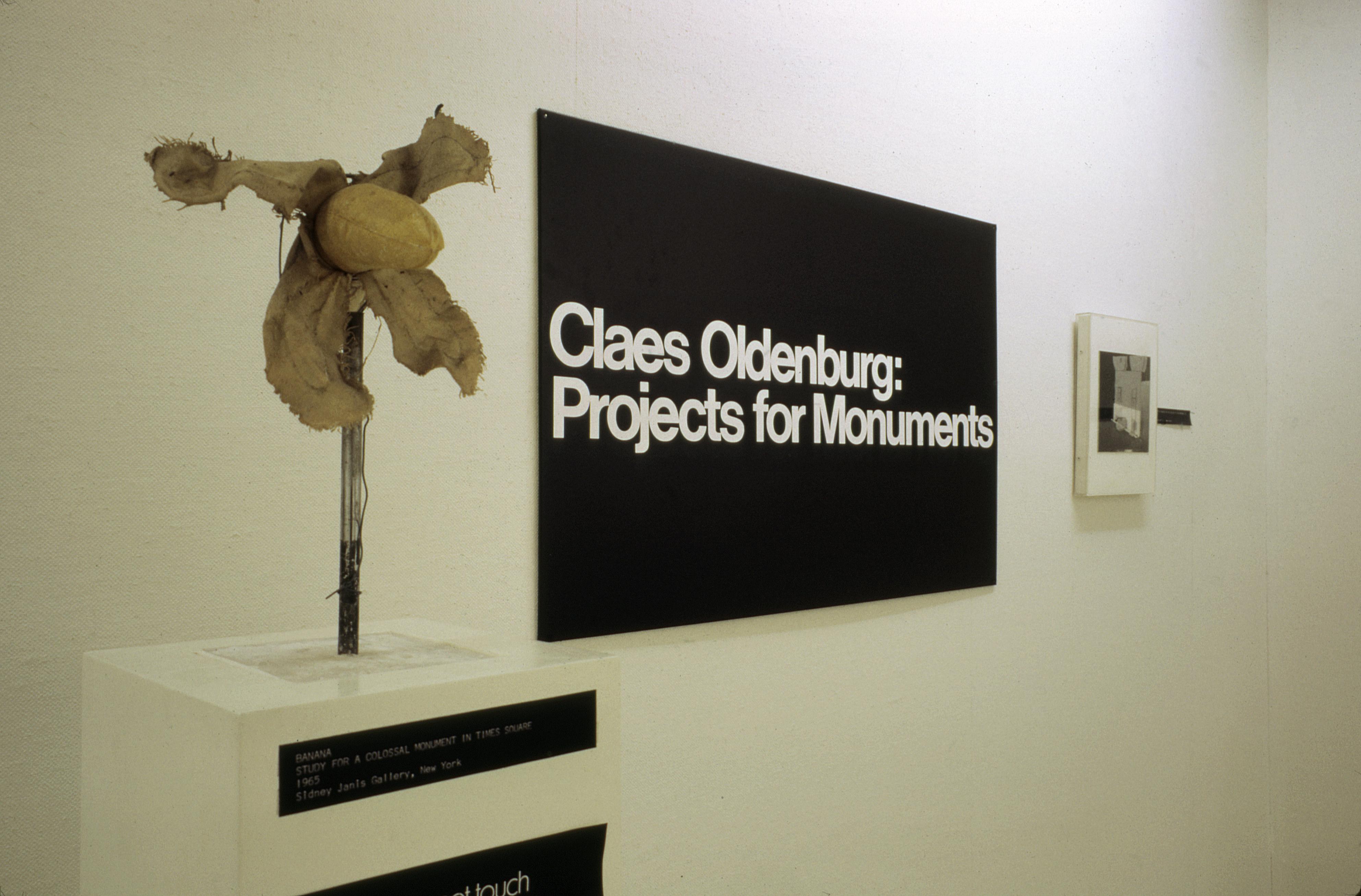 About
As the MCA's first exhibition alongside Pictures to be Read/Poetry to be Seen, Projects for Monuments assembled over 30 pieces in various mediums by the sculptor and interdisciplinary artist Claes Oldenburg (American, b. 1929) for his first solo show in his hometown of Chicago. The collection addressed topics that would continually re-emerge in Oldenburg's work as subjects of critique, including urban beautification, commodity culture, and the spectacle of so-called "public" art in "public" spaces. The exhibition featured collage compositions, vinyl sculptures, and crayon and wash drawings that served as "proposals" for grandiose and occasionally impossible to realize "monuments." Each took the form of banal commercial products—or, as the artist dubbed them, "everyday crap"—to be monumentalized at a colossal scale in various urban spaces in New York, London, and Chicago. Though not a part of Projects for Monuments itself, Oldenburg also commissioned a conceptually similar project entitled Poptart(1967), which enlisted sign painters from Chicago's Arrow Sign Co. to create a 36-by-20-foot trompe l'œil painting of a Poptart toaster pastry in a commercial billboard space adjacent to the MCA's East Ontario Street location.
Working in a context between the performative ethos of "happenings" and the more overtly object-based practices of American pop art, much of Oldenburg's work took its precedent from the scatological paintings and sculptural practice of Jean Dubuffet (French, 1901–1985), who, in Oldenburg's words, influenced him to "ask why art is made and what the art process consists of instead of trying to conform to and extend a tradition." Though Projects for Monuments departed from Oldenburg's performative and participatory "happening" works, such as Snapshots from the City(1960) or The Store(1961), the collection still embodied his earlier goal of creating work that possessed "an unbridled, intense satanic vulgarity"—now oriented at lambasting the commodified nature of urban space and architecture. The proposals from Projects for Monuments included relatively modest concepts, such as *Study for Colossal Monument: Drainpipe, Toronto (Coronation Park)* (1967), a vinyl sculpture of a deflated, phallic-like red drainpipe, and the "mini-monument" Fallen Hat Monument for London Street(1967), a sculpted hat on London street tiles that would memorialize "anyone who died on the street." Other proposals were more ambitious and absurd. Two Facades for the Contemporary Museum Art in Chicago(1967) was a plan to "continuously overflow" both the Museum of Contemporary Art and Ontario Street with "unnatural and artificial" foamy, colored water, or to have the MCA's facade "completely covered with mirror." Study for Colossal Monument: Moving Pool Balls, Central Park Version(1967) proposed gigantic, motorized billiard balls, "hollow inside" to host "housing or civic business" that would move freely about New York's Central Park.
Among the most memorable proposals in the exhibition were the postcard collages and drawings created for Colossal Monument for Grant Park, Chicago: Windshield Wiper(1967). Oldenburg envisioned replacing the fountain in Grant Park's Buckingham Fountain with a gigantic moving wiper blade that would occasionally descend into the water of two constructed pools on either side. Commenting that these banks would "serve as swimming pools for the city's children," Oldenburg warns readers, in a darkly humorous word of advice, that "if one doesn't want to get hit, one must watch it and get out in time." Poking fun at the idea of community involvement and public outreach, Oldenburg's description specifies that the amount of time it would take for the blade to travel between the two pools would be controlled by "a button in the Art Institute" and would be decided by the amount of "time it takes a car to travel from Randolph St. to Roosevelt Rd.," with other "communities throughout the city" choosing a different pace on certain days.