Drag Queen Story Time and Brunch: Holiday Edition
Announcement
This event is free with a reservation. Book now with OpenTable!
Featured images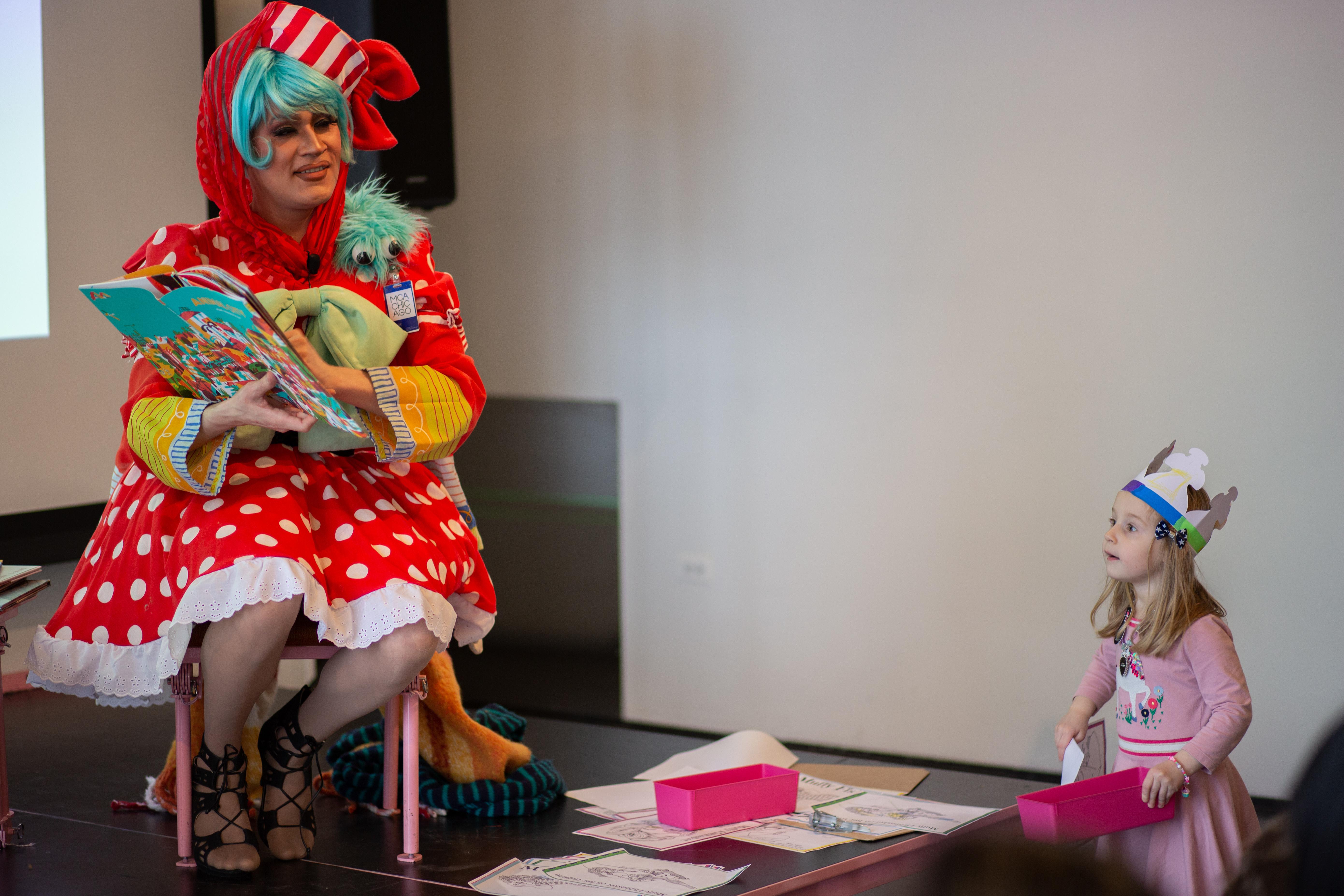 Brunch is brightened with story time performances by stars in Chicago's drag community.
Join Chicago Queens Lucy Stoole and Kat Sass for family-friendly story time inside Marisol, the restaurant and bar within the MCA. Stoole and Sass sandwich performances between reading selections of their favorite books from the MCA Store for a holiday event for kids of all ages.
Performances are at 11 am and 1 pm.
Brunch at Marisol begins at 10 am.
Free with a [reservation](OpenTable: http://bit.ly/2Bh9DU2). Space is limited!
List of Titles
Stop at the MCA Store book pop-up shop featuring the following titles:
Life Doesn't Frighten Me by Maya Angelou, with paintings by Basquiat
I Love My Colorful Nails by Alicia Costa and Luis Amavisca
Except When They Don't by Laura Gehl
Everybody's Welcome by Patricia Hegarty
Julian Is A Mermaid by Jessica Love
Matchy Matchy by Erin McGill
About the Artists
Meet Kat Sass. Sass is a Chicago-based, non-binary, Greek and Native Drag Artist. They travel all over hosting, dancing, and singing for folx. In their smidge of spare time, they are also a production designer, art director, makeup FX artist, and wig and makeup designer for film, television, and opera. They are the creator and coproducer of the super successful three-year-old performance art rave GODDESS—the first monthly show in Chicago herstory that celebrates and spotlights female, non-binary, and trans drag queens at Berlin Nightclub. This year, they were the first person assigned female at birth to perform drag on national television when they were cast in Fox's Proven Innocent. They also placed in the top three in Alaska 5000's first ever Drag Queen of the Year Pageant. They most recently appeared in Sasha Velour's Nightgowns for the 50th anniversary for World Pride and have started a queer rock band called DAME JUDY that will headline and close Austin Drag Fest in November. Pronouns: they/them/theirs
Lucy Stoole is Chicago's Black, Bearded Beauty! She's a showgirl with a heart of gold who craves your love and attention and will stop at NOTHING to get it!
Forever inspired by a revolutionary artist, Marisol redefines what it means to dine inside a museum—bringing art into the room and onto the table.