Unwrapped: A Holiday Artist Showcase
Featured images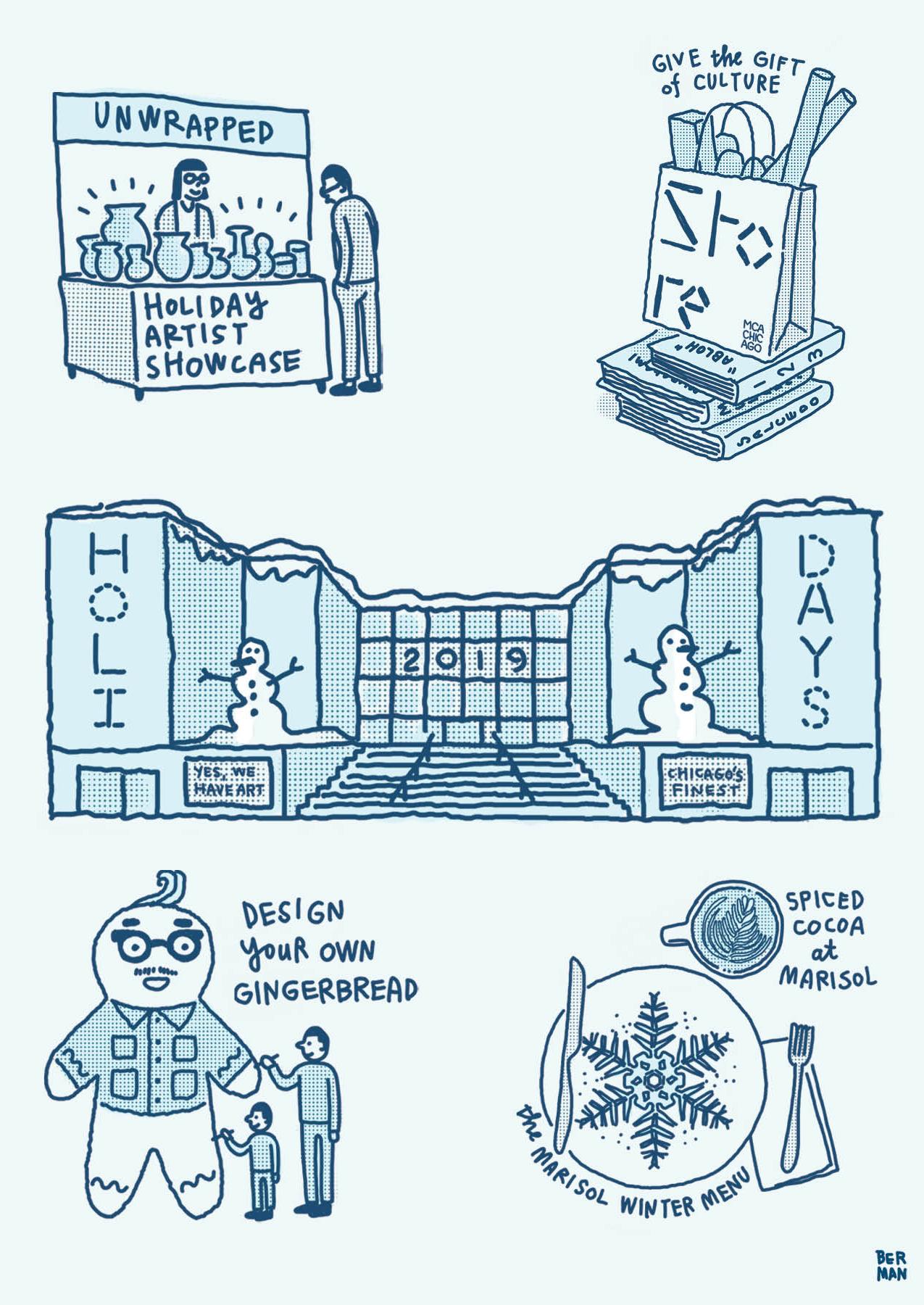 Warm up at the MCA!
Welcome the holidays in a new, indoor marketplace for the whole family.
Find unique gifts from local artisans and makers
Help decorate the gingerbread museum
Enjoy a seasonal soundscape from Bonzo Squad between noon and 2 pm
Commission a work of art on your face
And more!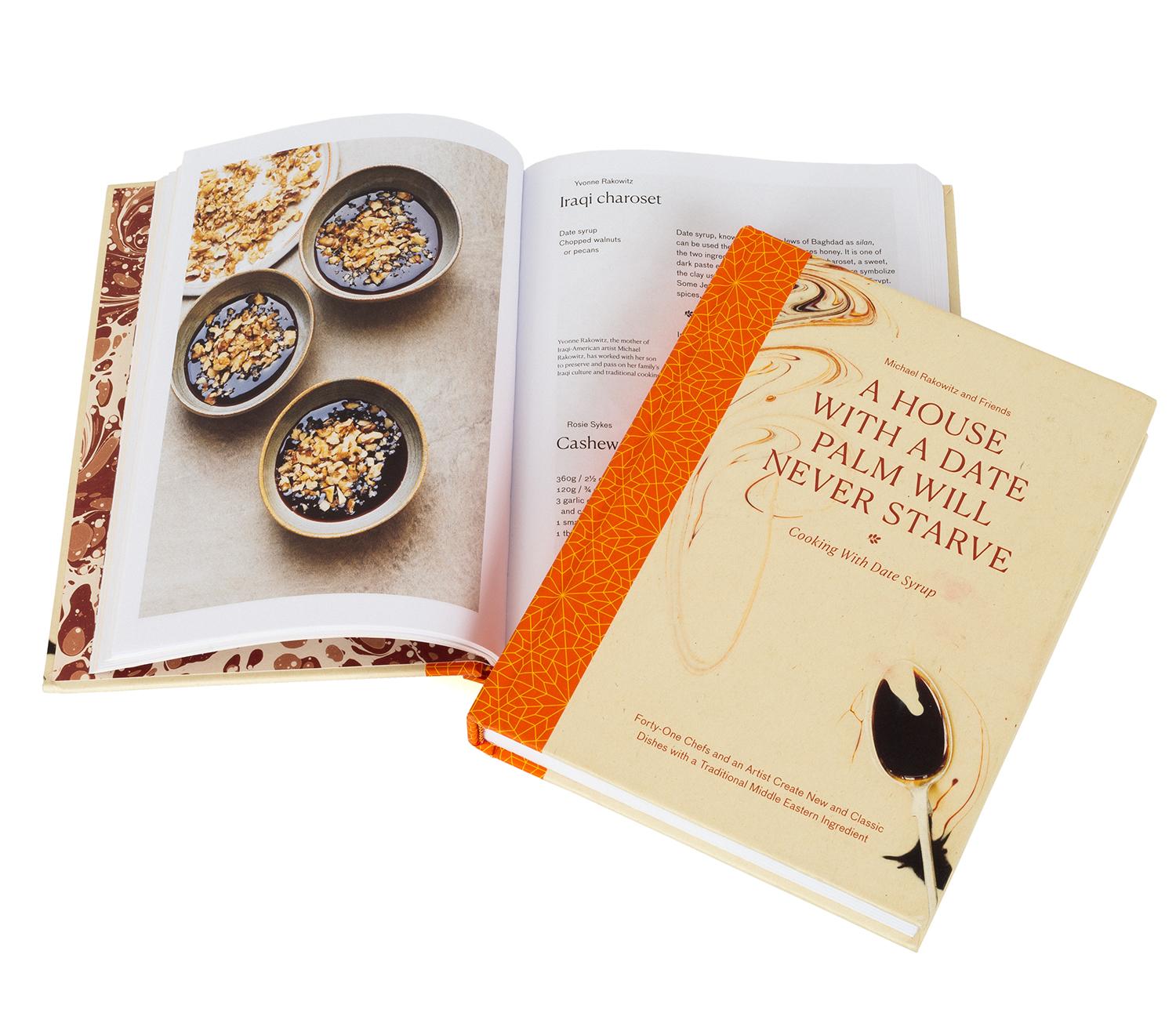 About the Cooking Demo and Book Signing
Join Michael Rakowitz and Jason Hammel
At 2:15 pm, the artist and chef cohost a
cooking demonstration of a recipe Hammel contributed to Rakowitz's new cookbook A House With a Date Palm Will Never Starve. The demonstration
is followed by a book signing. Join us in the Street!
Featuring treats and treasures from the following artists:
Jewelry from Cities in Dust

In 2010, Cities in Dust was born and has since gained a loyal following both in and outside of Chicago. Inventory is constantly being refreshed with new, inspired pieces, and all of the collections are an evolving look at a unique, wearable aesthetic.
Scarves by Isabelle Gougenheim Designs

>"Isabelle Gougenheim preserves her vision from around the globe as wearable masterpieces. Fueled by a passion for art and an innate love of scarves, Gougenheim sketches her designs—which she explains 'are inspired by the soul of the city streets from my travels' before printing them on luxurious modal-silk fabric."

-Leah Pentecost

Chicago Social Magazine
Ceramics by Laura Novy

Laura Novy lives in Andersonville with her husband and two young children. She has been working in ceramics for almost 20 years, with a BFA from the University of Hartford, and an MA in Art Education from the School of the Art Institute of

Chicago. Novy also spent time studying at the School of the Museum of Fine Arts in Boston. She has taught ceramics to all ages for many years, and recently went back in the studio to start making her own art again after a number of years away. Novy was never strictly a traditional potter, but has always worked in ceramics, with slip-casting her preferred method of making art.
Fragrances by Identity Narrative

Identity Narrative® offers ultra high quality, naturally derived gender neutral fragrance options that can be used on one's person, as well as in the home. Scent is a powerful artistic medium for self-expression. Understanding scent's strong connection to memory, Identity Narrative® believes it is a reflection of "where we are, where we have been, and where we want to go." Therefore, you are able to wear scents that reflect your inner being—your true self, each and every beautiful day. Identity Narrative® is Scent as Art.
Bonbons by Sugoi Sweets

Do you eat them or photograph them? Why not both?

While we hope all our items inspire you as little pieces of art, the chocolate bonbon holds a special place in our heart. They are the perfect canvas for our artistic expression. While certain flavors and aesthetics will continually return to our menu as signature items, experimental and seasonal flavors, colors, and designs will be introduced throughout the year.

No two bonbons are alike, each one is made of the finest Belgium chocolate with hand painted shells by SUGOi Sweets. Inside, the all-natural fillings are also beautiful and complex.
Designed goods by Manual

A line of home goods designed with daily rituals in mind. Each piece in the collection offers an everyday utility—storage, serving, and vibes.
Hand-drawn cards by Craighton Berman

Craighton Berman is a designer of objects, illustrator of ideas, and facilitator of creativity.

Stemming from a background in industrial design and strategic creative consulting, Berman simply loves bringing ideas to life—both for clients and as self-directed projects. His illustration practice combines design-thinking and napkin-sketching to tell idea-driven stories. His design practice is focused on running Manual Ceramics, a home goods brand that creates products for slow living.

He has design work in the permanent collection of the Art Institute of Chicago; he was the first designer to use Kickstarter to launch a product; he taught "design entrepreneurship" at the University of Illinois at Chicago and design sketching at the School of the Art Institute of Chicago, and his drawings are featured in a YouTube video with over 34 million views.
Floral designs by Leelee's Garden

After a couple years of learning all things food, plants and flowers, Leelee left her corporate role, started designing gardens and teaching botanical workshops in her now business, Leelee's Garden. Since 2015, she's taught workshops and demonstrations all over the country, for anywhere from 1–250 students. From floral design basics to air plant vertical gardens and gemstone terrariums, Leelee creates custom botanical art experiences for her students to create living works of art. Leelee also does event floral design and botanical installations.